Lynching a "western construct" being used to "defame" India: Bhagwat
Lynching a "western construct" being used to "defame" India: Bhagwat
Oct 08, 2019, 01:14 pm
3 min read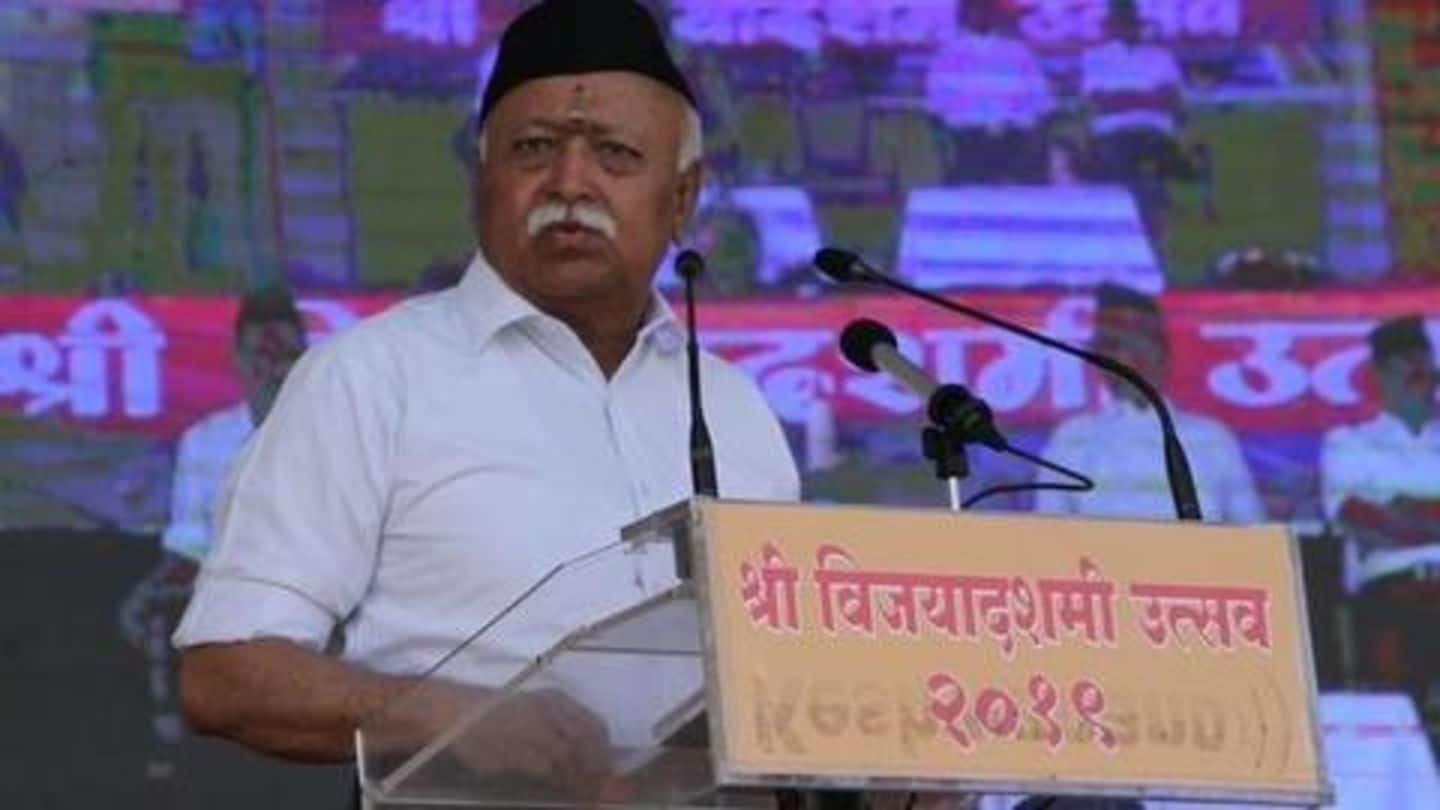 In his Vijay Dashami speech at an event in Nagpur, Rashtriya Swayamsewak Sangh (RSS) Chief Mohan Bhagwat called lynching a "western construct". He also said the term should not be used in the Indian context to "defame" the country. Bhagwat's words come at a time when the Centre, led by BJP, has been receiving ire for failing to keep mob violence at check.
Don't impose such terms on Indians: Bhagwat
At the event, Bhagwat said "some incidents" of social violence should not be given the tag of "lynching". "Lynching itself is a Western construct. It is not the word from Indian ethos. Its origin is from a story in a separate religious text. Don't impose such terms on Indians," he reportedly said. He then claimed a "conspiracy" is being hatched to instigate fear among "so-called minorities".
In fact, Bhagwat also narrated a tale of Jesus Christ
Elaborating his point, Bhagwat narrated a story of Jesus Christ, who once saw stones being pelted at a woman. When He asked the perpetrators the reason behind their actions, they said she was a "sinner". He then told them to pelt stones only if they haven't committed any sin, Bhagwat told the crowd. He then said this "tradition" was found in other religions.
These issues require interference from law enforcement agencies, he added
"In ancient India, Buddha stopped people of two villages from attacking each other over water issue. This is our tradition. But what is happening is small incidents are being played up for convenience. These issues require law and order agencies to intervene," he went on.
According to Bhagwat, incidents haven't been one-sided
The RSS chief also said that such incidents are rarely "one-sided". "It has also come to light that some incidents have been deliberately fabricated while some others have been published in a distorted manner. However, it must be accepted that these tendencies of violence have somehow or the other crossed the limits of the law and order," Bhagwat added.
Interestingly, Bhagwat heaped praises on Centre for Article 370 move
In his speech, Bhagwat also congratulated Prime Minister Narendra Modi and the number 2 in government, Home Minister Amit Shah, for abrogating Article 370. To note, this has been one of the longest-standing demands of RSS, the ideological mentor of BJP. Bhagwat also claimed the government is working to bring "economy back on track" and has taken concrete steps in the last few weeks.
"It's concerning women don't feel safe in society"
Clarifying Sangh's stand on FDI, Bhagwat said, "We believe in swadeshi but we also know that international ties cannot be snapped." He added that women should be given their rightful place in society. "It is a matter of great concern that women feel unsafe today. The sanctity and decency of our culture are to be instilled in the men's approach towards women," he stated.
Before addressing RSS cadres, Bhagwat performed Shashtra Pooja, a customary ceremony that takes place every year. To note, RSS was founded on Dussehra in 1925. The event was attended by politicians like Maharashtra Chief Minister Devendra Fadnavis and Union Ministers Nitin Gadkari, Gen VK Singh (retd). This year, RSS invited HCL Technologies founder Shiv Nadar as the Chief Guest.