Viral tweet highlights what's wrong with Google maps. We agree!
Viral tweet highlights what's wrong with Google maps. We agree!
Jan 24, 2019, 11:11 am
2 min read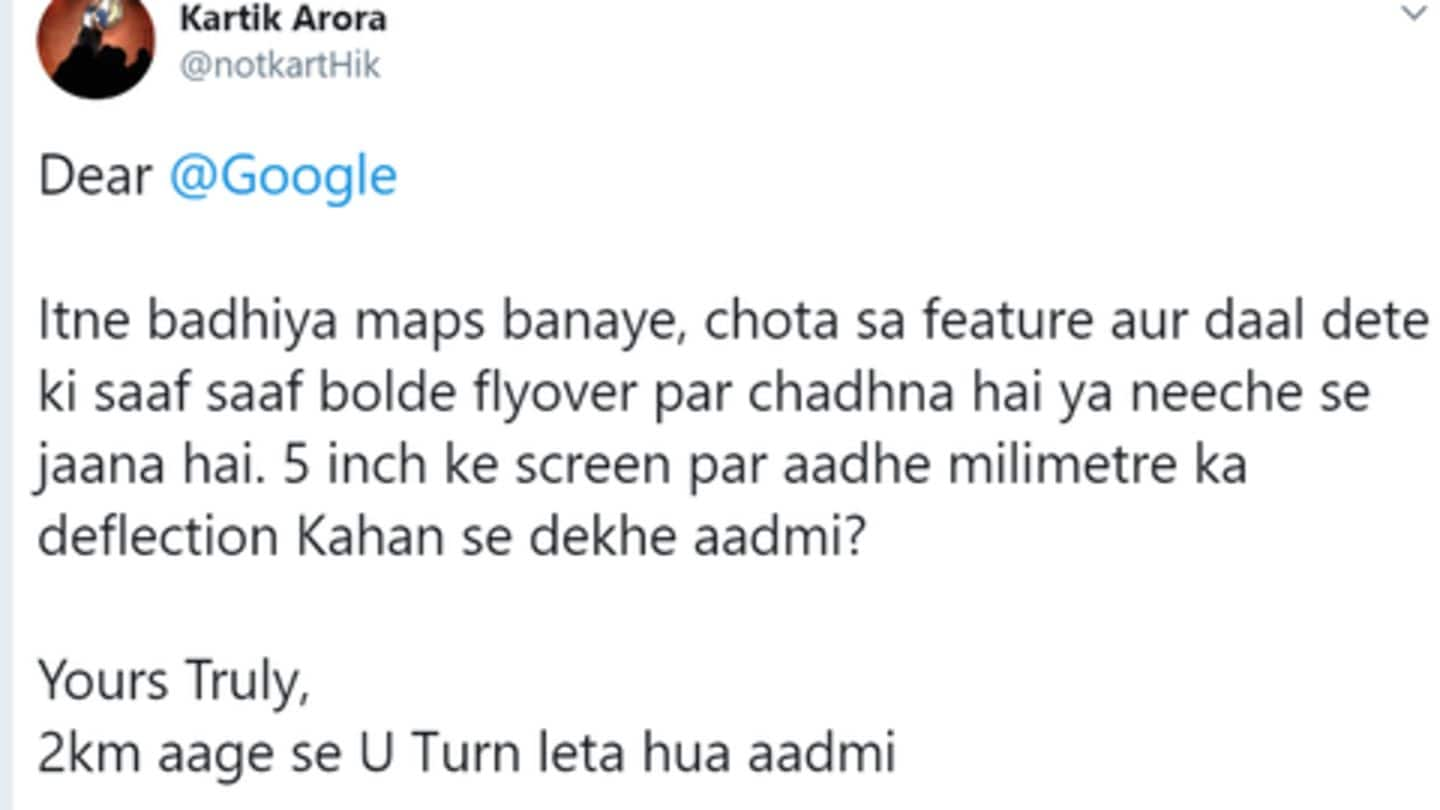 Ever since Google Maps was introduced in 2005, navigating through roads and by-lanes has become much easier. However, there are still many features we wished Google Maps offered. And, this viral tweet in which the user tells Google that they should have a feature that would suggest whether to take the flyover or not is something we can totally relate to.
Google, please add feature suggesting whether to take flyover
On Tuesday, Twitter user Kartik, posted a hilarious yet meaningful tweet for Google asking for a new feature. Starting with appreciating the awesome maps Google have created, Kartik mentioned that they should have added another feature that would tell the riders whether to take the flyover or not. He ended by saying how could one see a half millimeter deflection on a 5-inch screen.
2km aage se U-turn leta hua aadmi, Kartik signs off
Dear @Google

Itne badhiya maps banaye, chota sa feature aur daal dete ki saaf saaf bolde flyover par chadhna hai ya neeche se jaana hai. 5 inch ke screen par aadhe milimetre ka deflection Kahan se dekhe aadmi?

Yours Truly,
2km aage se U Turn leta hua aadmi

— Kartik Arora (@notkartHik) January 22, 2019
Twitter couldn't agree more with Kartik, mentions similar experiences
Desi Twitter couldn't help but agree with Kartik's tweet. The tweet has received tons of comments and has been retweeted over 4,000 times. One netizen wrote, "How many times I've grumbled about this to myself or my fellow travelers in the car! Why isn't this already a thing?" Another wrote, "Yesterday I missed like 2 such back to back deflections at Ambala!"
Feature could save time and prevent accidents
Meanwhile, we believe that Google should add this feature. It could save our time, by asking us not to take the flyover, and saving us the hassle of taking a 2km U-turn, like Kartik. Also, when people instantly change routes few meters before the diversion and try to drive on the road below, it leads to accidents. This feature will prevent that as well.