India proud of his accomplishments: Modi after meeting Abhijit Banerjee
India proud of his accomplishments: Modi after meeting Abhijit Banerjee
Oct 22, 2019, 01:42 pm
3 min read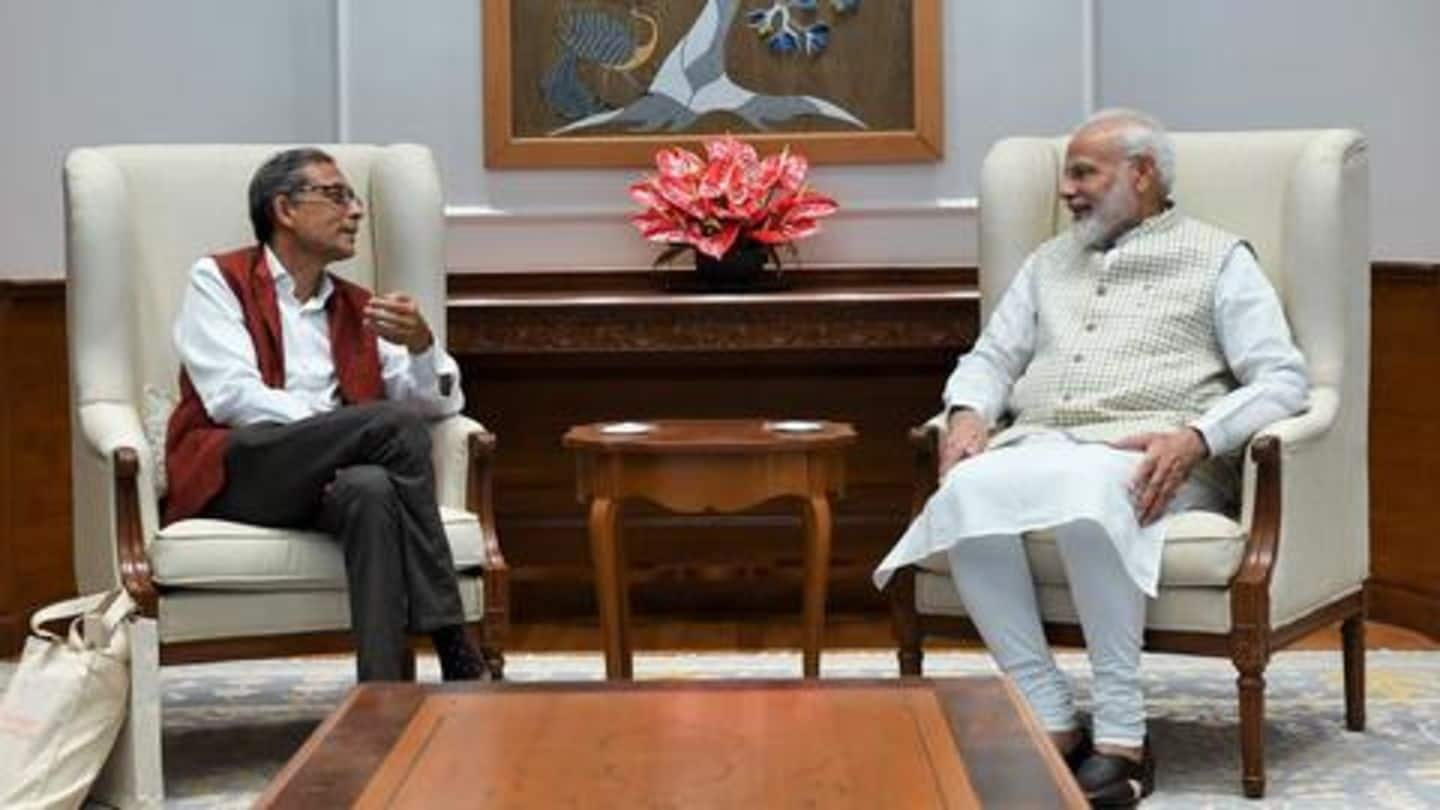 This morning, a unique meeting took place between Prime Minister Narendra Modi and Abhijit Banerjee, the 2019 Nobel Prize winner. We used the term "unique" to describe the event because not long ago, Banerjee criticized India's economy and blamed government measures for it. In fact, his words offended many, including Union Minister Piyush Goyal who said Banerjee's ideas are left-leaning and India rejected them.
First, let's give you a bit of context
Banerjee, his wife Esther Duflo (also a noted Economist) and Michael Kremer, were awarded the Nobel for their experimental approach for alleviating poverty. As soon as the award was announced, Indians rejoiced and Banerjee, a JNU alumnus, was inundated with wishes. Later, Banerjee in a couple of interviews said Indian economy isn't doing great and blamed it on steps like demonetization and GST implementation.
Surprising many, PM Modi had a word with Banerjee
Considering how Banerjee isn't a fan of BJP's economic policies, his meeting with PM Modi came as a surprise. After having a chat with him, PM Modi tweeted, "We had a healthy and extensive interaction on various subjects. India is proud of his accomplishments. Wishing him the very best for his future endeavors." Banerjee also had nice things to say after the meeting.
Banerjee liked PM Modi's approach and ideas
Saying PM Modi was kind enough to give a lot of time to the meeting, Banerjee added, "It was a privilege to meet him. His way of thinking is quite unique. He is trying to reform the bureaucracy to make it more responsive."
Take a look at what he said
Nobel laureate Abhijit Banerjee on his meeting with the PM @narendramodi He says "it was a privilege to meet with the PM and he spent a lot of time with him explaining his way of thinking about India which is quite unique." pic.twitter.com/EummWmh2UJ

— Akhilesh Sharma अखिलेश शर्मा (@akhileshsharma1) October 22, 2019
Banerjee worked with PM Modi when he was Gujarat's CM
It should be noted that Banerjee's association with PM Modi goes long back. "We worked with the Gujarat Pollution (Control) Board when Gujarat was under (Narendra) Modi, and we actually had an excellent experience," the Nobel winner said after he was questioned on Goyal's opinion about him. Banerjee had also said that he would have helped BJP if it sought his assistance.
Interestingly, Banerjee also revealed that he was friends with Finance Minister Nirmala Sitharaman, during his JNU days. About Sitharaman, who is regularly criticized for failing to steer the economy in the right direction, he said, "One of the people I knew well and we were on similar sides of certain issues was Nirmala Sitharaman. She was my contemporary in JNU."