After Amul, Mother Dairy hike prices, Patanjali launches cheaper milk
After Amul, Mother Dairy hike prices, Patanjali launches cheaper milk
May 28, 2019, 08:03 pm
2 min read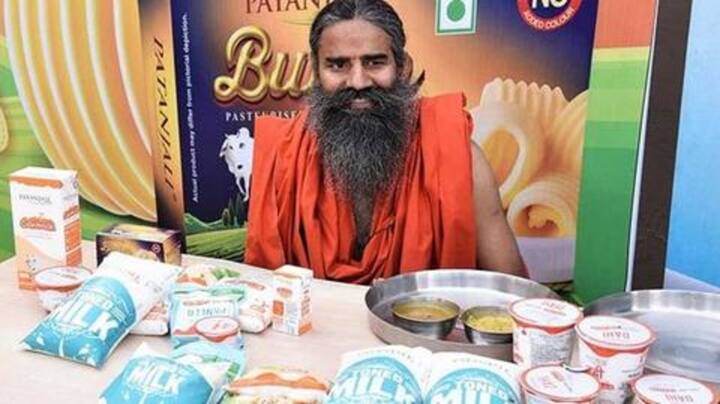 From selling cheap denim to instant noodles, Baba Ramdev's Patanjali Ayurved Limited is no one-trick pony. Last year, Patanjali even launched its own dairy segment. Now, Patanjali Dairy is taking on India's leading milk suppliers. Days after popular dairy brands Amul and Mother Dairy raised milk prices, Patanjali Dairy launched toned milk and cow butter at much cheaper rates. Here are all the details.
Patanjali milk Rs. 4/liter cheaper than other companies, says Ramdev
"Keeping in view the increasing demand of toned milk, Patanjali is now selling milk at Rs. 40/liter, Rs. 4 cheaper than other companies," Ramdev announced. "As of now, our aim is to provide at least 4 lakh liter daily. This has given huge respite to the consumers, as the two leading dairy companies- Amul and Mother Dairy- have increased milk prices," he added.
Recently, Amul, Mother Dairy revised rates after 2 years
Last week, Amul had hiked milk prices by Rs. 2/liter across several states including Gujarat, West Bengal, Delhi-NCR, Kolkata, Uttarakhand and Maharashtra, in a bid to give dairy farmers their due. Mother Dairy also hiked rates of poly pack milk by Rs. 2/liter in Delhi, and Rs. 3/liter in Mumbai, citing increasing milk procurement prices. Both had last revised rates in March 2017.
Patanjali buys milk directly from farmers, claims Ramdev
The Patanjali co-founder also added that the company removed middlemen from the equation and buys directly from farmers. "We transfer money directly into the bank accounts of over 15,000 farmers," Ramdev claimed. While announcing the cow table butter, Ramdev claimed it had no artificial colors "unlike other companies," adding, "It has natural colors and salt, which makes it good for health."
Delhi Milk Scheme also expected to hike prices
Meanwhile, the Delhi Milk Scheme (DMS) is also expected to hike retail milk prices in the national capital soon, keeping in line with the price hikes from Amul and Mother Dairy. "The DMS will soon follow suit as its retail prices are linked with Mother Dairy, which is a wholly-owned subsidiary of National Dairy Development Board (NDDB)," said Animal Husbandry Secretary Tarun Shridhar.
'Milk production is growing 6.5% per annum,' says Shridhar
"Milk production is growing consistently at 6.5% per annum but the processing capacity has not been enhanced commensurate with the output," Shridhar said, adding that a 7% increase in milk production is expected in current 2019-20 fiscal year from 176 million tonnes last year.