#RIPBravehearts: 10-year-old daughter of Pulwama martyr faints at funeral
#RIPBravehearts: 10-year-old daughter of Pulwama martyr faints at funeral
Feb 17, 2019, 07:11 pm
3 min read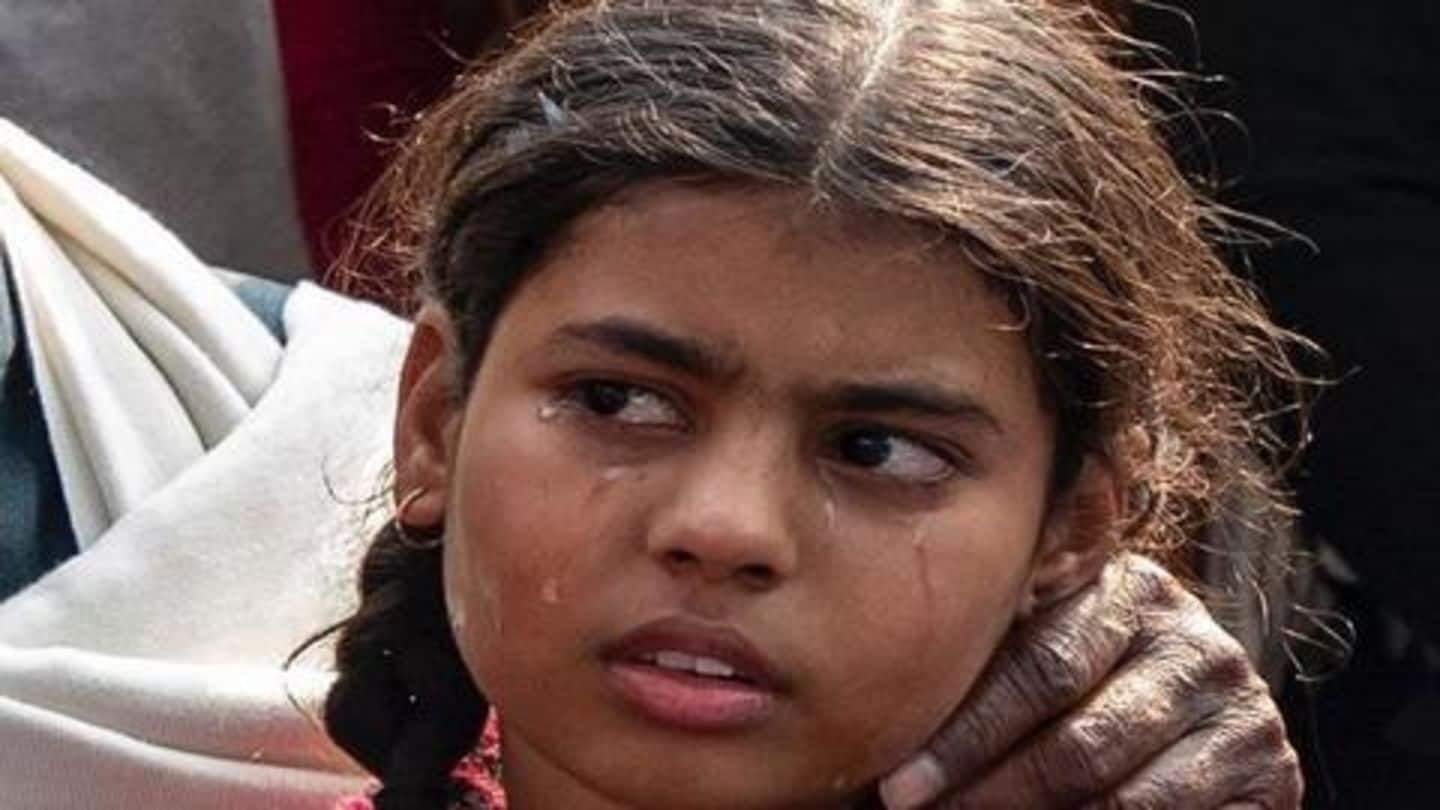 On Saturday, teary-eyed families bid adieu to CRPF soldiers who were martyred after a Jaish-e-Mohammed terrorist blew up a car in J&K's Pulwama on Thursday. But for 10-year-old Supriya, whose father Pradeep Singh Yadav died on duty, the loss was more than she could bear. During Yadav's funeral, Supriya fainted and was rushed to the hospital. Scenes from other UP funerals were equally somber.
Supriya was discharged after an hour
Supriya was discharged after an hour. The soldier, who belonged to Kannauj in Uttar Pradesh, also has another two-and-a-half-year-old daughter. But his younger daughter was unaware of what was happening around her, just as people raised slogans to praise Yadav's bravery. Yadav's wife Neeraj revealed she was talking to him on the phone when the blast happened.
On call with husband, soldier's wife heard deafening blast
"I was talking to my husband when I heard a deafening sound from the other side, seconds after which there was complete silence. Sensing something untoward has happened, I made several attempts to know about his well-being, but everything was over for me," she said.
Family of martyr demands justice, Smriti Irani promises action
Out of 40 soldiers who lost their lives, 12 belonged to UP. Funerals took place in Maharajganj, Agra, Mainpuri, Unnao, Kanpur Dehat, and Chandauli districts, in presence of tens of thousands of people. Shyam Babu was cremated in Kanpur Dehat amid slogans of 'Shaheed Shyam Babu Amar Rahe'. Meanwhile, Union Minister Smriti Irani, who attended the funeral, promised sacrifices won't go in vain.
Villagers offer land for memorial of soldier in Agra
Separately, Kaushal Kumar Rawat was cremated in Karhari village in Agra. Rawat was posted in Siliguri, West Bengal but was transferred to J&K. He was due to join duty on Thursday. His daughter hoped strict action would be taken against the accused. The villagers have offered to give land to build a memorial for Rawat. Notably, Agra city witnessed a 'bandh' against the tragedy.
Separately, wife of soldier asked Adityanath to attend his funeral
In Deoria district, martyr Vijay Maurya's wife Vijay Laxmi demanded that the cremation would take place only after Chief Minister Yogi Adityanath pays the family a visit. Senior officials tried to persuade her but she remained adamant. CRPF jawan Ajit Kumar Azad's mortal remains were cremated by his brother in Unnao district. His funeral was attended by UP minister Brijesh Pathak.
He was coming to meet me, says mother of soldier
Soldier Pankaj Tripathi was cremated in Maharajganj area. Holding tears back, his mother said, "My son was coming soon to meet me, but it seems that something else was written in my fate. Now I can never meet my son." Tripathi's brother Subham said now was the time for revenge. Meanwhile, Ram Vakeel's son consigned his body to flames in Mainpuri district.
In Chandauli, father lit his son's pyre
Soldier Awadhesh Yadav's pyre was lit by his father Harikesh on the banks of Ganga in Chandauli district. After spending some time at home, Yadav joined his duty just three days before the attack. His mother is cancer-patient and he is survived by his wife and a son. Notably, UP government announced an ex-gratia of Rs. 25 lakh to each family.