#PulwamaAttack: Home Minister Rajnath Singh carries coffin of martyred jawan
#PulwamaAttack: Home Minister Rajnath Singh carries coffin of martyred jawan
Written by
Shiladitya Ray
Feb 15, 2019, 05:40 pm
2 min read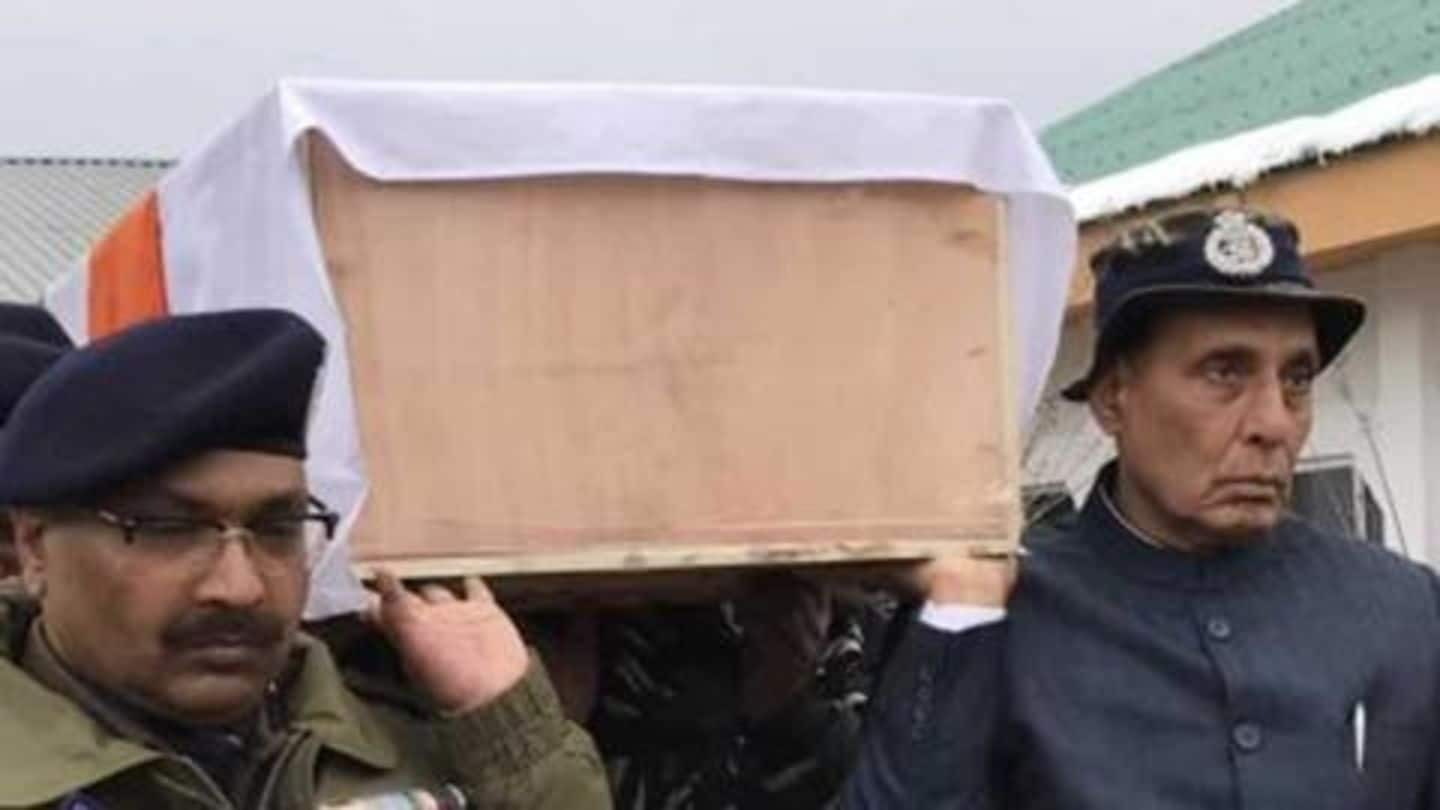 Union Home Minister Rajnath Singh, who flew to Srinagar on Friday morning, lent his shoulder to carry the coffin of one of the 40 CRPF jawans who were massacred in a car bomb attack on a security convoy in Pulwama on Thursday. After taking the coffin to a truck, Singh stood in silence beside other officials to honor the fallen soldiers. Here's more.
WATCH: Singh carries the coffin of a CRPF jawan
Their sacrifice will not go in vain: Singh
"The nation will not forget the supreme sacrifice of our brave CRPF jawans. I have paid my last respects to the martyrs of Pulwama. The sacrifice will not go in vain," said Singh, who had earlier assured that the government would do "whatever it take to avenge this".
An SUV carrying 350kg of explosives rammed into the convoy
On Thursday, a CRPF convoy of 70 vehicles heading towards Srinagar came under attack in the Jammu-Srinagar highway. Despite the highway being well-guarded, an SUV laden with 350kg of explosives managed to ram into the convoy, triggering a massive blast. The blast reduced one bus to smithereens, and left several vehicles in the convoy severely damaged, making rescue efforts difficult. 40 jawans were martyred.
India has withdrawn Pakistan's 'Most Favored Nation' status
The responsibility for the attack was claimed by Pakistan-based terror outfit Jaish-e-Mohammed (JeM), and US experts have said that Pakistan intelligence agency ISI could have had a hand in the attack. Responding to the attack, India has withdrawn the 'Most Favored Nation' status it had accorded to Pakistan in 1996. Meanwhile, Prime Minister Narendra Modi has promised that Pakistan "will have to pay".
We will bring the perpetrators to justice: PM Modi
"I want to tell the terrorists and their backers... they have made a big mistake. You will have to pay a very heavy price... I assure everyone that the forces behind the attack... We will bring them to justice," said PM Modi.