#NationalEmergency: SC asks for Centre's plan on oxygen supply, vaccination
#NationalEmergency: SC asks for Centre's plan on oxygen supply, vaccination
Apr 23, 2021, 09:52 am
3 min read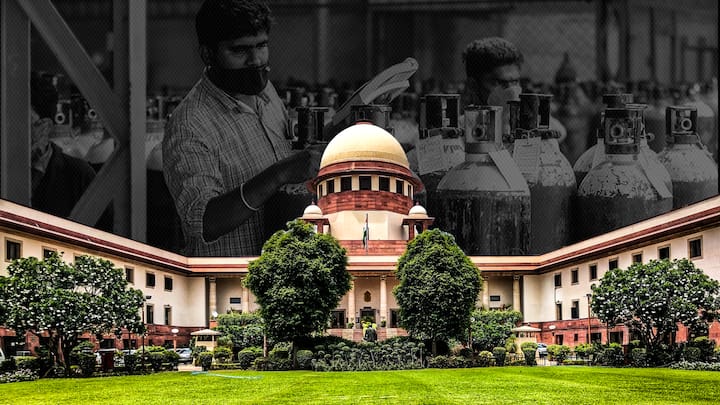 The Supreme Court today took a suo motu cognizance of the devastating coronavirus crisis in the country and asked the Centre to furnish a plan about oxygen, essential drug supply, vaccination, and lockdowns. A bench, led by Chief Justice of India SA Bobde, has listed the matter for hearing on Friday. SC appointed noted lawyer Harish Salve as amicus curiae.
Six High Courts have been conducting hearings on coronavirus crisis
The top court took cognizance of the matter at a time when six High Courts are already dealing with issues related to coronavirus pandemic. Just yesterday, the Delhi High Court had reprimanded the Centre over oxygen supply, saying that the government has shown it isn't concerned about human lives. The Bombay High Court also conducted a hearing on the dearth of essentials in Maharashtra.
Earlier, UP government had challenged Allahabad HC's lockdown order
In fact, Allahabad High Court had even ordered a lockdown in five worst-affected Uttar Pradesh cities to slow the spread of the disease. The state government disapproved of this suggestion and approached SC, which stayed the order on Tuesday.
Simultaneous hearings in HCs is creating confusion: SC
Today, the top court remarked that cases being heard in HCs must be shifted to avoid confusion. "We as a court wish to take suo motu cognizance of certain issues. We find that there are six HCs — Delhi, Bombay Sikkim, Madhya Pradesh, Calcutta, and Allahabad. They are exercising jurisdiction in the best interest. But it's creating confusion and diversion of resources," SC remarked.
CJI said SC wanted to know more details
"We want to know. In regard to the four issues of supply of oxygen, supply of essential drugs (like Remdesivir), method, and manner of vaccination and we want to keep the power to declare lockdown with the states," CJI Bobde said.
Several hospitals are facing acute oxygen shortage
Notably, a number of hospitals are complaining about oxygen shortage. Just today, Dr. Sangita Reddy, the Joint Managing Director of Apollo Hospitals Enterprises, tweeted that an oxygen tanker is right outside the Air Liquide Panipat plant, but the driver is not being allowed inside. "Haryana police are stopping it and not letting the oxygen out of Haryana, (sic)" she tweeted.
She also tagged Prime Minister Narendra Modi in her tweet
Minutes after she posted a tweet, driver was given permission
Reddy posted another tweet, some minutes later, to inform that the driver got the green signal. "Further to my earlier tweet an appeal once again to the government to please tag oxygen tank as ambulances and enable quick green corridor movement," she wrote. Yesterday, the Max Healthcare Network had approached the Delhi HC after its hospitals were almost out of oxygen.
India set a grim world record by reporting 3.14L cases
India on Thursday set a grim world record as 3,14,835 new coronavirus cases were detected in the 24-hour-long period. As many as 2,104 people died. No other nation has reported such staggering numbers in a single day since the outbreak in late-2019. With healthcare infrastructure overburdened, affected families are taking to social media to find beds, oxygen cylinders, and drugs.