Two killed, 30 injured in stampede at Karunanidhi's funeral
Two killed, 30 injured in stampede at Karunanidhi's funeral
Aug 08, 2018, 04:29 pm
2 min read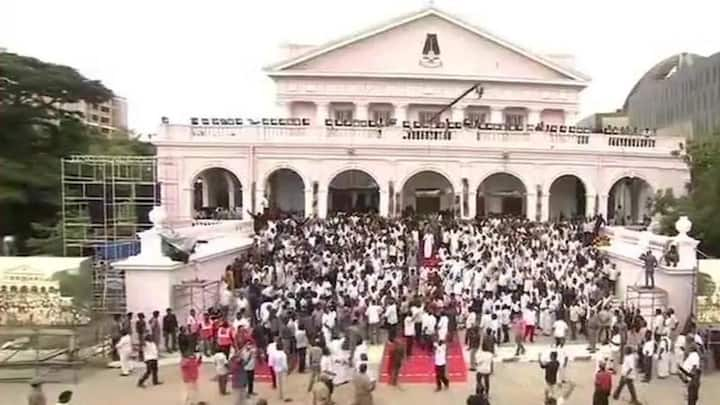 Two people were killed and around 40 injured in a stampede at Rajaji Hall in Chennai this morning, where DMK chief M Karunanidhi's body was kept for the public to pay homage. Chaos broke out when police were letting people enter the premises in batches. In a sudden rush, many people fell down. Others behind and in front of them also fell on each other.
Citizens, top dignitaries rush to pay respects
Amid the rush, people were seen breaching barricades and jumping over walls. Police had to resort to lathicharge to bring the swelling crowds under control. Karunanidhi's son MK Stalin appealed to people to maintain calm. Apart from the masses, top leaders including PM Narendra Modi and President Ram Nath Kovind have visited or will visit Rajaji Hall to pay homage.
Chaotic scenes at Rajaji Hall
Permission for burial at Marina after legal battle
Karunanidhi's funeral is scheduled to be held at 5pm today. He will then be buried at Marina Beach, near the resting place of DMK founder CN Annadurai. This too was preceded by an urgent legal battle. After his death yesterday, the state government had refused to allow space at Marina for his burial. DMK took it to court, which decided in their favor today.
Why is Karunanidhi being buried and not cremated?
Karunanidhi, like most other Dravidian movement leaders, was an atheist. The last rites of atheists generally depend on what practices the family or community follows. Karunanidhi was also a staunch follower of Periyar and CN Annadurai, both of whom were buried. Moreover, Marina is the resting place of some of TN's most significant leaders, including MG Ramachandran and J Jayalalithaa.
Karunanidhi died yesterday after 10 days at hospital
Karunanidhi succumbed to old-age related ailments after 10 days at hospital yesterday evening. He was 94. The state government has declared a day of mourning today. He will be given full state honors and a military salute. He will be wrapped in the tricolor and the flag will fly at half mast. The government will recognize a seven-day mourning period. All functions stand cancelled.