What's it like to live in coronavirus hotspot? Residents reveal
What's it like to live in coronavirus hotspot? Residents reveal
Apr 16, 2020, 09:59 am
6 min read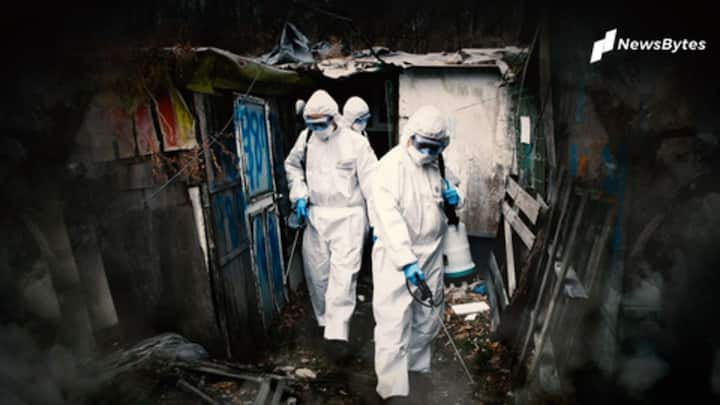 Caught in a war with a microorganism, capable of wiping out countries, the Centre is taking extreme steps, like announcing a nationwide lockdown. The restrictions worked, abysmally, but coronavirus infections surged. To control it, the Uttar Pradesh government decided to seal hotspots across 15 districts. NewsBytes spoke to residents of one such area to understand how the new restrictions changed their lives.
What exactly does sealing a hotspot mean?
Last week, Yogi Adityanath's government declared Alpha-1 of Greater Noida as a hotspot, despite the area recording just one COVID-19 case. The announcement, made on April 8, sent the residents into a tizzy. The order that no one can step out, even for essentials, left them in panic. And now, six days later, the locals still have little clarity about what's happening.
Hotspot was supposed to be more stringent, sadly, it isn't
Businessman Rakesh Mani Tripathi supports the government's decision but asked why his area was put under a stringent lockdown after only one case. "As far as I know, areas that have more than six cases should be declared a hotspot," he told us. When asked how things changed, Tripathi, with a tinge of sarcasm in his tone, said, "Social distancing is in shreds now."
Only one shop remains open, no one follows guidelines: Tripathi
"A Mother Dairy outlet remains open between 5 and 7 pm, and naturally, people flock the area to buy essentials. Earlier, since all shops remained functional, people came out at irregular intervals, which was much better than what the situation is now," he added.
No sanitization, no testing, just a lot of confusion
Tripathi said neither his block was sanitized nor did any tests happen. He wasn't sure whether apartments like Samvad Apartment, Rail Vihar Apartment, and others (which also constitute Alpha I) have been sanitized. "There's a lot of confusion too. Nothing is happening on the ground and it's a ridiculous situation," he fumed. He noted that residents are keeping quiet fearing excesses from cops.
A decorated Air Officer asked why tests weren't happening
The same emotion was reflected by retired Air Marshal Padma Bandopadhyay. Mrs. Bandopadhyay, who served as a doctor for years and is a Padma Shri awardee, wondered why the government wasn't testing people in hotspots. "Now that we are locked down and sealed, why don't they conduct tests. Maybe some of us are carriers and without tests, the government would never know," she said.
Mrs. Bandopadhyay said Indians are 'free birds', hence, facing issues
Mrs. Bandopadhyay noted that India didn't have kits initially, but said that at least rigorous testing should happen in hotspots. "I am happy about all the steps. We need to understand there will be hiccups because we don't like to be locked down. We are all free birds," she commented. She said the lockdown must be more strict and lamented over lack of awareness.
The government has to be more strict, she suggested
When asked if she thinks the government took a lax approach, she said the change has to come at the grassroots. "We are very selfish people, we need to have danda. Why are we not able to able to control our own people," she asked and pointed out that the government has implemented many laws. "Just imposing laws won't change anything," she added.
Lockdown and testing is the only way to defeat this
"We need to understand we don't have the facilities. If you abolish the lockdown at this stage, we will open floodgates. It's good on paper, but nothing is happening on the ground. There is no other way. We need to test, test, test," she emphasized.
It's a war, nothing more, nothing less
Mrs. Bandopadhyay said one way to keep underprivileged inside homes is to get food items delivered to them. Talking from her own experience, she added, "Did anyone ask us what we want to eat when we stayed in underground bunkers during 1971 war? We only got aloo sabzi. Did we complain?" This is a war and people need to get more serious, she stressed.
On doctor attacks, she said everything's not black and white
Since she belongs to the medical fraternity, we asked her how she feels about the attacks on doctors. Mrs. Bandopadhyay said it's difficult to predict people's behavior. "What is happening is wrong, but we need to understand the circumstances due to which the person acted out. It is not an isolated case, it is wrong, but we need to dig deeper," she added. She said some witness emotional upheaval and react to situations differently.
Meanwhile, store owner said his business suffered due to lockdown
Separately, Pradeep Gupta, who runs a store in Alpha 1, said due to the new restrictions he lost at least Rs. 1,000 daily. "In the initial days of lockdown, everything went haphazard, but then things got a little better. I also maintained social distancing at my shop," he said. He said he hasn't left his house and has little idea about what's happening around.
Supply chain is disrupted but Gupta supports the decision
While he supported the government's decision, Gupta said the entire supply chain has been disrupted. He had to pick up items from distributors, scattered in different areas of Greater Noida. His shop was sanitized after March 22, he revealed.
And, RWA President said government is ensuring things remain smooth
However, Jitendra Bhati, the president of RWA of Alpha 1, said rules have become more strict after the area was declared a hotspot and police patrolling happens frequently. "Cops are stationed at all four gates, and if someone is caught roaming about unnecessarily, they scold miscreants," he said. Bhati said the vendors allocated for fruits and vegetables are also doing their jobs well.
"Alpha 1 is densely populated, but it's being managed properly"
Bhati said Alpha 1 has a large population of 22,000-24,000 people, hence, things are a little rocky. But the administration listened to their concerns and allowed more shops to function. "We are ensuring items get delivered at residents' homes," Bhati said. He also revealed that some workers, who live in Hathras or Badaun, returned to their homes after the lockdown was announced.