5 healthy vegetarian dinner recipes you must try
5 healthy vegetarian dinner recipes you must try
Feb 25, 2022, 06:00 pm
2 min read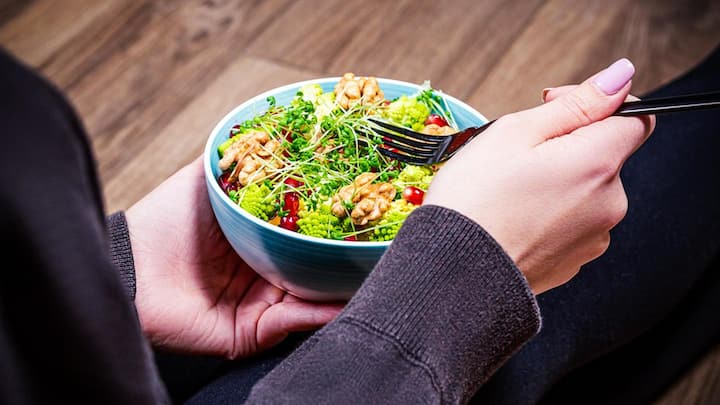 If you are planning to shift to a vegetarian diet, but thinking about what healthy recipes you can try out for dinner, then don't worry, we are here to help. Vegetarian food is becoming popular across the world due to its numerous health and environmental benefits. It doesn't have to be boring and can be infused with immense flavor. Here are five dinner recipes.
This pineapple fried rice recipe is juicy, tasty, healthy and the perfect vegetarian dish to have for dinner. Add five-spice, thinly sliced onions, and garlic to a pan and stir-fry in some vegetable oil. Then, add rice, green peas, soy, sesame oil to it and cook well. Stir through the sweet and juicy pineapple chunks and garnish with some freshly chopped cilantro before serving.
Spiced carrot and lentil soup
This delicious and light spiced carrot and lentil soup is wholesome, low in calories, and packed with iron and other vital nutrients. Dry fry cumin seeds and chili flakes. Add olive oil, grated carrots, vegetable stock, milk, and split red lentils to it and simmer for 15 minutes. Whizz the soup with a blender until smooth. Season with salt, black pepper, and serve hot.
Chickpeas are packed with nutrition and have several health benefits. This chickpea salad sandwich is great for weight loss and keeps you fuller at night. Boil and mash chickpeas. Add lemon juice, greek yogurt, honey, garlic and curry powder, salt, pepper, to it and mix well. Add green onions, raisins, cashew, celery, and combine everything well. Spread on toasted brown bread slices and enjoy.
Tomato penne with avocado
If you are craving some pasta, then try this low-calorie version. Boil whole-wheat penne pasta. Add onions and green pepper to hot oil in a pan. Then, add garlic, chili powder, cumin seeds, ground coriander, tomatoes, corn, water, vegetable bouillon powder, and simmer for 15 minutes. Toss the pasta in the sauce. Add lime juice-infused avocados and garnish with coriander leaves.
Mushroom and thyme risotto
Packed with the goodness of quinoa, this mushroom, and thyme risotto is the perfect dish to have for dinner. It's light and tasty with a nutty flavor. Saute mushrooms in some oil, add quinoa, and mix well. Add vegetable stock, stir and add some brown rice and cook well until tender. Garnish with thyme and rocket leaves and serve.