5 kettlebell exercises for beginners
5 kettlebell exercises for beginners
Feb 22, 2022, 04:37 pm
2 min read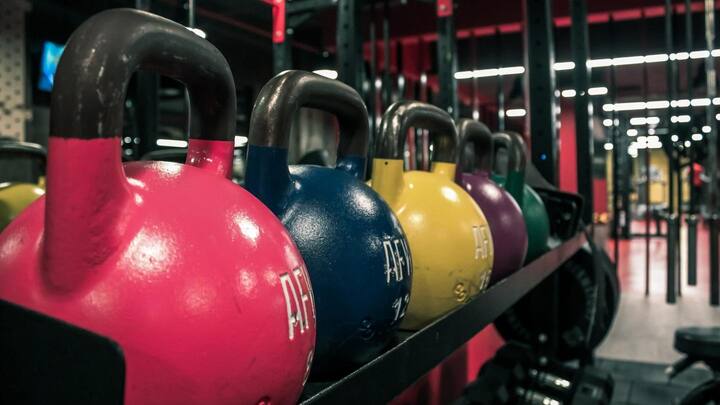 Strength training exercises are designed to improve strength and endurance and are hence associated with weight lifting. If you're beginning with the same, here's why you should consider training with kettlebells. Trainers believe that the special shape of the kettlebell works different muscles during one movement. Start with a lightweight kettlebell of four to six kg, then move on to a heavier bell.
The best exercise to work your butt and thighs, squats can be enhanced with a kettlebell. The added weight will challenge your muscles more; holding the kettlebell close to chest will keep you in correct form. Stand with your feet shoulder-width apart, holding the sides of the kettlebell handle at chest height. Bend to a squat, then push through the heels to stand up.
This works wonders on your legs and butt when done right. With your feet shoulder-width apart, hold a kettlebell in each hand without swinging them. Taking a big step forward shift your weight to the heel of the front leg. Engaging your core, bend the knee to form a 90-degree angle. Press onto that heel and get back up. Repeat with other leg.
This works best for your arms. Hold kettlebells in each hand and with feet shoulder-width apart, fold your arms with the weights resting on each shoulder. Slightly bend your knees and while standing up straight, push both the weights up overhead. Then bring them back to your shoulders, bend your knees, and repeat. It must be done in one smooth motion.
This engages your shoulders, chest, and core. With legs shoulder-width apart and knees slightly bent, hold one kettlebell by the horns at chest height. Lift it to eye level and gradually circle it around your head in one motion. Repeat in the other direction. The kettlebell should be horns up behind your head but in a ball-up position after the rotation.
This challenges your core and lower abdomen. Lying on your back, hold a kettlebell by the bell above your head with both hands. Lift your shoulders slightly off the ground. Then raise your legs slightly off the floor and flutter your legs up and down. Flutter kicks are designed to target the lower abdominal wall, and adding a kettlebell only challenges the muscle more.