5 must-try recipes using sprouts
5 must-try recipes using sprouts
Feb 27, 2022, 11:47 am
2 min read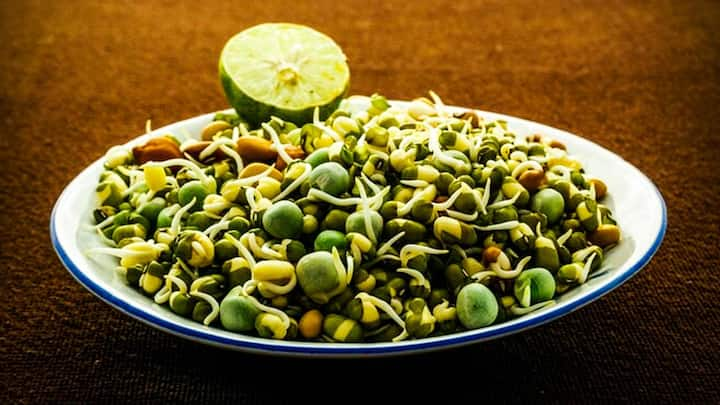 Sprouts are a powerhouse of nutrition that you can consume raw or add to other dishes. The process involves soaking seeds and legumes, like chickpeas and whole moong, and then letting them germinate. Sprouts help improve your immunity and boost your digestion. They also balance your pH levels by producing alkaline effects in your body. Here are five Indian recipes using sprouts.
This sprout salad recipe with freshly sprouted moong beans is not only great for weight loss but is quite tasty as well. Steam the sprouted moong beans and mix them with finely chopped onions, tomatoes, green chili, red chili powder, and chaat masala. Add lemon juice and sprinkle some salt. Garnish with some coriander leaves, roasted peanuts, lemon slices, and serve fresh.
If you are looking for some comfort food, then try this nutrition-rich sprout khichdi recipe to warm your soul. Heat some ghee and add cumin seeds, asafoetida, and garlic paste to it, and cook well. Then add onions, rice, and mixed sprouts. Add water and salt and pressure cook for some time. Garnish with coriander leaves, a dollop of ghee, and serve hot.
This sprout and rava pancake recipe is healthy, protein-rich, and perfect for breakfast. Blend the sprouts along with ginger and green chilis. Add rava to it and mix well. Add carrots, tofu, onions, capsicum, tomatoes, curd, coriander, ginger, salt, red chili powder, and water; mix everything well. Cook the pancake batter in ghee. Garnish with chaat masala and tofu. Serve hot with green chutney.
Packed with healthy nutrients, this bean sprout stir-fry recipe is easy to make. It's a traditional dish in China and is prepared in almost all Chinese households. Pour vegetable oil into a skillet and then add bean sprouts, mushrooms, broccoli, baby corn, carrots, and stir-fry for some time. Add sugar, salt, and soya sauce and stir-fry again. Sprinkle some sesame oil and serve immediately.
Who said cutlets are high in calories? This sprouts cutlet recipe is delicious and also helps you to stay in shape. Add chopped coriander leaves, sprouted brown chana, green chana, and white peas along with some salt in a bowl and mash well. Add chaat masala, red chili powder, and cumin powder. Shape the mixture into cutlets and shallow fry. Serve hot with chutney.