What are enoki mushrooms? (and 5 recipes you can try)
What are enoki mushrooms? (and 5 recipes you can try)
Feb 16, 2022, 06:48 pm
3 min read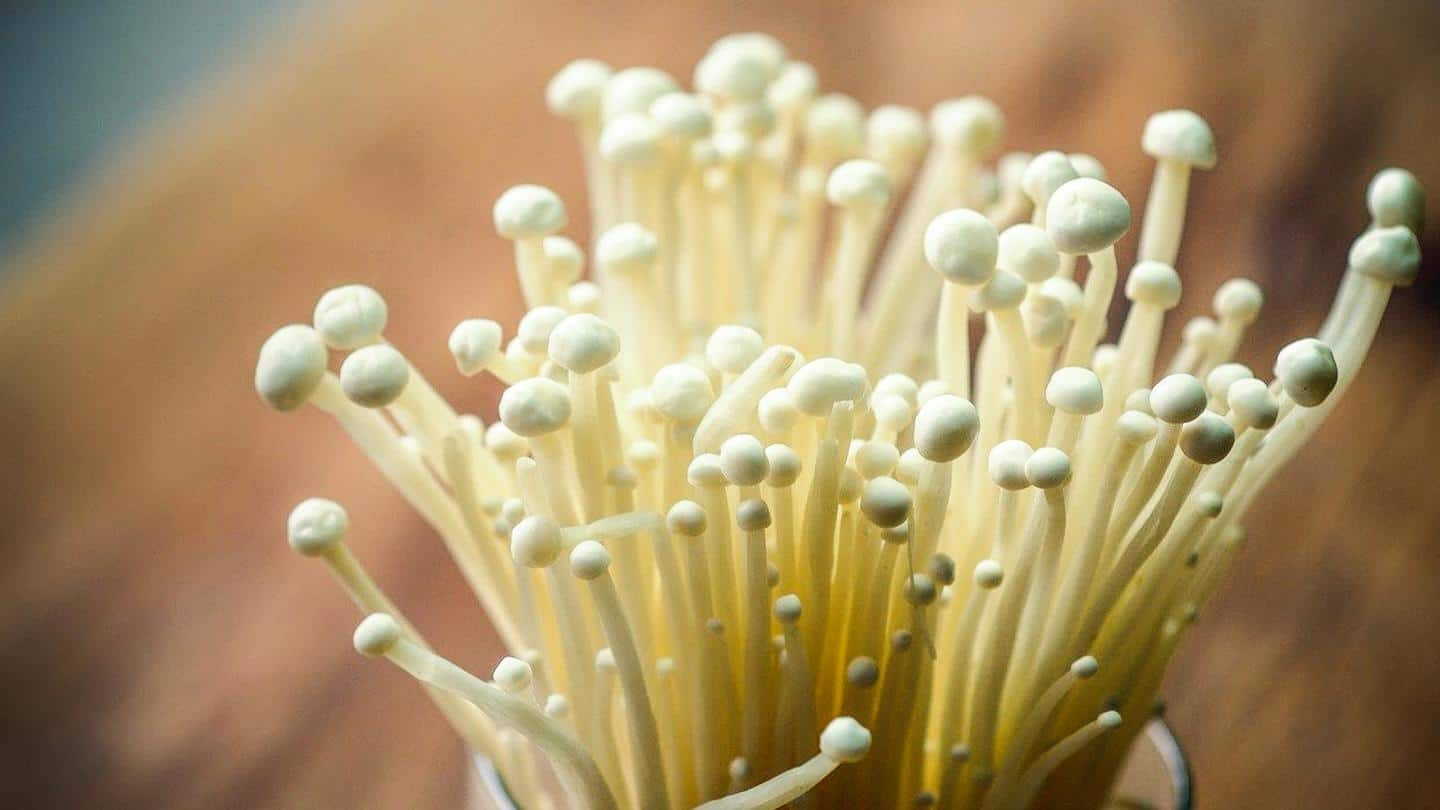 Enoki mushrooms are white, slender, and long needle-like mushrooms that are widely used in Japanese, Korean and Chinese cuisines. These mushrooms are crunchy and chewy with a mild savory and nutty flavor. They are mostly used to give that added crunch to salads, soups, and hot pots. These mushrooms are packed with anti-inflammatory and antioxidant properties and are great immunity boosters.
Health benefits of enoki mushrooms
Cultivated throughout Asia, Europe, and North America, enoki mushrooms are high in fiber, vitamin B, folate, niacin, and phosphorus. They help to slow down cancer cell growth, promote heart health, and improve your brain functioning. Enoki mushrooms also prevent diabetes and aid in digestion.
This sautéed enoki mushrooms recipe is a classic and tastes amazing as well. It is crunchy and highly nutritious and makes for the perfect evening snack. Warm some oil in a skillet. Add chopped garlic and ginger to it and stir fry. Add enoki mushrooms and cook for two-three minutes. Then add soy sauce and stir again. Garnish with some scallions and enjoy.
Miso soup with enoki mushrooms
This miso soup with enoki mushrooms recipe is light, healthy, soul-warming, and quite easy to make. It's a traditional Japanese soup infused with mild flavors. First, sauté enoki mushrooms, garlic, ginger, and onions in some oil. Then pour water and add yellow and red miso paste and soy sauce and cook well. Then stir in some tofu, garnish with green onions and serve hot.
This pancake recipe is chewy from the inside and crunchy from the outside. Mix enoki mushrooms, carrots, and onions with salt, pepper, and sesame oil in a bowl. Whisk together tapioca starch, flour, garlic powder, and water in a separate bowl and add it to the mushroom mix and combine well. Form small patties, shallow fry them and serve hot with some dipping sauce.
This enoki mushroom risotto recipe is creamy, cheesy, and is classic comfort food. First, sauté some finely chopped garlic and leeks in olive oil. Then pour in pear cider and cook for some time. Add enoki mushrooms and rice and cook for two-three minutes. Then stir in the vegetable stock, add salt, pepper, and parmesan cheese and cook well. And your risotto is ready!
Grilled enoki mushrooms wrapped in smoked chicken breast
This grilled enoki mushrooms recipe with smoked chicken breast is juicy and wholesome. This recipe resembles the Japanese yakitori with a slightly charred texture. Just fold some fresh chicken breast slices and place enoki mushrooms inside them. Wrap the mushrooms with the chicken slice and secure with a toothpick. Grill for three minutes until charred. Then garnish with celery leaves, and serve hot.