5 places in India to enjoy river rafting
5 places in India to enjoy river rafting
Apr 05, 2022, 04:05 pm
2 min read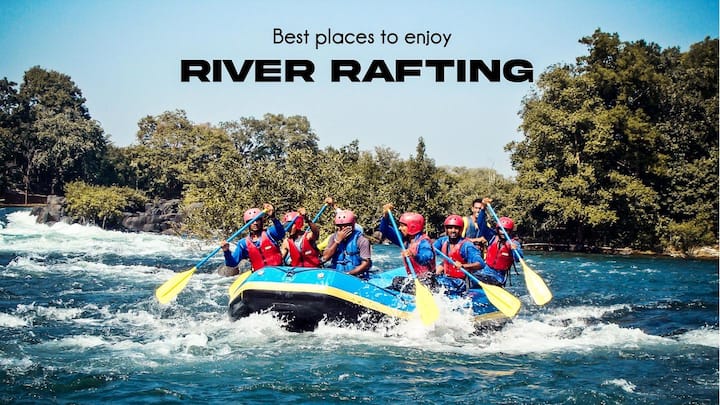 If you love adventure sports and want to get some adrenaline rush this summer, then try river rafting to make the most of your vacation. It is a thrill like no other you have ever experienced. You go through strong currents and rapids in the cool waters and reach your target point. Here are five places in India where you can enjoy river rafting.
Located in the state of Uttarakhand, Rishikesh is one of the top destinations in India to try rafting on the River Ganga. The stretches range from nine to 36 kilometers here. The four stretches are Brahmapuri to Rishikesh, Shivpuri to Rishikesh, Marine drive to Rishikesh, and Kaudiyala to Rishikesh. February to June and September to November are the best time periods to enjoy rafting.
Kundalika River in Maharashtra
If you are in Maharashtra, head to the Kundalika River to experience cruising on white waters. With a 15-kilometer rafting stretch, the small river originates in Maharashtra's Bhira and flows to the Arabian Sea from the Sahyadri Hills. Monsoon is the best time to enjoy river rafting here as the water is at its full capacity during this time.
Coorg is a popular hill station in South India and when here, you must try white water river rafting in the stunning Barapole River. The river consists of two sections--upper and lower. The upper section has about four-five rapids while the lower section has six-seven rapids. The intensity of these rapids is between grades two to four, depending upon the water level.
Beas River in Kullu Manali
Kullu Manali is the best place to enjoy the wonderful experience of river rafting with your group of friends. The river rafting route starts from Pirdi and covers areas like Bhuntar, Katrain, Mohal, Bajaura, and Jhiri on a stretch of approximately 14 kilometers. With challenging rapids between grades one and four, the activity is open from mid-September to mid-July.
Teesta River is one of the most popular spots in Sikkim for river rafting. The stunning landscape of majestic mountains and the spot where the Teesta River meets the Rangit River amplifies the thrill and beauty of the experience. Here, the rapids are usually between grades two and four, depending on the water flow. You can also try paddle rafting when here.