5 hydrating watermelon recipes to cool down this summer
5 hydrating watermelon recipes to cool down this summer
Mar 23, 2022, 04:17 pm
2 min read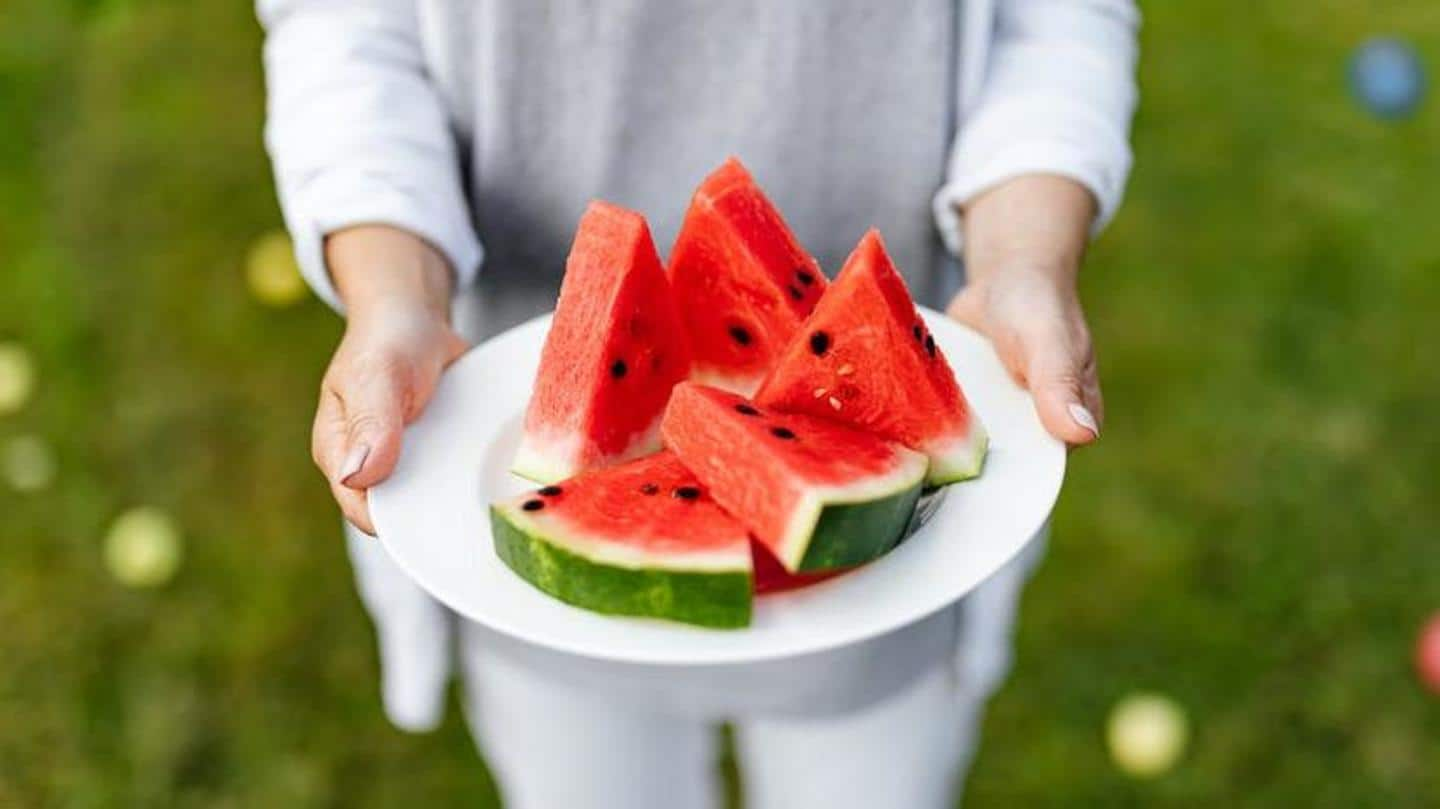 Summers are all about refreshing fruits like mangoes, litchis, and watermelons that rejuvenate your body in the scorching summer heat. Packed with essential nutrients, watermelons help you to stay hydrated, aid in weight loss, improve your heart health, and promote healthy vision. Apart from adding them to your salads and smoothies, you can also create some delectable recipes with these versatile fruits.
Have you ever heard about fruit soup? Well, this crisp and chilled spicy watermelon soup is refreshing and ideal for summer. Chop some green chilies and saute along with some ginger-garlic paste. Make a watermelon puree and add it to this mix and cook for some time till the soup thickens. Add some black pepper powder and chill before serving.
Watermelon salad with veggies
This watermelon salad recipe is refreshing and hydrating. For the dressing, take some pomegranate juice and add cumin powder, salt, pepper, olive oil and whisk well. Add watermelon cubes, onions, tomatoes, bell peppers, olives, cucumbers to another bowl and mix well with salt, pepper, lettuce leaves, and pistachios. Drizzle with the dressing and serve chilled.
This low-calorie and refreshing watermelon sorbet is the perfect summer dessert. Blend some fresh watermelon and strain the puree to discard any seeds and pulp. Add lemonade concentrate, crushed pineapple, and little sugar to it and mix well. Freeze this mixture until firm. Break the frozen mixture into chunks and blend it until smooth. Your chilled watermelon sorbet is ready to serve.
This pizza is a nice way to make your kids eat watermelon during summer. Use the watermelon as a base and top it up with different things, such as your kid's favorite cheese, juice, and some herbs. Slice it into a few triangular pieces and add basil and feta cheese. You can also add some dry fruits and finish with some chocolate syrup.
This punch is a heavenly combination of watermelon and raspberries. Make sugar syrup and add the raspberries to it. Heat until the raspberries become soft. Strain and keep aside. Now churn some watermelon in a blender and pass it through a sieve to remove the pulp. Mix this juice with raspberry syrup and some lemon juice. Serve with fresh watermelon slices.