Maharashtra: Congress, NCP, Shiv Sena likely to announce alliance today
Maharashtra: Congress, NCP, Shiv Sena likely to announce alliance today
Nov 22, 2019, 10:56 am
3 min read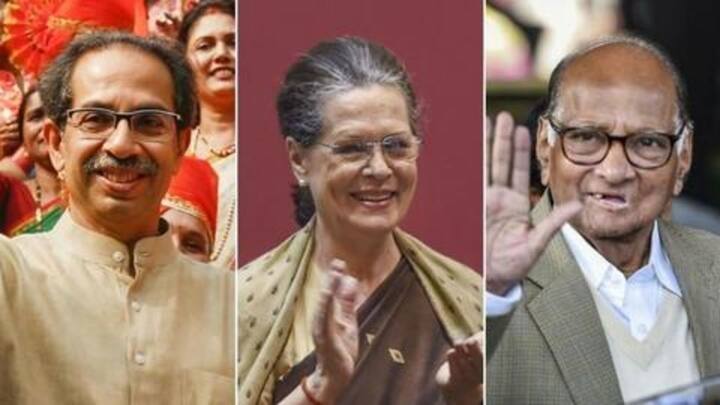 The Congress, Nationalist Congress Party (NCP) and the Shiv Sena will hold a meeting in Mumbai on Friday to further their talks over an alliance in Maharashtra. They are likely to make an announcement about joining hands later on Friday. The meeting follows a late Thursday meet between NCP and Shiv Sena chiefs Sharad Pawar and Uddhav Thackeray at the former's residence in Mumbai.
KC Venugopal, Ahmed Patel, and Mallikarjun Kharge to meet Sena-NCP
Reportedly, Congress leaders KC Venugopal, Ahmed Patel, and Mallikarjun Kharge will be meeting the Shiv Sena and the NCP for discussions over modalities of government formation in Maharashtra. Meanwhile, an hour-long meeting was held at Pawar's residence 'Silver Oak' after he arrived in Mumbai Thursday evening. Thackeray, his MLA-son Aaditya, party MP Sanjay Raut and NCP's Ajit Pawar were present at the meet.
Congress, NCP meetings in Delhi ensured 'complete unanimity'
Although no Congress leader was present at the Thursday meeting at Pawar's residence, the NCP and the Congress have held several meetings in Delhi ahead of meeting Sena leaders to arrive at "complete unanimity" on issues concerning government formation, as per Congress leader Prithviraj Chavan.
Power-sharing likely discussed during Thursday meeting: NCP leader
Speaking to PTI about the Thursday meeting, an NCP leader said, "Since it was a meeting between top leaders, only they will know what transpired there." However, the NCP leader added, "The discussion is likely to have revolved around giving final touches to sharing of posts in the government being planned to be formed."
Three parties to announce alliance on Friday, say sources
As per Chavan, the upcoming Friday meeting will "finalize the architecture of the alliance". The Congress and NCP will also meet with other pre-poll allies, such as the Peasants Workers Party, Samajwadi Party, Swabhimani Paksh and CPI(M). Sources told PTI that the three parties are likely to make a formal announcement on Friday about forming an alliance in Maharashtra.
Thackeray to hold separate meeting with Sena MLAs on Friday
Separately, the Sena chief has also called for a meeting of party MLAs and senior leaders on Friday at Matoshree. Reportedly, Thackeray will discuss the party's line of action at the meeting, considering the formation of an alliance with non-BJP parties, a party leader said.
Who will be Maharashtra's Chief Minister?
Speculations are rife that Thackeray Sr. will become Chief Minister, with two deputy CMs from NCP and Congress each. Further, according to Hindustan Times, the Sena and NCP are expected to get 15-16 berths out of the 43 ministerial berths. The Congress will get 12-13 berths. The numbers were decided considering the assembly seats each party won (Sena: 56; NCP: 54; Congress: 44).
Balasaheb Thorat, Ajit Pawar picks for Deputy CM: Report
NCP's Ajit Pawar and Congress' Balasaheb Thorat will likely be the picks for deputy CM, HT reported. Thorat is also expected to get the revenue portfolio. However, Aaditya, a first-time MLA, is unlikely to be included as a minister, a party functionary told the publication.