Will Priyanka Gandhi approve 'Draupadi Cheerharan' poster: BJP asks Congress
Will Priyanka Gandhi approve 'Draupadi Cheerharan' poster: BJP asks Congress
Jan 25, 2019, 07:56 pm
2 min read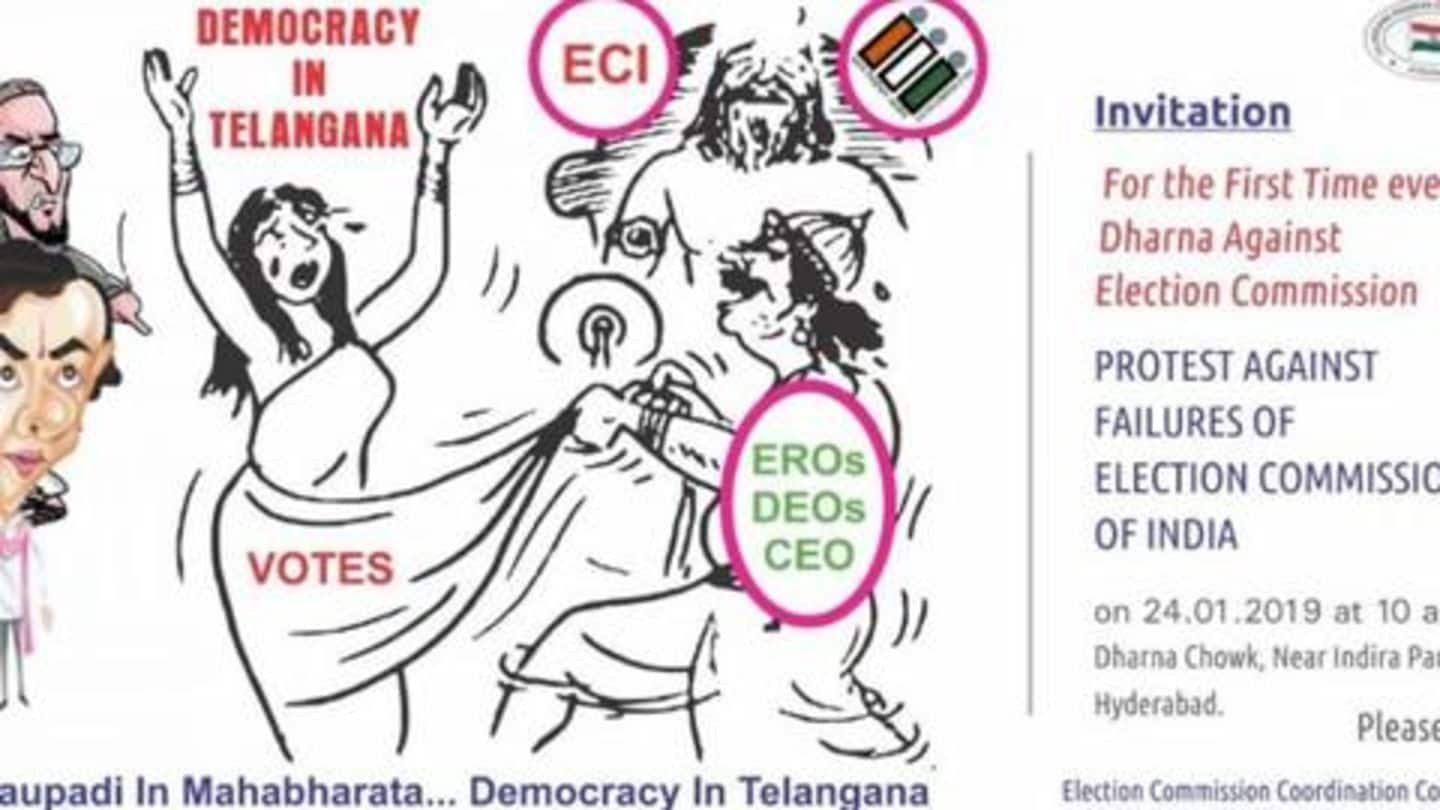 The Bharatiya Janata Party has demanded an unconditional apology from Congress President Rahul Gandhi after a controversial poster was put up by his party cadres in Telangana against the Election Commission. The poster showed Draupadi Cheerharan from the Mahabharata. While voters were depicted as Draupadi, EC was shown as evil Kauravas who disrobed her. Chief Minister KCR was shown as a mute spectator.
Why is Congress protesting against EC?
The Telangana Congress accused the poll-conducting body of being partial towards Telangana Rashtra Samiti (TRS). The Congress asked cadres to come to Dharna Chowk, Indira Park, on Thursday to highlight EC's "failure to prepare electoral rolls". To recall, TRS swept the Southern state in the recently held assembly polls by winning 88 seats. Congress which joined hands with TDP won just 19.
BJP asks Congress if Priyanka Gandhi is fine with poster
As it turned out, Congress' protest made it to news but for all the wrong reasons. Telangana BJP spokesperson, Krishna Sagar Rao asked Congress if its newly appointed general secretary (for UP East) Priyanka Gandhi Vadra would 'approve' of mythological characters being used for such posters. Surprisingly, AIMIM Chief Asaduddin Owaisi, who is always at loggerheads with BJP, agreed with the saffron party.
What if someone creates a poster of Sonia Gandhi: Owaisi
"What if someone creates a cartoon of Sonia, Priyanka and Rahul Gandhi. How would the party react? I respect Sonia Gandhi a lot. The Congress party can protest for their rights but not in such a way that insults women," said Owaisi.
Congress leader laughs at BJP's demand
Despite the brouhaha, Congress didn't find anything wrong in the poster. Telangana Congress election committee chief, Marri Shashidhar Reddy, mocked BJP's demand of an apology from RaGa. Taking full responsibility for the poster, Reddy said it had nothing to do with Hindu sentiments and only highlighted the lapses of EC. He added being a Hindu, he wouldn't hurt their sentiments.