Five poll contestants test COVID-19 positive in West Bengal
Five poll contestants test COVID-19 positive in West Bengal
Written by
Astha Oriel
(Sourced from PTI)
Apr 16, 2021, 06:07 pm
3 min read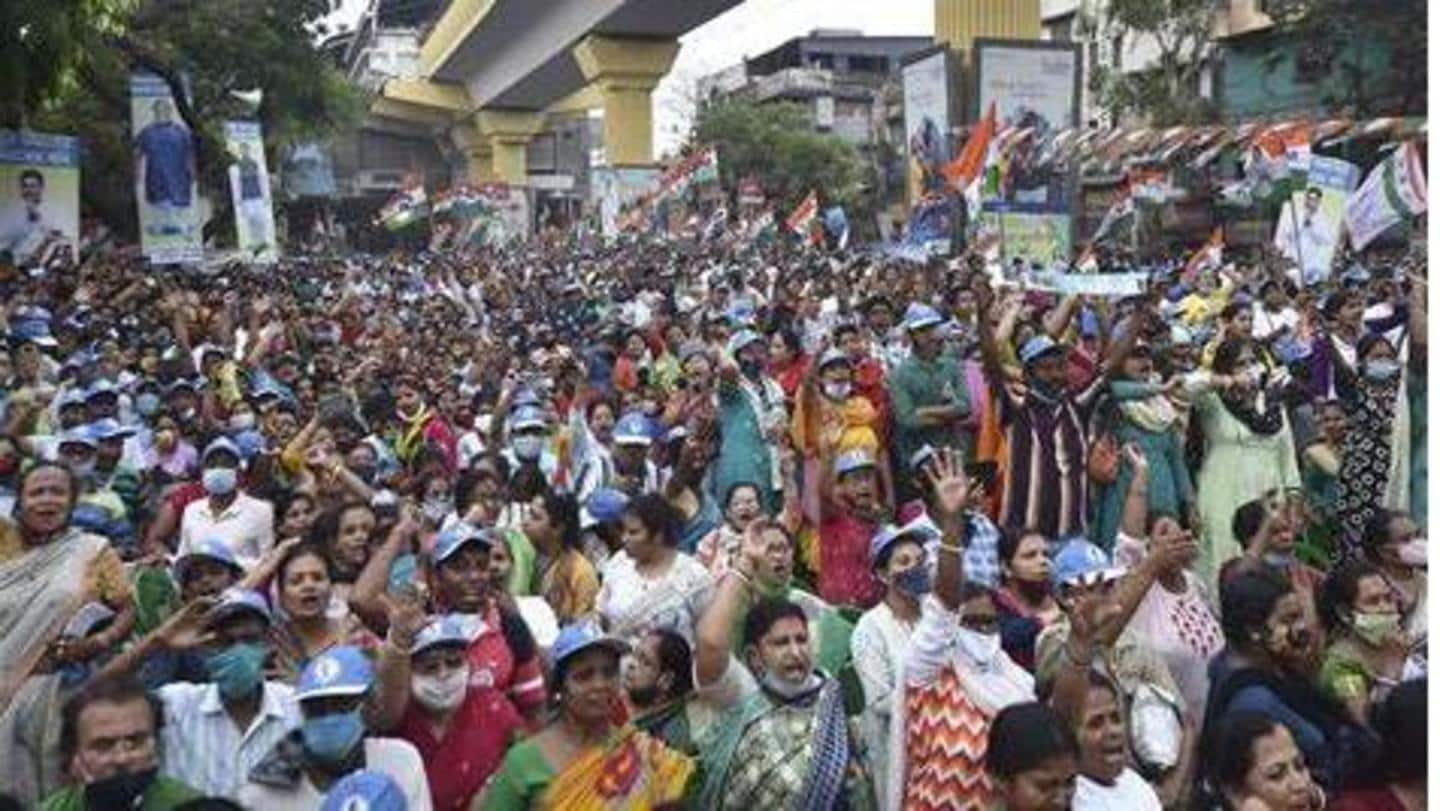 At least five candidates of different parties contesting the ongoing assembly election in West Bengal have tested positive for COVID-19, a health department official said on Friday. "Out of the five candidates who tested positive, three are from the Trinamool Congress (TMC), and one each from the Revolutionary Socialist Party (RSP) and the Bharatiya Janata Party (BJP)," he added. Here are more details.
These are the candidates who tested COVID-19 positive
"RSP's Jangipur candidate, 73-year-old Pradip Kumar Nandi, tested positive on Wednesday and is now in home isolation," the official said. "BJP'S candidate for Matigara-Naxalbari seat Anandamay Barman (38), TMC's Goalpokhar nominee Mohmmed Ghulam Rabbani, Tapan candidate Kalpana Kisku, and Jalpaiguri candidate, Dr. Pradip Kumar Barma have tested COVID-19 positive," the health official added.
Candidates who tested positive must immediately stop campaigning: CEO
According to an official at the Chief Election Office (CEO), "The candidates who tested positive must immediately stop campaigning. Either they should isolate themselves at their homes or get themselves hospitalized depending on the severity of the infection."
Congress candidate passed away yesterday due to COVID-19
Congress candidate Rezaul Haque from Samsherganj constituency of Murshidabad District, who had tested positive for COVID-19, died at a hospital in Kolkata early on Thursday. Condoling his death, the West Bengal Congress chief Adhir Ranjan Chowdhury said that the Election Commission should take note of the various instances of violation of safety protocols at poll rallies.
On Friday, the Election Commission said that it may ban political rallies if coronavirus norms are not followed. In a letter to all recognized state and national political parties, EC drew attention to the worrying coronavirus numbers being reported across India.
Yogi Adityanath, who has been actively campaigning, had tested positive
Uttar Pradesh Chief Minister Yogi Adityanath on Wednesday announced that he has tested positive for COVID-19. The 48-year-old CM said that he has self-isolated and advised those who came in contact with him to get tested for the viral disease. Notably, Adityanath has actively been campaigning for his Bharatiya Janata Party (BJP) in the ongoing eight-phase West Bengal Assembly election.
Polls in West Bengal being conducted in eight phases
West Bengal along with Assam, Kerala, Puducherry, Tamil Nadu is undergoing assembly elections amidst the second wave of COVID-19 throughout the country. Polls in West Bengal are being conducted in eight phases, out of which four are over. The next phase is on April 17.
CM urged EC to club four phases of Assembly elections
West Bengal Chief Minister Mamata Banerjee on Thursday urged the Election Commission to hold the remaining four phases of the state Assembly elections in one day. The call was made in light of the ever-worsening COVID-19 situation. EC officials had said earlier in the day that there was no plan to club the final four election phases.
West Bengal logged 6,769 fresh COVID-19 cases
In poll-bound West Bengal, the number of daily COVID-19 cases increased by as much as 15 times in the last 30 days. In the last 24 hours, the state recorded 6,769 cases thus taking the total tally of COVID-19 cases to 6,36,885 The state has also recorded 10,480 COVID-19 deaths and 5,89,424 recoveries so far.