Goa: 4 ministers, including 3 ex-Congress MLAs, included in Cabinet
Goa: 4 ministers, including 3 ex-Congress MLAs, included in Cabinet
Jul 13, 2019, 05:19 pm
3 min read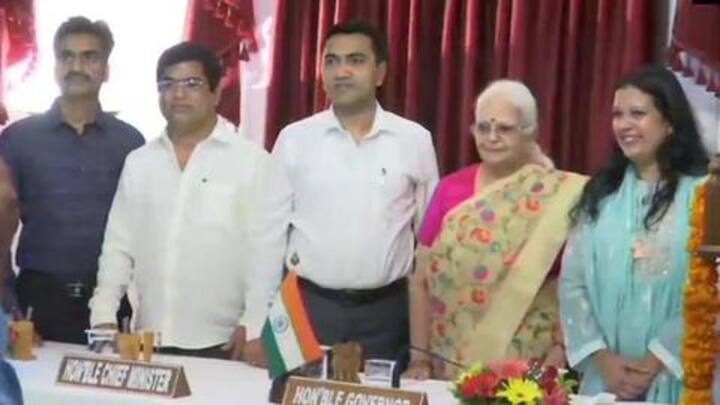 On Saturday, Goa Chief Minister Pramod Sawant inducted four new ministers in his Cabinet. Out of them, three were those who quit Congress to join BJP earlier this week. Naturally, the reshuffle angered Goa Forward Party, which is an NDA ally, as three of its ministers were dropped. A miffed GFP tweeted they kept their word till "last", but to no avail.
First, a bit on how Goa politics changed this week
The Congress in Goa suffered a major setback after 10 of its 15 MLAs deserted the party to join the ruling BJP. They claimed "development" drove their decision. The mass defections took BJP's strength in the 40-member assembly to 27. Congress, which emerged as the single largest party after 2017 polls but failed to form a government, is reduced to just five members.
Who are the ministers who got Cabinet positions?
Notably, Sawant's Cabinet now includes Chandrakant Kavlekar, Jennifer Monserrate, Filipe Nery Rodrigues, and Michael Lobo. Interestingly, before he dumped Congress, Kavlekar was the leader of opposition in the assembly. Jennifer is the wife of controversial Panaji legislator Atanasio "Babush" Monserrate. On the other hand, Lobo was the Deputy Speaker in the assembly and resigned earlier in the day to take on the new position.
Spot visuals: New ministers take oath
Filipe Nery Rodrigues, Jennifer Monserratte, and Chandrakant Kavleka, three out of the ten MLAs who joined BJP from Congress recently, take oath as ministers in Goa Government. Former Deputy Speaker Michael Lobo also takes oath. pic.twitter.com/ns9PpK9CtA

— ANI (@ANI) July 13, 2019
Sawant rang up Cabinet colleagues, asked them to quit
To make way for his new Cabinet colleagues, Sawant asked an equal number to quit. Reportedly, he called Deputy Chief Minister Vijay Sardesai, Vinod Palienkar and Jayesh Salgaocar (all belonging to GFP) and an independent minister Rohan Khaunte, to hand over their resignations. To recall, GFP lent support to BJP after the saffron party failed to reach the majority mark in assembly polls.
In 2017, GFP joined hands with BJP, Parrikar became CM
When GFP joined hands with BJP, the former had one condition that Manohar Parrikar, who was then Defense Minister, to return to Goa as CM. Giving in to the demands, Parrikar became Goa's CM, till he breathed his last in March 2019. After his demise, the government was in tatters but after negotiations with top BJP's top brass, GFP remained part of the coalition.
Dropped from Cabinet, GFP tweeted 'Word is everything'
POWER IS NOTHING. THE WORD IS EVERYTHING. We stood by our word till the end not because we thought we'll never be let down but because that's what a true, honourable Goemkar will do. And we'll do it again. And again. And again. For Goem, Goemkar and Goemkarponn. @VijaiSardesai pic.twitter.com/flTL5sypFG

— Goa Forward (@Goaforwardparty) July 13, 2019
According to Lobo, GFP's behavior landed it in trouble
However, if Lobo's words are anything to go by, GFP may have been dropped due to its "arm twisting tactics". "I am happy that some old ministers are being taken out. There was a lot of threat they kept imposing that they will withdraw support if their work was not done... The BJP was under constant fear of their dadagiri," Lobo said.