All about Kamal Haasan's political party 'Makkal Needhi Maiam'
All about Kamal Haasan's political party 'Makkal Needhi Maiam'
Feb 22, 2018, 12:47 pm
3 min read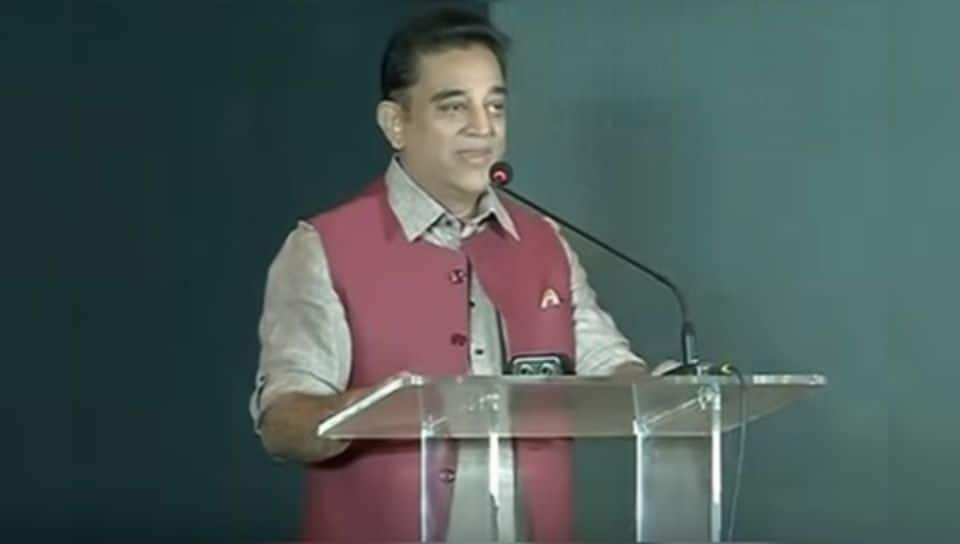 In true filmy style, superstar Kamal Haasan finally took the political plunge. He used drama, dialogue-baazi and emotion, enticing people into his fold. He christened his party "Makkal Needhi Maiam," declaring it to be "for the people." With Delhi-CM Arvind Kejriwal by his side, he also highlighted his political ideology. So, what are Haasan's political plans? Here's a low-down on the newest political entrant.
'Not left or right. I am centre'
Regarding his ideology, Haasan said, "People are asking me whether I am Left or Right. I don't believe in any ism." He claimed that he was ideologically neutral. Apparently, his party's name signals this. Makkal Needhi Maiam roughly translates to "People's Justice Centre."
As per his flag, is Haasan eyeing a Southern coalition?
Haasan also unfurled his party's flag featuring six united hands, three each in white and red with a white star in the middle. The six enjoined hands represent the southern states of Andhra, Telangana, Karnataka, Kerala, TN and one UT, Andaman and Nicobar. Earlier, he had batted for a united South under the "Dravidian" tag. So, is Haasan aiming to become the southern satrap?
Politically, who does Haasan idolize and draw inspiration from?
When asked who his inspiration was, Haasan promptly replied Bhim Rao Ambedkar, Mahatma Gandhi and Periyar E V Ramasamy. He also projected Andhra CM Chandrababu Naidu, Kerala CM Pinarayi Vijayan, Kejriwal and former US president Barack Obama as his other political idols. Through these assertions also, Haasan clearly signified his preference for pragmatism, avoiding ideologies, religion, caste and their effects on society.
But, does Haasan have a road-map?
However, Haasan couldn't provide concrete steps for problems that he spoke about. For example, regarding the Cauvery-water dispute, Haasan claimed negotiations would get TN its share. Referring to blood donation camps that his fan-clubs organize, he bellowed, "If I can even get blood from Bengaluru, why not water?" This was a simplified explanation which didn't acknowledge that negotiations had failed, necessitating the legal option.
Kejriwal: Haasan's party will break AAP's record
At the high-profile launch, AAP chief Kejriwal declared that corruption and communalism are the main issues affecting politics. He added, "If you want corruption, vote for DMK/AIADMK. If you want schools, road, water, electricity vote for Haasan." Comparing with AAP's Delhi victory (67 of 70 seats), he expressed confidence that Haasan's new party will break this record, securing a full-blown majority in TN Assembly.
What does Haasan's entry mean for TN politics?
As Haasan enters the political arena, his "timing" is just about correct. TN's main parties face a leadership void and inter-party squabbling. Governance has suffered, increasing public's frustration. In such a situation, a matinee idol with an apparent tilt towards Left-of-centre politics, abhorrence for "saffronization" and promise of mass-welfare might be their would-be messiah. However, he faces a formidable challenger, megastar Rajinikanth.