Feel like rape survivor: Karnataka speaker's statement sparks row
Feel like rape survivor: Karnataka speaker's statement sparks row
Feb 13, 2019, 01:51 pm
3 min read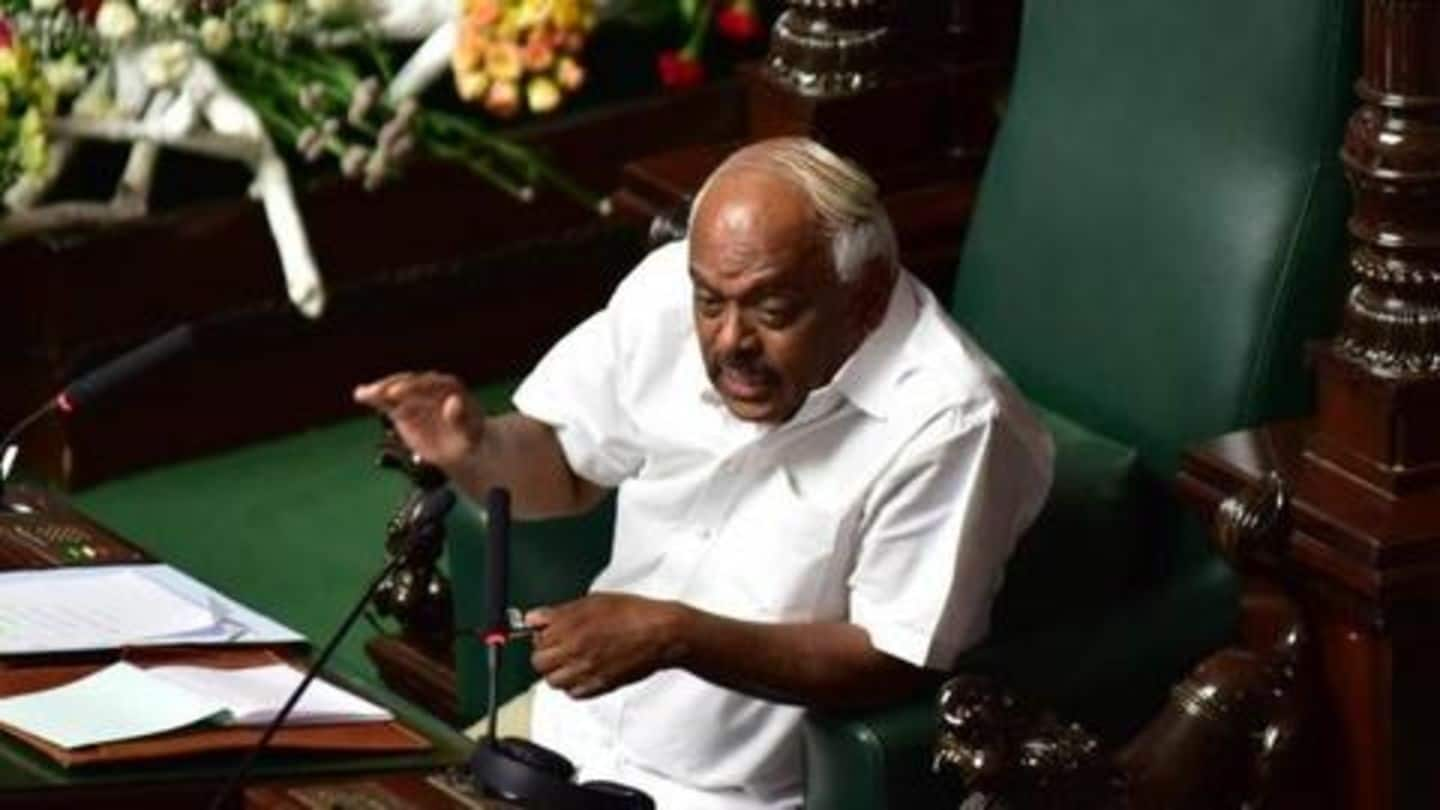 Amid the ongoing audio tape row which has rocked Karnataka politics, speaker KR Ramesh on Tuesday likened himself to a rape survivor who repeatedly has to answer questions. Ramesh's name came up in the assembly session a few times, "prompting" him to draw the analogy. While Ramesh's comments were appalling, the legislators found them amusing and burst out in laughter. Here's what went down.
Backstory: 'Operation Lotus' is underway in Karnataka, Kumaraswamy claims
Last week Karnataka Chief Minister HD Kumaraswamy aired two audio clips to support his claim that former CM and senior BJP leader BS Yeddyurappa was trying to topple his coalition government. Kumaraswamy alleged Yeddyurappa called JD(S) lawmaker Naganagouda's son Sharan to entice him against the government and be part of 'Operation Lotus'. Another clip claimed speaker Ramesh took a bribe to 'accept resignations'.
Speaker requested CM to constitute SIT, said would quit politics
The Karnataka government, which isn't even a year old, is not new to controversies and the audio tapes just added to the long list. After his name was dragged, Ramesh made an impassioned request to Kumaraswamy asking him to constitute a SIT. "Whichever MLA took my name in the tape must step out of politics or I should be out of politics," he said.
But allegations continued and Ramesh made problematic statement
But the constitution of SIT didn't douse the fire as the house witnessed an uproar on Tuesday as well. Responding to the allegations, Ramesh said, "My situation is like that of a rape victim. The rape happened just once. Had you left it at that, it would have passed." He added he was grilled like a rape victim in the house.
"At the end of the (rape) trial, the woman will say that she was raped only once in reality, but she was raped multiple times in court during cross-examination. My situation is like that," he said.
Mehbooba Mufti slams Ramesh and the laughing legislators
His terrible comments drew the ire of netizens, including former Jammu and Kashmir Chief Minister Mehbooba Mufti. Mufti tweeted, "No sir you cannot feel like a rape victim. Clearly, you have no idea what a woman who is assaulted has to endure. This twisted analogy is bizarre and sick. What's more disturbing is that fellow lawmakers break out into peals of laughter."
Separately, Yeddyurappa is against SIT as it will be 'unfair'
Notably, Yeddyurappa and the BJP, which has 104 legislators in the house, is against the SIT probe. The members of the saffron party believe the probe won't be fair as Kumaraswamy is also an 'accused'. Yeddyurappa claimed Kumaraswamy sent Sharan to him at night and created confusion by recording and releasing the conversation. He added Kumaraswamy committed 'the unpardonable offense of humiliating the speaker'.