#Verdict2019: Counting for Lok Sabha elections begins
#Verdict2019: Counting for Lok Sabha elections begins
May 23, 2019, 08:07 am
3 min read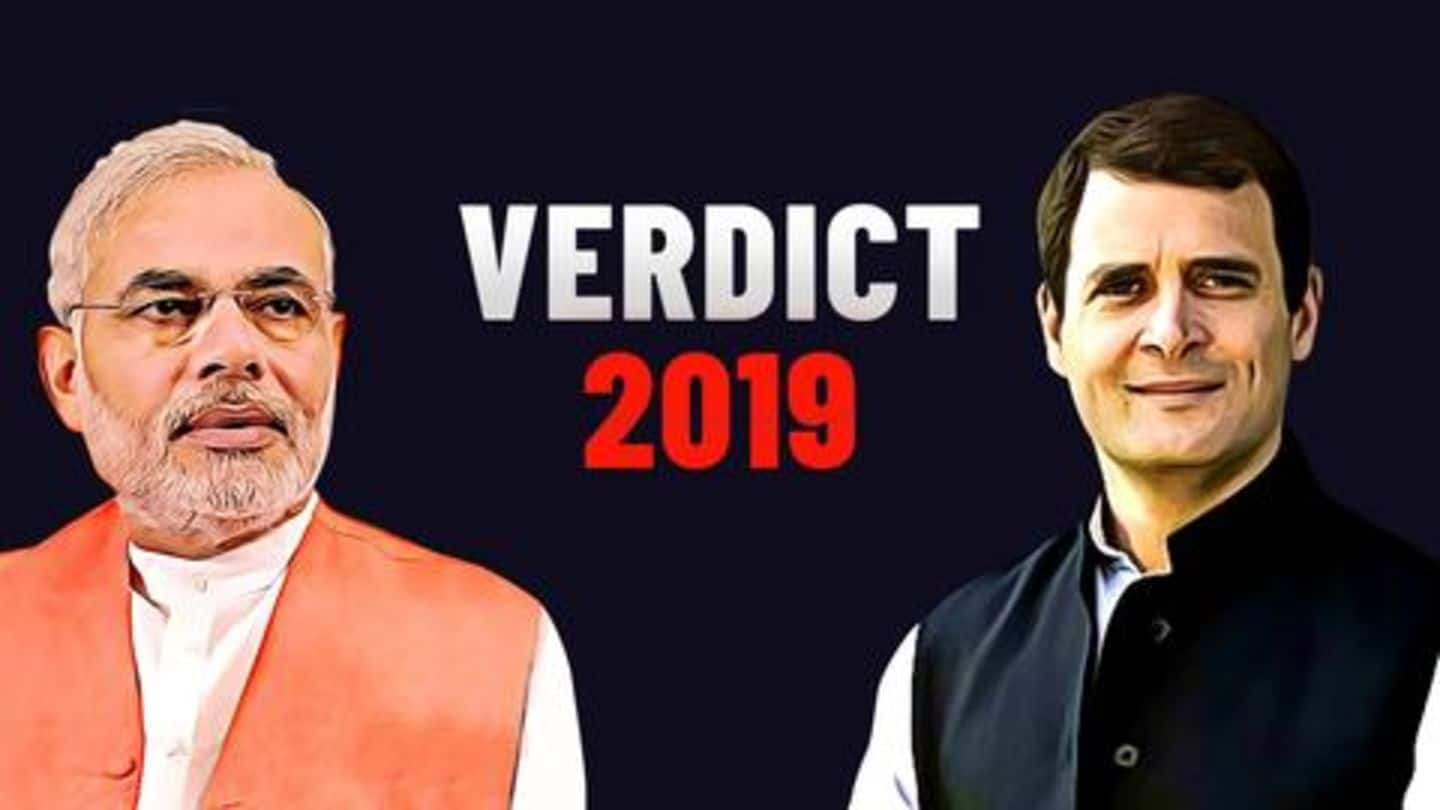 The Election Commission started counting the votes for Lok Sabha polls today at 8 AM. In a few hours from now, the world will know who will form the next government in India. This time, elections were held in seven phases. The polling began on April 11 and ended on May 19. As per exit polls, PM Narendra Modi will return to power.
Voters, polling stations and more: Let's look at the numbers
Polling for the 17th Lok Sabha polls was conducted across 10.3 lakh polling stations. The voter turnout percentage was recorded at 67.11%. Notably, 90.99 crore people were eligible to cast their votes this time. Elections were held in 542 out of 543 Lok Sabha seats. The polling watchdog canceled polls for Vellore constituency, keeping in mind the excessive use of money.
Last time, BJP swept the nation while Congress lost poorly
To recall, in the last parliamentary polls, BJP won a historic mandate. Out of 543 seats, the party won 282 seats, 10 more than the majority mark of 272. Meanwhile, Congress, which led UPA government from 2004 to 2014, was reduced to a meager 44 seats. This time BJP is hoping to repeat history whereas the grand old party is eyeing a resurrection.
BJP spoke about nationalism, Congress about Rafale
For 2019 polls, BJP revolved its campaign around nationalism, the schemes which it introduced in the last five years, and anti-dynasty politics. At the same time, Congress attacked the saffron party over unemployment, crumbling economy, and farmer distress. Apart from this, Congress President Rahul Gandhi spoke relentlessly about the multi-crore Rafale deal. He alleged PM signed a corrupt deal to help industrialist Anil Ambani.
NDA's umbrella became bigger than ever this time
Apart from the two giant parties, regional parties also played important roles in these elections. Mamata Banerjee's Trinamool in West Bengal, Chandrababu Naidu's TDP in Andhra Pradesh and Uddhav Thackeray's Shiv Sena in Maharashtra are some of the key parties. While some regional parties joined BJP to form NDA, which now has 39 allies, others fought a direct battle with BJP on local issues.
Exit polls said India will be painted saffron again
Notably, the bitterly fought elections brought good news for BJP as most exit polls favored the saffron party. Exit polls gave BJP close to 300 seats and said Congress might find it difficult to touch 150-seat mark. However, Congress dismissed the predictions of exit polls. Rahul asked the party's workers to remain alert and promised their hard work won't go in vain.
Rahul wants the Congress cadre to be alert
कांग्रेस पार्टी के प्रिय कार्यकर्ताओं ,

अगले 24 घंटे महत्वपूर्ण हैं। सतर्क और चौकन्ना रहें। डरे नहीं। आप सत्य के लिए लड़ रहे हैं । फर्जी एग्जिट पोल के दुष्प्रचार से निराश न हो। खुद पर और कांग्रेस पार्टी पर विश्वास रखें, आपकी मेहनत बेकार नहीं जाएगी।

जय हिन्द।

राहुल गांधी

— Rahul Gandhi (@RahulGandhi) May 22, 2019