Maharashtra: Bitter allies Shiv Sena, BJP met Governor separately
Maharashtra: Bitter allies Shiv Sena, BJP met Governor separately
Oct 28, 2019, 01:41 pm
3 min read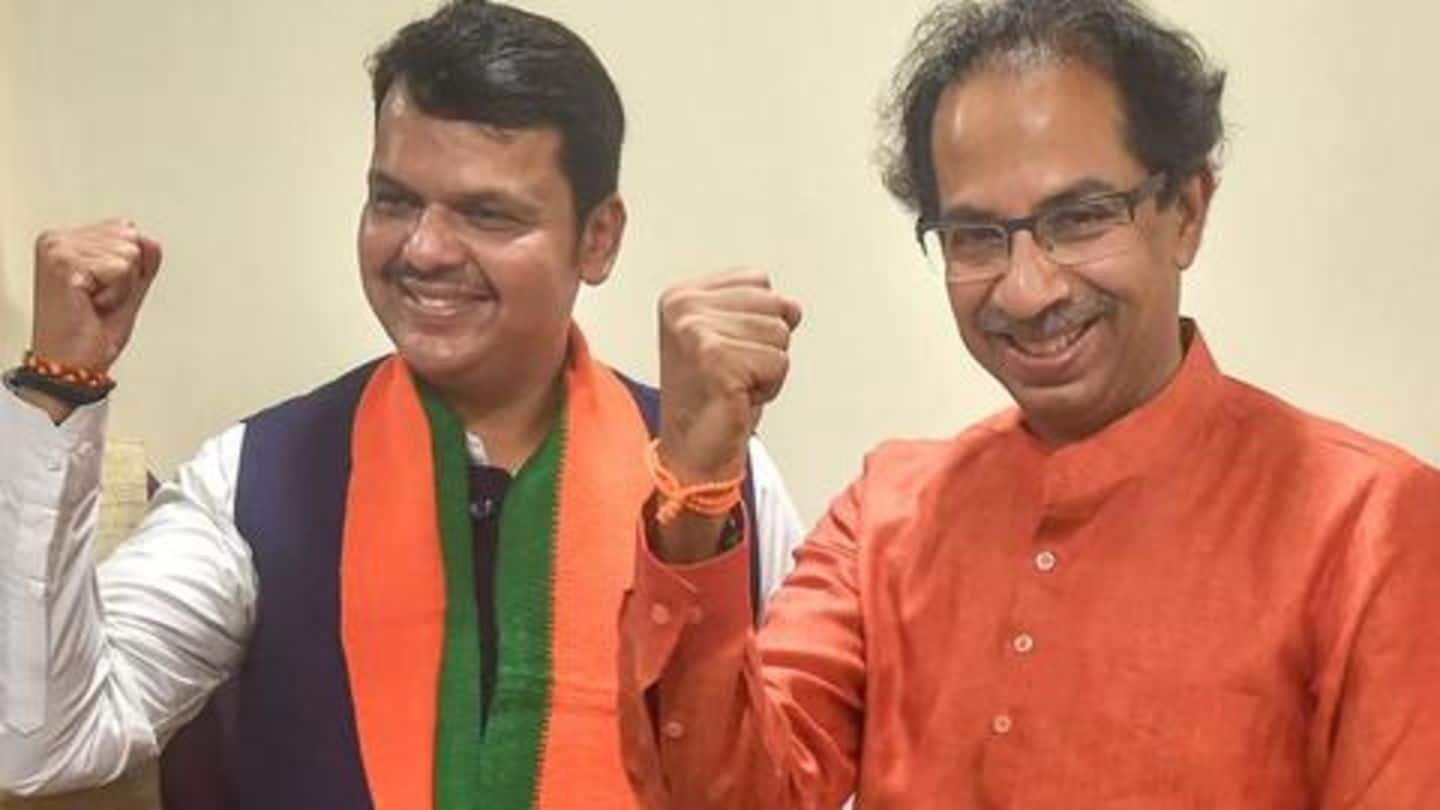 In Maharashtra, the road to form the next government has been rocky, to say the least, as BJP and Shiv Sena are at loggerheads over power-sharing. Adding to the ongoing uncertainty, BJP's Devendra Fadnavis, the incumbent CM, and Sena's Diwakar Raote met Governor Bhagat Singh Koshyari separately today. Though it was termed as a "courtesy visit", it's obviously more than that.
Why are Sena and BJP fighting? Let's tell you
Before Assembly polls, Sena reluctantly agreed to contest on 124 seats, leaving 150 seats for BJP. When results were declared, BJP won 105 and Sena 63. Though numbers of both parties dipped, Sena got an upper hand as it knew the "bigger party" would need its help to stake a claim. Thereafter, Uddhav Thackeray's organization asked BJP to "honor" the 50-50 deal.
Of late, Sena has issued several warnings to BJP
If the 50-50 arrangement goes through, Sena and BJP will share responsibilities for 2.5 years each. The party wants Aaditya Thackeray, a first-time MLA, to be the CM. After the results were declared, Thackeray Sr. said he can't always be accommodating. Separately, Sanjay Raut said the "remote control of power" lies with his party. Meanwhile, Fadnavis reminded that BJP is still the single-largest party.
At this juncture, when the allies are bickering, the twin meetings with the Governor gained attention. About the meeting, a BJP leader said, "The CM may brief the Governor on the current political situation, particularly the possibility of staking claim to form the next government. Raote too will present his party's views, particularly the decision taken at the meeting Shiv Sena legislators."
Now, both Sena and BJP are wooing independents
While both BJP and Sena have hardened their stands, they are also simultaneously working to win over independent MLAs. On Sunday, Geeta Jain, a BJP rebel and independent MLA from Mira Bhayandar seat, met Fadnavis and extended her support to BJP. Sena, on its part, got support from Achalpur MLA Bachchu Kadu (who heads Prahar Janshakti Party) and Rajkumar Patel, a legislator from Melghat.
Later this week, Shah could meet Thackeray
As per reports, Union Home Minister and BJP boss Amit Shah might meet Thackeray on October 30, after having a word with newly-elected MLAs of his party. "A meeting of the BJP legislative party will take place in Mumbai on October 30. All the party legislators and state office-bearers will also be present," said BJP MLC Girish Vyas. Fadnavis will also attend the legislative meeting.
Elections served as wake-up call as BJP didn't sweep states
Initially, it was widely believed that BJP might sweep both Maharashtra and Haryana. But the results busted this myth showing that voters aren't as happy as the saffron party would like us to believe. In fact, BJP performed poorly in Haryana, where it won just 40 of 90 seats. It had to take help from Dushyant Singh Chautala's JJP to form the government.