Despite poll debacle, Congress doesn't accept Rahul Gandhi's resignation
Despite poll debacle, Congress doesn't accept Rahul Gandhi's resignation
May 25, 2019, 01:06 pm
3 min read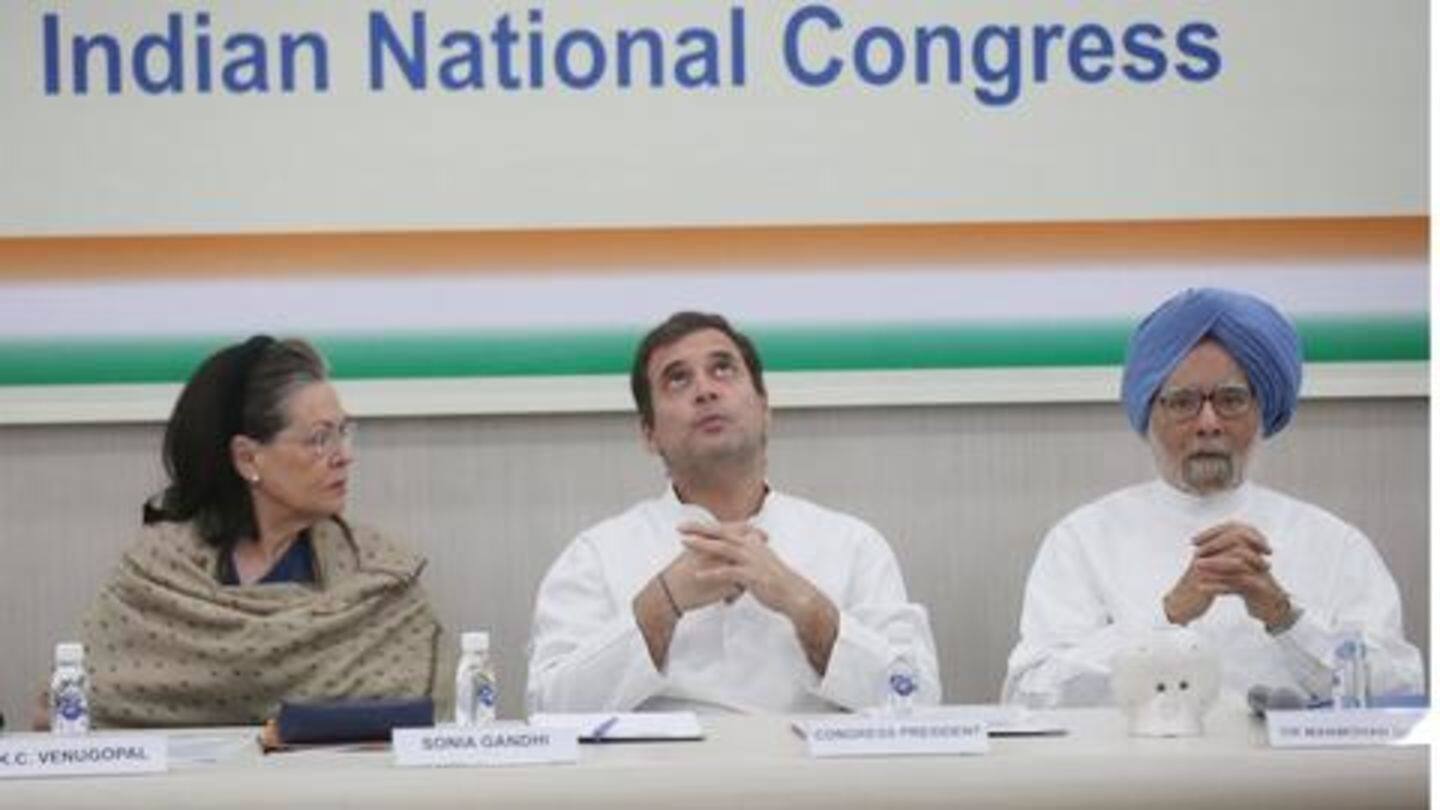 After a humiliating defeat in 2019 Lok Sabha polls, Congress President Rahul Gandhi offered to step down from his post on Saturday. He revealed his decision at the Congress Working Committee (CWC) meeting. However, the committee didn't accept his resignation. In the recently concluded polls, Congress won 52 out of 543 Lok Sabha seats, just 8 more than its 2014 tally. Here's more.
PM Modi is returning to office with a bigger mandate
On Thursday, Prime Minister Narendra Modi-led BJP registered a stunning victory in general elections. The saffron party won 303 seats, more than what it won in 2014, while NDA breached the 350-mark. Notably, a party or coalition needs 272 seats to form the government at the Centre. While BJP did the unthinkable, Congress failed to pick up its pieces and was completely wiped out.
Unsurprisingly, Rahul lost his turf Amethi to Smriti Irani
For Rahul, the defeat was particularly embarrassing as he failed to retain his citadel Amethi. The Uttar Pradesh constituency was won by BJP's Smriti Irani by a margin of 55,000 votes. Rahul is going to Lok Sabha only because he won Wayanad, Kerala. Conceding defeat, Rahul said he accepts the mandate of citizens. He promised to keep fighting the "ideological battle".
Apparently, mother Sonia and sister Priyanka convinced Rahul to stay
The CWC meeting of 52 Congress leaders was convened to take stock of the situation. Apart from Rahul, UPA chairperson Sonia Gandhi, and Priyanka Gandhi attended the important meeting, along with former Prime Minister Dr. Manomohan Singh. Reportedly, after Rahul offered his resignation, the top brass asked him to stay. Mother Sonia and sister Priyanka convinced him this wasn't the best idea.
Earlier, Raj Babbar said he would resign
It should be noted that Rahul received a batch of resignations after the poll debacle. On Friday, UP Congress Chief Raj Babbar took responsibility for the loss and said he would tell his intentions to seniors in the party. Meanwhile, Congress' Karnataka campaign manager HK Patil and Odisha chief Niranjan Patnaik also offered their resignations. These leaders blamed themselves for the results.
Rahul lost Amethi but his junior took the "responsibility"
Congress' poor performance in two consecutive general polls shows Rahul is not cut out for the job. But the party is not willing to look beyond him. This was proved once again when Amethi's district president of Congress, Yogendra Mishra, sent his resignation to Rahul "taking responsibility" for the loss. The important question is: For how long will people take the fall for Rahul?