After Congress' wipe-out, Raj Babbar sends resignation to Rahul Gandhi
After Congress' wipe-out, Raj Babbar sends resignation to Rahul Gandhi
May 24, 2019, 02:37 pm
2 min read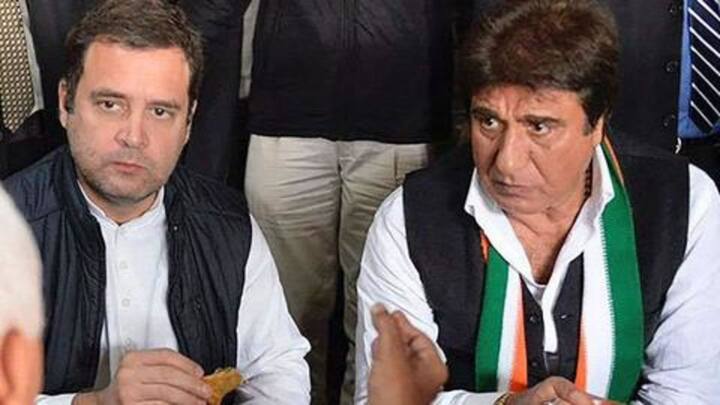 Raj Babbar, who heads Congress in Uttar Pradesh, sent resignation to his boss Rahul Gandhi on Friday, a day after the party was wiped out of the most populous state in Lok Sabha elections. In fact, Congress performed poorly than it did in 2014. While it won two seats in UP in 2014, it managed to retain just one this time. Here's what happened.
Neither Congress nor SP-BSP made an impact on ground
In 2014, BJP won 71 seats in the most populous state, which sends 80 MPs to Parliament. This time, the BJP-Apna Dal(S) combine won 64 seats while the SP-BSP alliance won 15 seats. Rahul lost his home turf Amethi to BJP's Smriti Irani with the vote margin being 55,000 votes. Across India, Congress settled for 50 out of the 542 seats.
Will tell party leadership about my views: Babbar
Owning up to the embarrassing defeat, Babbar wrote on Twitter that he thinks he performed poorly. "I find myself guilty of not discharging my responsibility in a proper manner. I will meet the leadership and apprise it of my views. Congratulations to the winners for winning the confidence of the people," Babbar, who lost from Fatehpur Sikri Lok Sabha seat, wrote.
There are others who have also sent resignations
Babbar isn't the only one who has offered to step down. Rahul has also received resignations of Congress' Karnataka campaign manager HK Patil, and Odisha chief Niranjan Patnaik. In both the states, the party was crushed beyond repair. Separately, reports claimed Rahul himself has offered to put down his papers. Congress Working Committee will take a decision on this by next week.
Claim moral responsibility for loss: Odisha Congress chief
"I have sent my resignation to AICC president Rahul Gandhi. I claim moral responsibility for the party's poor performance in Odisha. The state's people have reposed their trust in Chief Minister Naveen Patnaik and Prime Minister Narendra Modi," Patnaik reportedly said.
From Priyanka to Rafale, everything failed for Congress
The only states where Congress put up a fight were Punjab and Kerala. In Punjab, Congress won 8 seats under Captain Amarinder Singh's leadership. And in Kerala, the party won 15 seats. In other states, neither did Congress' brahmastra Priyanka Gandhi Vadra work nor did noise around Rafale deal strike a chord. Congress could lose its tag of the principal opposition party as well.