Is Robert Vadra joining politics? His Facebook post gives clue
Is Robert Vadra joining politics? His Facebook post gives clue
Feb 24, 2019, 03:30 pm
3 min read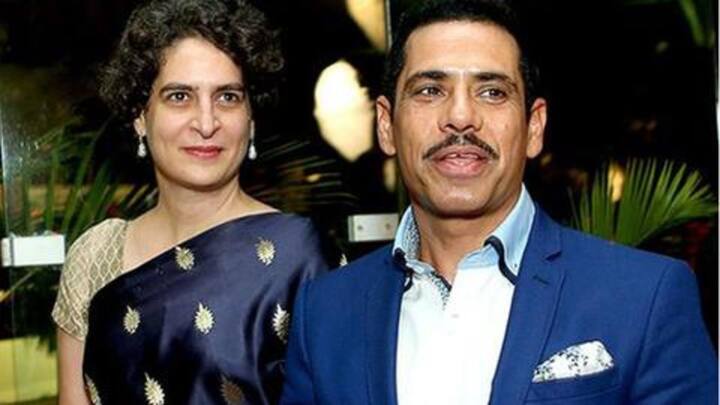 A month after Priyanka Gandhi joined active politics and was appointed Congress' in-charge of Uttar Pradesh East, it appears that her husband, Robert Vadra, is also eyeing an entry into politics. In a Facebook post on Sunday, Vadra, who is being investigated in a case of money laundering, expressed his desire to serve the people of India. Here are the details.
Vadra expressed his desire to "do more for the people"
Taking to Facebook, Vadra wrote that the "years n months" he spent campaigning and working in different parts of the country, gave him a desire to "do more for the people". He added that serving people was a "humbling" experience. "..once all these accusations n allegations are over, I feel I should dedicate a larger role in serving the people," Vadra concluded.
What he told the press about joining politics
"I don't have to be in politics to help the people of the country, but if by joining I can make a larger difference, then why not? But the people will decide," NDTV quoted Vadra as saying on Sunday.
Vadra also wrote about the ongoing investigations into him
In the Facebook post, Vadra also referred to the ongoing investigation against him, saying that for years, different governments had tried to "malign" him and divert attention from real issues plaguing India. He added that Indians then "gradually realized this Modus n knew there was no truth in any of these allegations". Vadra also claimed that people show him "respect".
READ: Vadra's entire Facebook post
Earlier, Vadra had claimed he was open to joining politics
Notably, however, this is not the first time Vadra has expressed his desire to join politics. Earlier, while campaigning with Rahul Gandhi for the 2012 Uttar Pradesh elections, the businessman had created a buzz by saying that he was open to joining active politics. However, his wife had ended speculations about Vadra's plunge into politics by saying that he was "happy" with his business.
Meanwhile, the ED is probing Vadra for alleged money laundering
Meanwhile, the Enforcement Directorate (ED) is probing Vadra in a case pertaining to properties in London that are allegedly linked to him and had allegedly been purchased through Sanjay Bhandari, an absconding arms dealer. According to the ED, the matter dates back to a Petroleum Ministry deal back in 2009, in which alleged kick-backs flowed into a UK-based company, Syntak, that had Bhandari as its Director.
The ED claims Vadra bought property from an arms dealer
The ED claims that a property in Bryanston Square in London was bought by Bhandari from money that had flown into Syntak. Syntak had allegedly received £3.8mn after the Petroleum Ministry deal in June 2009, of which Bhandari used £1.9mn to buy the property. The ED alleged that this property was sold to Vadra in 2010 at the same price, despite renovations worth £65,000 on the property.