Slip of tongue: Shatrughan Sinha on calling Jinnah Congress' member
Slip of tongue: Shatrughan Sinha on calling Jinnah Congress' member
Apr 27, 2019, 04:31 pm
3 min read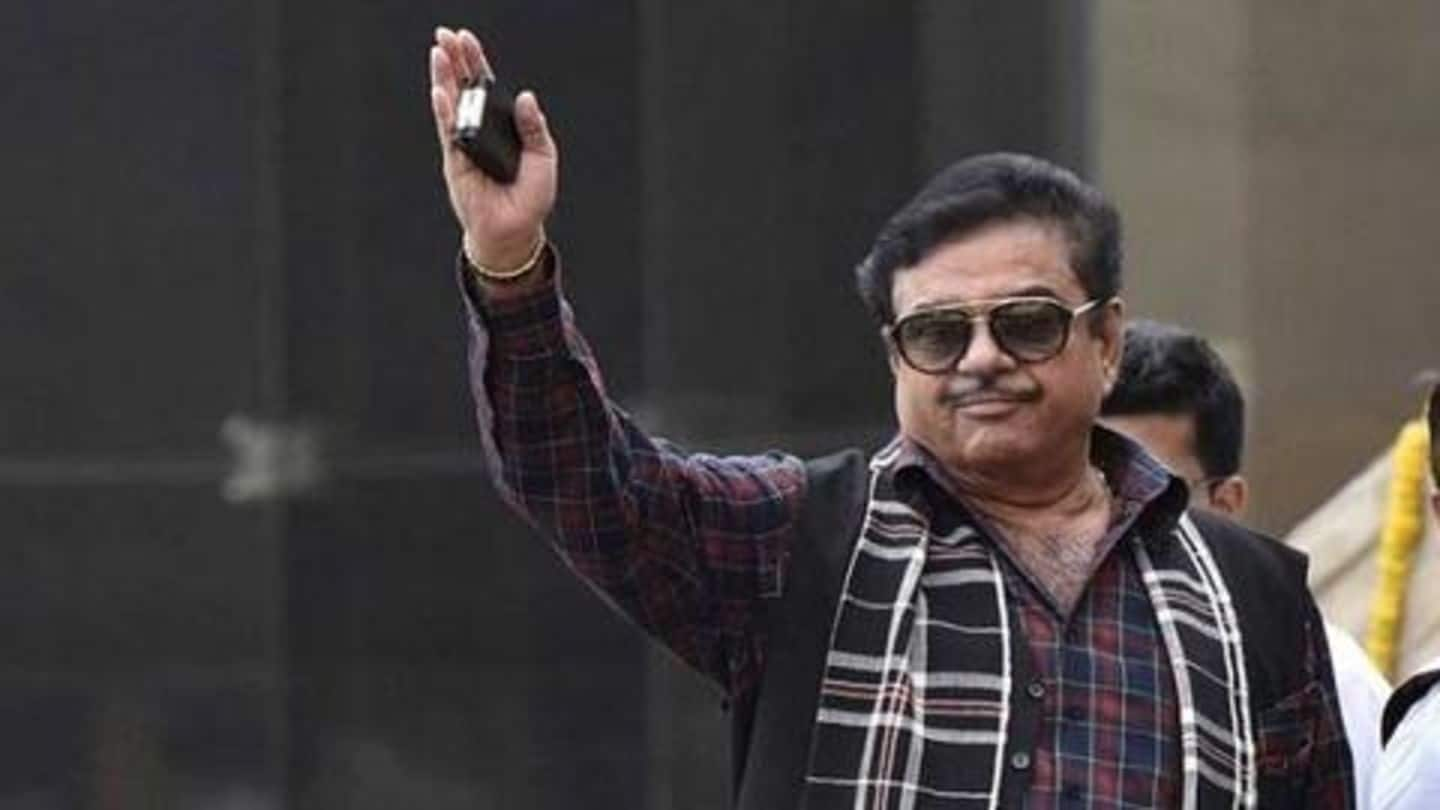 A day after actor-turned-politician Shatrughan Sinha took Pakistan's founder Mohammed Ali Jinnah's name in the same breath as Mahatma Gandhi, Sardar Patel, and Jawaharlal Nehru, he clarified that it was a slip of tongue and he wanted to take Maulana Azad's name instead. Sinha who recently joined Congress, after ditching BJP, clarified his comments on Saturday after his initial statement sparked row. Here's more.
Sinha explained why he joined Congress with controversial statement
Sinha was speaking at a rally in Chhindwara, Madhya Pradesh, where he revealed why he switched sides. He said, "The Congress family, from Mahatma Gandhi to Sardar Patel to Mohammad Ali Jinnah to Jawaharlal Nehru to Indira Gandhi to Rajiv Gandhi to Rahul Gandhi to Netaji Subhash Chandra Bose. It is their party." They played an important role in the country's freedom and development, he said.
Watch: A clip of Sinha's speech
#WATCH Shatrughan Sinha, Congress in Chhindwara, MP: Congress family from Mahatma Gandhi to Sardar Patel to Mohd Ali Jinnah to Jawaharlal Nehru...it's their party, they had the most important role in development freedom of the country. This is the reason I've come here. (26.4) pic.twitter.com/HJg3EV8rNE

— ANI (@ANI) April 27, 2019
While Kamal Nath refused to comment, BJP took potshots
Notably, Sinha was at the central state to campaign for Madhya Pradesh Chief Minister Kamal Nath's son Nakul. When asked for a comment on Sinha's remarks, Nath Sr. refused to say anything. Unsurprisingly, BJP milked the opportunity. "Shatrughan Sinha has just joined Congress. Now he is saying that Jinnah was also a great man like Mahatma Gandhi and Sardar Patel," the saffron party said.
Chidambaram said Sinha should explain his remarks
Reacting to Sinha's comments, ex finance minister P Chidambaram said the former should explain it. "A few days ago, he was part of BJP. So let the BJP explain why he was a part of the BJP for so many years," Chidambaram said. The senior leader went on to say that he can't explain comments of every Congress member.
Subsequently, Sinha called the incident 'slip of tongue'
#WATCH Shatrughan Sinha, Congress candidate from Bihar's Patna Sahib on his statement,"from Mahatma Gandhi to Muhammad Ali Jinnah, all part of Congress Parivar": Whatever I said yesterday was slip of tongue. I wanted to say Maulana Azad but uttered Muhammad Ali Jinnah. pic.twitter.com/N2s63aOufj

— ANI (@ANI) April 27, 2019
Rebel-BJP leader on way to become rebel-Congress leader?
Sinha, who left BJP after an open fallout, has ruffled feathers of Congress in a very short time. He campaigned for his wife Poonam, who is fighting from Lucknow on an SP ticket, despite his party fielding a candidate from there. Recently, the 72-year-old also praised SP president Akhilesh Yadav calling him a prime ministerial candidate. A section of Congress leaders criticized his comments.
Patna Sahib is poised for an interesting battle
Sinha will be locked in an interesting battle with Union Law Minister Ravi Shankar Prasad in Patna Sahib. He has represented the constituency twice in the Parliament. Patna Sahib will vote on May 19, the last phase of polls.