Union Minister Ram Vilas Paswan dies at 74
Union Minister Ram Vilas Paswan dies at 74
Written by
Siddhant Pandey
Oct 09, 2020, 01:04 am
2 min read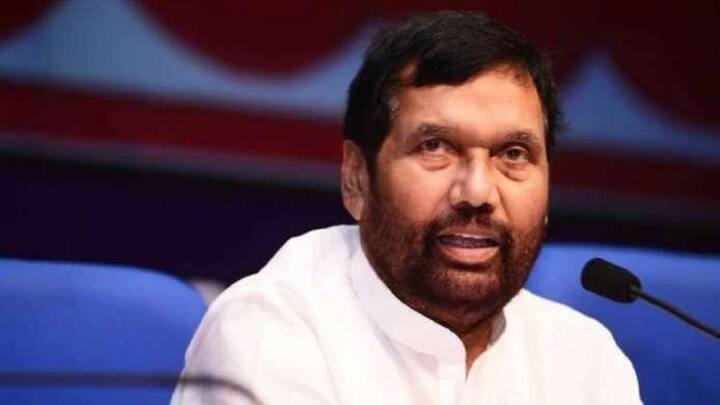 In an unfortunate development, Union Minister Ram Vilas Paswan has passed away, his son Chirag Paswan confirmed on Thursday evening. He was 74 years old. Paswan served as the Union Minister for Consumer Affairs, Food and Public Distribution. The Minister was in hospital for the last few weeks and had recently undergone heart surgery at a hospital in Delhi. Here are more details.
'Miss you, Papa,' tweeted Chirag
Chirag tweeted in Hindi, "Papa, now you are no more, but I know that wherever you are you will be with me. Miss you, Papa." Details of Paswan's illness have not been revealed, however, certain media reports stated that he was suffering from multiple health issues. He had also been dealing with pre-existing heart conditions and had undergone heart-related surgeries.
You can view the tweet here
Paswan underwent heart surgery on Saturday night
As per the last health update, shared by Chirag on Sunday, Paswan had undergone heart surgery on Saturday night. "If the need arises, then possibly after a few weeks another operation might be conducted," Chirag had written on Twitter in Hindi, "Thanks to all for standing by me and my family in this hour of struggle."
Paswan was among nation's most prominent Dalit leaders
Paswan had been an active figure in Indian politics for over five decades and was one of the nation's most prominent Dalit leaders. He had formed the Lok Janshakti Party (LJP) in 2000 and served as the party's President until he stepped down last September. His son Chirag had then taken over as his successor.
News comes weeks ahead of significant Bihar polls
The news of Paswan's demise comes weeks ahead of the Bihar Assembly polls, where the LJP is a significant player. Earlier on Thursday, the LJP had released a list of 42 candidates for the upcoming polls after its falling out with the ruling Janata Dal (United). Notably, Paswan had expressed trust in his son's judgment as the party chief and a leader in Bihar.
In September, Union Minister Suresh Angadi had died
Paswan is the second Union Minister to have died in the space of two months. Earlier in September, Suresh Angadi, the Minister of State for Railways, had died after contracting COVID-19. He was 65.