Delhi wars: L-G can't interfere in state-government's policy-decisions, rules SC
Delhi wars: L-G can't interfere in state-government's policy-decisions, rules SC
Jul 04, 2018, 11:47 am
3 min read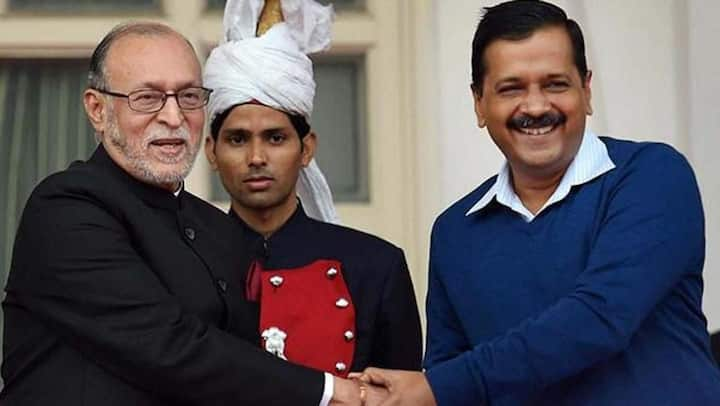 In a significant verdict, the SC has ruled the lieutenant governor (L-G) in Delhi cannot interfere with policy-decisions taken by the state government. Delhi cannot be given full statehood, but the government can make rules on all subjects on state and concurrent lists, excluding law, police and public order, it said. This comes after months of a power-struggle between the AAP government and L-G.
With Najeeb Jung, both sides went on the offensive
The AAP government, which came to power in Delhi in 2015, ran into intense tussles with then L-G Najeeb Jung. Jung refused to send files to CM Arvind Kejriwal despite his order, and annulled all bureaucratic postings by the Delhi government claiming he was the sole authority on this, among others. Kejriwal also blamed him for administrative officers going on mass leave in gaps.
Anil Baijal's tenure was an extension of Jung's
After Anil Baijal replaced Jung in December'16, the situation has remained similar. Just recently, Kejriwal and Co. refused to move out of Baijal's office for nine days, till he finally responded to their demand of an end to officers' strike.
AAP takes Center, L-G to court over impasse
The AAP government took the matter to court, but in August'16, it ruled in favor of the L-G's role in the administration. AAP then went to the SC. The party argued that the L-G has abused his power which lets him overrule the government's decisions, and push the matter to the Center. In response, the Center argued the state government cannot have absolute powers in the national capital.
Concurrence of the L-G in all matters not necessary: SC
Reading out the verdict, CJI Dipak Misra said if the L-G delays legitimate decision, the "collective responsibility of the government stands negated." The state and union must display "harmonious relations," he said, warning the Center against usurping power. The L-G is bound by the "aid and advice of the elected government in Delhi." However, Delhi cannot be given the status of a state, he said.
Misra's was one of a three-part judgement
Misra announced his verdict on behalf of Justices AK Sikri and AM Khanwilkar too. Reading out his, Justice DY Chandrachud said "real power and substantive accountability is vested in elected representatives," and there must be balance. Justice Ashok Bhushan, delivering his judgment, said the L-G can refer decisions to the president only in circumstances mentioned under Article 239AA, but he cannot sit on them.
To strengthen its position, AAP passes resolution on full statehood
To solidify his powers, Kejriwal has also demanded full statehood, recently passing a resolution on it. AAP claims the control of the Center over some Delhi bodies (DDA, MCD, police) hinders its efficiency. Its new resolution states that land and police in New Delhi area, administered by NDMC, be kept under the Center, while rest should fall under the state's jurisdiction.
Demand for full statehood decades old
Incidentally, this issue has been raised by many political parties. In 1987, Rajiv Gandhi-led Central government constituted the 'Committee on Reorganisation of Delhi Set-Up' which observed, "The citizens of Delhi had been denied the elementary democratic right of deciding what laws should be made for them." In recent years, both BJP and Congress have asked for full statehood during the Assembly elections.
But is full statehood a good idea for Delhi?
Some experts believe that full statehood may be unfavorable for Delhi. For running new institutions, the Delhi government would need additional financial resources, and if deprived of Central funds under full statehood, the result will be increased taxes for citizens.