Airtel Internet TV: DTH services and video-on-demand in one package
Airtel Internet TV: DTH services and video-on-demand in one package
Written by
Shubham Sharma
Jun 08, 2019, 12:01 pm
3 min read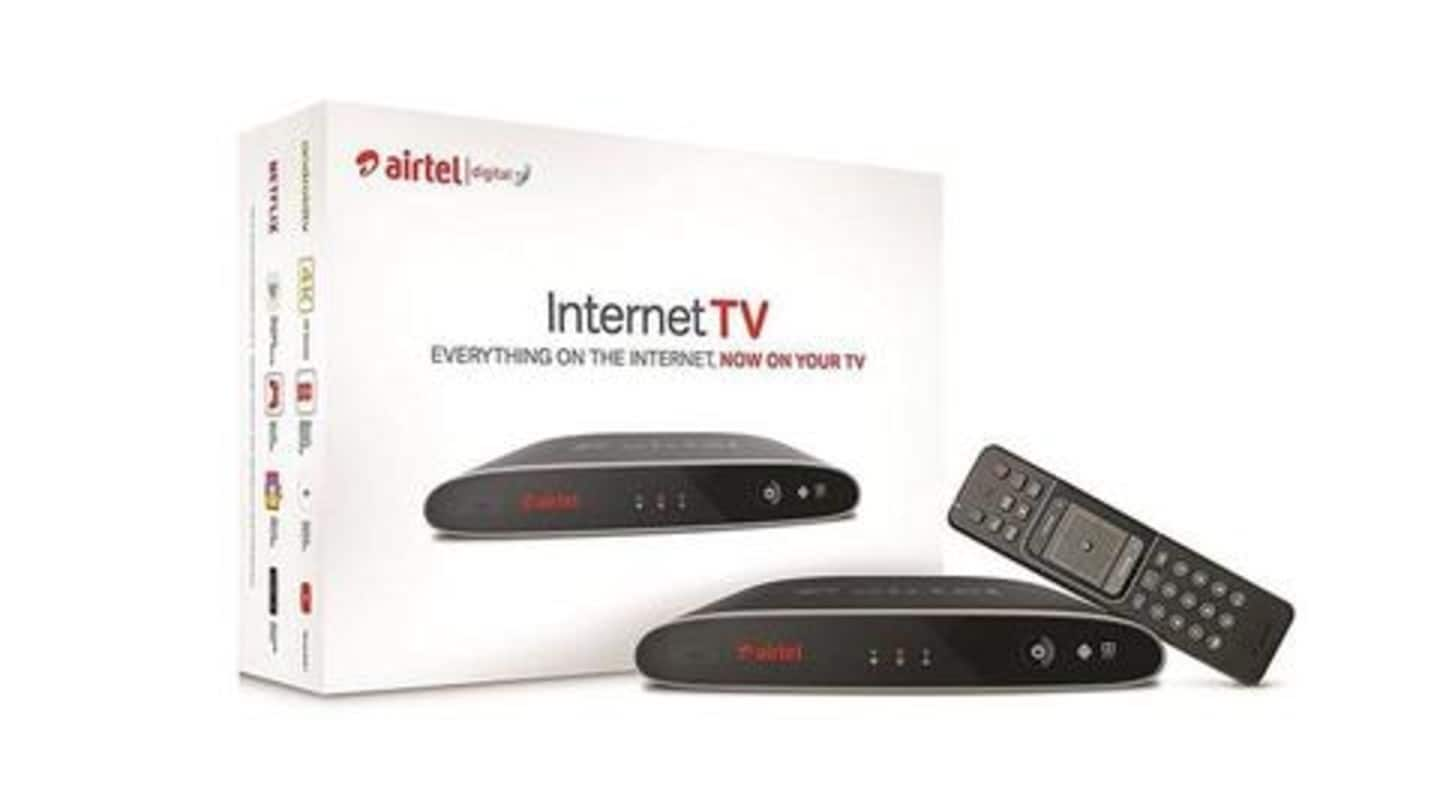 The rise of video-on-demand services, like Netflix and Hotstar, has driven the TV-watching population of the country towards online content. These days, most people take subscription plans to stream any preferred content of their choice whenever and wherever they want to. In this gradual shift, Airtel's Internet TV, which is a hybrid TV, can keep you hinged to both conventional DTH and streaming services.
What is Airtel Internet TV
You can download any video-on-demand service on your phone, but when it comes to watching the same thing on TV, Google's Chromecast and Amazon's Fire TV Stick are seen as the only reliable options. But, here's the thing, Airtel Internet TV could be the third option; it lets you access both regular DTH TV channels as well as stream apps like Netflix and YouTube.
Airtel Internet TV offers a 4k set-top box
If you pick Airtel Internet TV, the telco will install a 4k set-top box at your place and bundle it with a month-long subscription of its Mega HD pack. This will get you regular TV channels, just like any set-top box from Airtel or any other company. Then, after the first month, you can continue with the Mega HD pack or make your own.
Get Google Play Store and Chromecast built-in
Airtel's Internet TV set-top box is powered by Android TV, which means you'll have the ability to download plenty of apps from the Play Store, including the likes of Prime Video, ALTBalaji, others. The device comes with a built-in Chromecast, letting you stream live content/games from a phone, tablet, laptop to the big screen. There is also Bluetooth connectivity for connecting speakers, game-controllers.
Also, record and play Live TV
Further, Airtel Internet TV lets you record Live TV channels and watch daily soaps at a later date. You can also control the device (increase volume/open apps) with your voice and even use your smartphone as the remote of the device. To note, Airtel has also thrown in multiple USB slots and a card reader to make connecting third-party devices easier than ever.
Additional benefits to explore online content
Coming back to the benefits, Airtel Internet TV also gives you free access to different digital services. This, as the company says, includes a 12-month-long subscription (costing Rs. 1,200) of Airtel TV content streaming service and a month of free Netflix. You also get free unlimited access to Airtel and Play Store games with the device.
Overall, a complete value-for-money package
Airtel Internet TV comes at a tempting price tag of Rs. 3,499. Though this is pretty much similar to the price of standard Fire TV Stick, Internet TV gives you a more unified and streamlined experience than the former. Simply put, you can get everything from a single device, be it regular TV or OTT apps for streaming content and games.