First crime committed in space between two women; probe on
First crime committed in space between two women; probe on
Aug 25, 2019, 08:16 pm
4 min read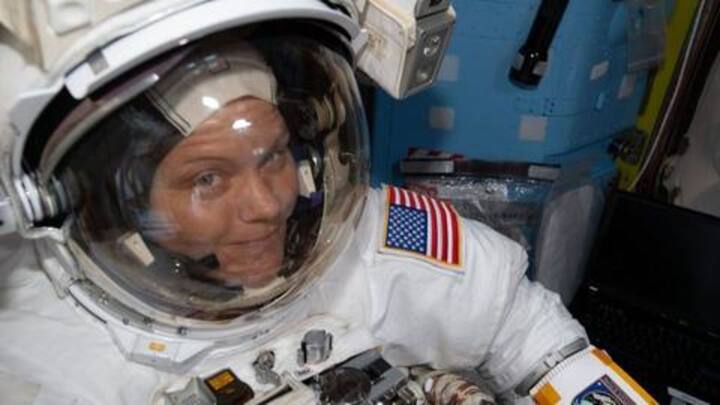 As if there weren't enough crimes on Earth already, humans have now taken their nefarious activities to space. In what is being touted as the first crime committed in space, a decorated NASA astronaut, Anne McClain, stands accused of stealing her estranged wife's identity and accessing her bank account while she was on a six-month mission on the International Space Station (ISS). Here's more.
Astronaut's estranged wife claims her private financial records were accessed
The wife, Summer Worden, claimed that McClain accessed her private financial records from space without permission, The New York Times reported. Worden had filed for divorce from McClain last year. Worden, a former Air Force intelligence officer living in Kansas, filed a complaint with the Federal Trade Commission. Separately, Worden's family filed another complaint with NASA's Office of Inspector General. NASA investigators have contacted both the women.
Worden found out about the intrusion after approaching bank
Reportedly, Worden caught wind of McClain's actions after she got suspicious of the latter's knowledge of her finances. Worden then asked her bank about the locations of computers which accessed her bank account and discovered that one such computer network was registered to NASA.
Astronaut didn't know the previously shared account was 'off limits'
However, McClain's lawyer, Rusty Hardin, told the Times, "She strenuously denies that she did anything improper." McClain asserted that she was simply checking the family's finances, as she had in the past, for the sake of Worden's son that the two raised as a couple. The lawyer said that Worden never clarified that the account was off limits, adding that McClain is "totally cooperating."
McClain and Worden got married in 2014; fought over child
McClain had met Worden a year after the latter's son was born. The two got married in 2014 and McClain wanted to adopt the child and share parenting, but was dismissed by Worden. In 2018, McClain approached a judge to grant her shared parenting rights, citing Worden's explosive temper and poor financial choices. She also accused her of assault. Thereafter, Worden filed for divorce.
McClain was due for all-female spacewalk; NASA scrapped her role
Meanwhile, McClain was due to participate in an all-female spacewalk, where she and fellow astronaut Christina Koch were to do work outside the space station. However, a few days before the scheduled spacewalk, NASA scrapped McClain's role claiming there weren't enough suits in two women's size. NASA spokesperson, Megan Sumner, told the Times that this wasn't related to the complaints against McClain.
Does law even apply in outer space?
There are five space agencies involved in the ISS- United States, Canada, Russia, Europe and Japan- that have set a legal framework should any jurisdictional questions arise. Incidentally, if a person commits a crime in space, their national law would still be applicable. However, this has never come to force, since NASA officials said they are unaware of any crimes committed on the space station.
Here are some space-related crimes from the past
An individual may have never committed a crime in space before, but there have been instances where lines were crossed. In 2011, NASA conducted a sting-operation on a space engineer's widow, who was trying to sell a moon rock. In 2013, a floating piece of debris, that belong to a satellite China destroyed in a 2007 missile test, collided with a Russian satellite and caused damage.
Crimes in space expected to rise in future
With space travel getting closer to being a reality, Mark Sundahl, Global Space Law Center director at Cleveland State University said, "The more we go out there and spend time out there, all the things we do here are going to happen in space."