This is Microsoft's fancy new Windows logo
This is Microsoft's fancy new Windows logo
Dec 14, 2019, 01:32 pm
2 min read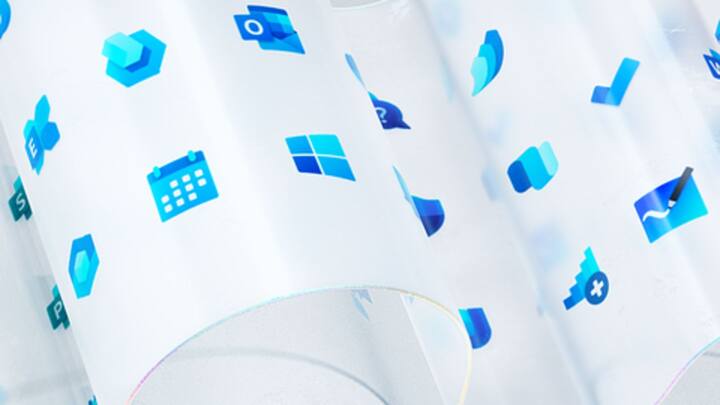 Last year, Microsoft unveiled a bunch of new Office Suite icons as part of an effort to modernize its software and services under a new 'Fluent Design' concept. Now, continuing that project, the Redmond giant has unveiled dozens of new icons for its key products, including a refreshed new logo for Windows. Let's take a close look at them.
More than 100 icons overhauled
First announced in 2017, the Flue Design system is giving a revamped look - new colors, materials, and finishes - to more than 100 icons of apps and services within the Windows, Xbox, and HoloLens ecosystem. The designs, including the one for Windows, combine depth, gradients, and soft edges to give the icons a more pronounced 3D feel than before.
Microsoft's Design VP explains the idea behind new icons
"We needed to signal innovation and change while maintaining familiarity for customers. We also had to develop a flexible and open design system to span a range of contexts while being true to Microsoft," Jon Friedman, Microsoft's Design VP, said while explaining the icon redesigns.
Plus, they are all more consistent than before
The best part about refreshing so many icons at once with the same strategy in mind is the element of consistency. They all look good individually, but when placed together, they are way more consistent with one another than before. This had long been a problem for Microsoft, as some Windows icons were new while others were decades old.
Windows logo update was long overdue
While the entire package of redesigned icons is aesthetically pleasing, there's no denying that the Windows logo update was the much-needed change. The current Windows logo, which has been around since Windows 8, is a solid icon, with each of the four boxes representing the same color. However, this one gets soft gradients, with each quarter representing different shades of blue, and rounded corners.
When the new icons will appear in Microsoft's products?
The new Fluent Design icons have already rolled out for Office products as well as the Edge browser. But, as there are plenty of products - apps and services - on the list, Microsoft has not shared when exactly the revamped icon package would be available to users. From what we see, the process is moving gradually and will continue through 2020.