Microsoft is playing a catch-up game, launches a Chrome-like browser
Microsoft is playing a catch-up game, launches a Chrome-like browser
Written by
Shubham Sharma
Jan 16, 2020, 01:49 pm
3 min read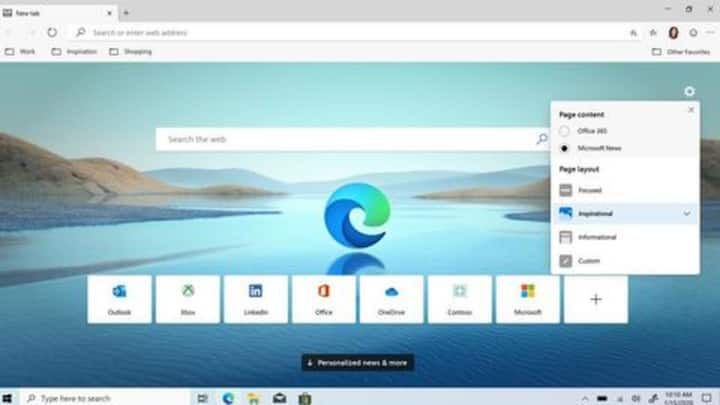 More than a year after announcing the plan to switch Edge to Chromium, Microsoft has made the stable version of the upgraded browser available on Windows and macOS. The program is being targeted at enterprise users, but you can download and start using it right away. Here's everything you need to know about the new Edge.
Chrome like experience but with Edge
As the underlying structure of the new Edge is exactly what powers the omnipresent Chrome, you would find it pretty similar and convenient. There is an option to sync favorites, settings, addresses, and passwords across devices, it also lets you install Chrome extensions. You also get the option to sync extensions and history, although that won't happen until later this year.
Some new tricks are on offer
While the experience of the new Edge is similar to that of Chrome, there are some nifty improvements, as well. This includes a new Collections feature which allows you to collate images and other content from the web into curated groups and share or export them to Word or Excel. Additionally, there is support for 4K Netflix streaming with Dolby Atmos and Dolby Vision.
Advanced tracking protection available
Another differentiating feature of the new Edge is built-in tracking protection, something that privacy-conscious users would surely like. Currently, the browser offers three different tracking prevention modes: Basic, Balanced, and Strict. The basic mode blocks known harmful trackers, the Balanced mode blocks trackers from the sites you haven't visited, while the Strict blocks a majority of trackers from all websites.
Plus, there is a legacy 'Internet Explorer' mode
Among other things, Chromium-based Edge also brings a new Internet Explorer mode, which allows businesses to open legacy IE compatible sites instantly. There are also some customization options to let you personalize the new tab page layout. Basically, you can choose between three categories - Focused, Inspirational, Informational - to define what you want to see on opening a tab.
Other things appear similar to Chrome
Apart from this and some other titbits, including the settings page and that fancy logo, the appearance of new Edge looks similar to that of Chrome.
How to download the new Edge?
The new Edge browser is now available for download on Windows (most versions including Windows 7), macOS, Android, and iOS. To download on your PC, head over to the download page, choose the platform you want the browser for and hit the download button. After this, run the downloaded setup file, complete the download/install, and open the browser from the desktop icon.