OnePlus 5T launch: Here are specs, features, price!
OnePlus 5T launch: Here are specs, features, price!
Written by
NewsBytes Desk
Edited by
Shikha Chaudhry
Nov 16, 2017, 11:24 pm
3 min read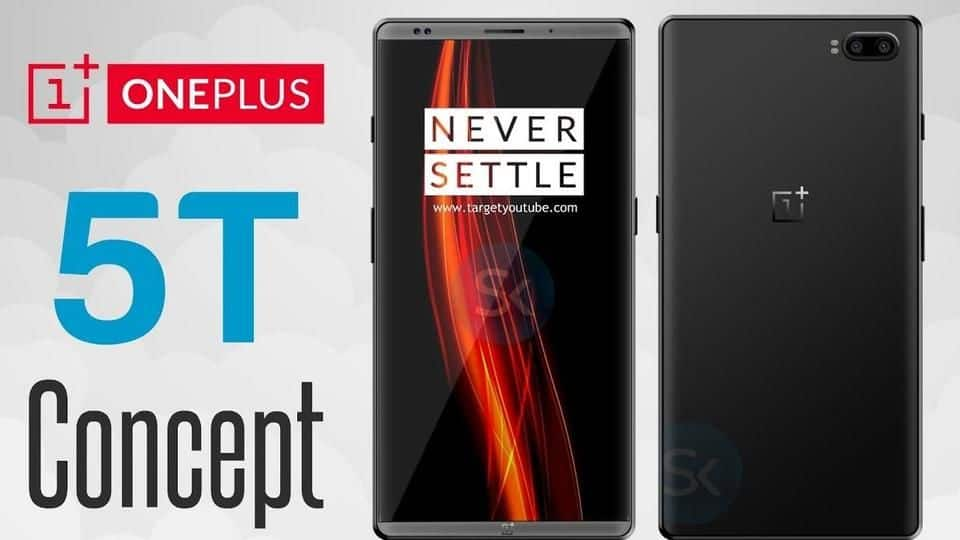 OnePlus is finally releasing its much-awaited smartphone, the OnePlus 5T, at an event in New York's Brooklyn. The launch event has started and OnePlus's Head of User Experience Design Brian Yoon talks about what makes the company's OxygenOS special. With this smartphone, the Chinese device-maker is giving its popular OnePlus 5 a huge revamp by going (nearly) bezel-less. Here are the expected specifications.
OnePlus fans can watch the event online
OnePlus is live-streaming the OnePlus 5T global launch event on its official YouTube and Facebook pages. Also, the event would be streamed in select PVR theaters in Delhi, Mumbai, Bengaluru, Hyderabad, and Pune. Tickets for the same, costing Rs. 99, were available on BookMyShow.
Co-founder Carl Pei takes the stage
OnePlus co-founder, Carl Pei talked about the journey of OnePlus devices, the history and the ups and downs. Pei then talks about the future, OnePlus 5T, unveiling a teaser of the new phone which has an "amazing" full-screen immersive display. OnePlus Brand Manager, Szymon Kopec takes the stage to reveal that OnePlus 5T comes with a 6.01-inch AMOLED display and 80.5% screen-to-body ratio.
What does 'T' in OnePlus 5T?
Carl Pei took a dig at Samsung, without taking any names. Since Samsung has a series called 'S', he quipped this phone is called OnePlus 5T as T=S+1. He could have meant that OnePlus is one step ahead of Samsung.
Specifications, features of the device
Talking about the OnePlus 5T, Szymon Kopec said that the phone has a very immersive full-screen display and that's why the front-facing fingerprint scanner has been moved to the back. OnePlus 5T also comes with 'Face Unlock' facial recognition feature to unlock the device within 0.5-0.6 seconds. Another good news is, OnePlus has decided to retain the 3.5mm headphone jack on its latest device.
Best camera ever on any OnePlus device
The camera-hardware specs of the OnePlus 5T are similar to that of its predecessor OnePlus 5. However, the OnePlus 5T's 20MP+16MP dual rear camera setup focuses on improving the low-light performance and portrait photography, for better quality compared to OnePlus 5. The secondary lens is equipped with Intelligent Pixel Technology feature. Szymon said, "OnePlus 5T is our best camera released yet."
Faster than the original OnePlus 5
Powered by Qualcomm's current best processor, the Snapdragon 835 chipset, OnePlus 5T would be 0.3 seconds faster than the original OnePlus 5. Szymon claimed no other smartphone can load games faster than OnePlus 5T. The device will have two RAM options: 6GB and 8GB RAM. He also confirmed that OnePlus 5T will come with 3,300mAh battery and "Dash Charging" technology for quicker charging.
Availability and price of OnePlus 5T
There are two variations of the phone available - the 64GB version is priced at Rs. 32,999 while the 128GB version, at Rs. 37,999. Both the versions would be available in India, North America and Europe from 21st November. With this price point, it sure would be a game changer!
Can OnePlus 5T's Face Unlock beat iPhone X's FaceID?
Taking on the Apple iPhone X with its "Face Unlock", OnePlus said the facial recognition feature is very quick, which apparently seems faster than the iPhone X's FaceID. The company claims Face Unlock is very reliable, working with 99% accuracy as long as it can detect the user's face and nose. It identifies and memorizes 100 points (facial identifiers) on the user's face.