Samsung Galaxy S10 will sport a whopping five cameras: Report
Samsung Galaxy S10 will sport a whopping five cameras: Report
Sep 16, 2018, 08:52 pm
3 min read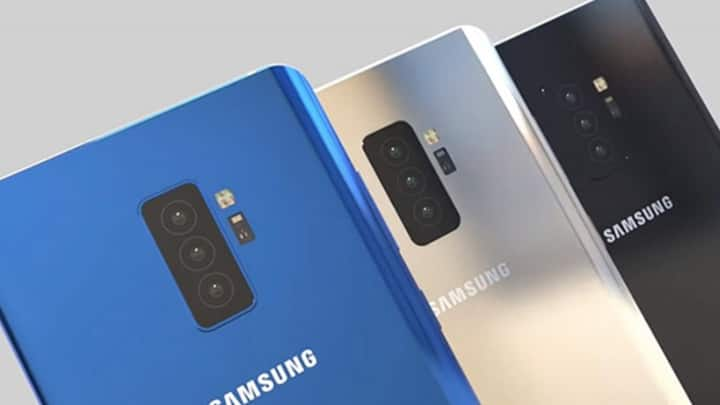 To commemorate the 10th-anniversary of its Galaxy range, Samsung is expected to launch three variants of the Galaxy S10 in early 2019. Quite predictably, as we move closer to the launch, more and more leaks are coming our way. In the latest such leak, a report claims that S10's premium variant will come with a whopping five cameras. Here's a leak peek.
Galaxy 10 will be offered in three different variants
Earlier, previous reports and reputed analyst Ming-Chi Kuo had suggested that Samsung will offer three variants of its upcoming 10th-anniversary edition flagship. Firstly, there's a Galaxy S10+ (codenamed Beyond 2) which will succeed the Samsung Galaxy 9+ and pack high-tech stuff. Then, you have Galaxy S10 (codenamed Beyond 1) and lastly, a new cheaper entrant with trimmed down specs which is codenamed Beyond 0.
New report claims 5 cameras on S10+
Now, South Korea-based ETNews has claimed that S10+ will come with five cameras - dual front cameras and triple rear-cameras. The triple camera setup claim is in line with previous reports. Further, the S10 model will feature a single front camera, and S10+ may get triple rear-camera setup. Lastly, the cheaper S10 variant will have a single front camera and a dual rear-camera setup.
Possible specs of the Galaxy S10+ triple rear-camera setup
Earlier, a report by AllAboutSamsung claimed that S10+ will get a triple camera setup comprising a 12-MP main sensor with f/1.5-f/2.4 variable aperture, positioned in the middle. On the right of the main sensor, will be a 16-MP super-wide-angle lens (123-degrees) with f/1.9 aperture (without Autofocus and OIS), and a zoom lens (on the left) with a 13-MP sensor and f/2.4 aperture.
The front dual-camera setup may also feature variable aperture technology
Reports suggest the front dual camera setup on the S10+ may comprise a 12MP main sensor with a variable aperture of f/1.5-f/2.4, paired with a 16MP super-wide-angle lens with an f/1.9 aperture.
What else do we know about the Galaxy S10 variants?
And, that's not all. Some reports have suggested that S10+ and S10 will feature a newly developed ultrasonic in-display fingerprint sensor - a development Samsung confirmed a while back. Further, the cheaper S10 variant (Beyond 0) will come with a side-mounted fingerprint scanner. Moreover, Samsung is also expected to incorporate the in-trend 3D face unlock, possibly for the high-end variants.
Earlier, an alleged S10 prototype hinted at an all-screen design
According to an alleged S10 prototype spotted a while back, the phone may feature an edge-to-edge all-screen design with no top bezel and chin, a design first seen on the Vivo Apex a few months back. Moreover, the prototype seems to offer an unprecedented screen-to-body ratio, even more than the 93.8% seen on the Oppo Find X.