Tesla's futuristic Cybertruck is bulletproof, but not shatter-proof
Tesla's futuristic Cybertruck is bulletproof, but not shatter-proof
Written by
Shubham Sharma
Nov 22, 2019, 11:39 am
3 min read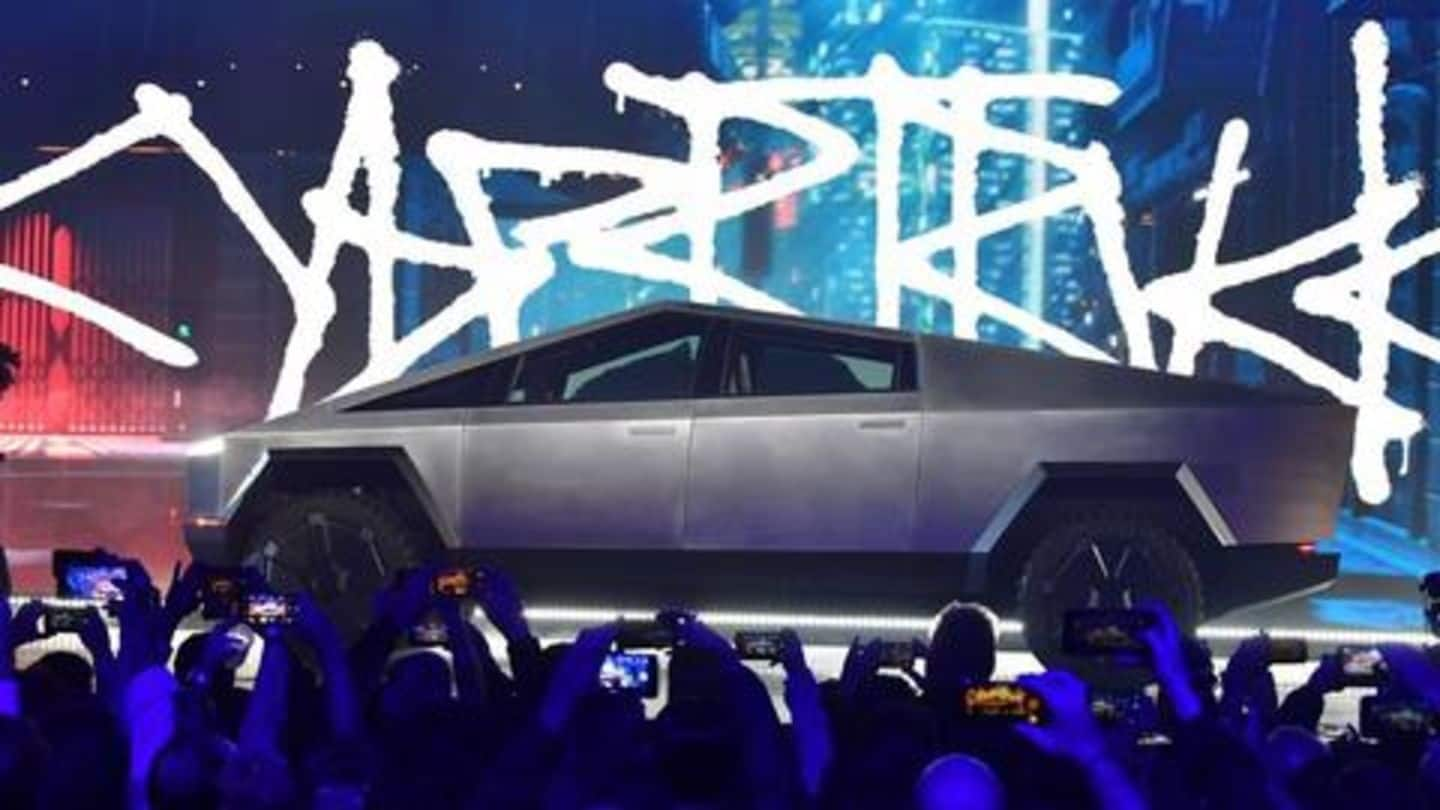 After launching some fancy cars, Tesla CEO Elon Musk is expanding the family with a completely new vehicle - the Cybertruck. It's the company's first-ever electric pickup truck, which looks a futuristic mix of the truck featured in Blade Runner and Lotus Esprit S1 from The Spy Who Loved Me. It can withstand incoming bullets, but its glass isn't shatter-proof (more on that later).
A rugged design with incredible hauling capacity
Tesla's Cybertruck boasts a completely different and futuristic-looking angular design with seating for six and a hauling capacity of 14,000 kg. Musk said, on the stage, that the body of the vehicle is made from "ultra-hard" stainless steel, which essentially is the same alloy that goes into the Starship rocket. He even showcased that it can bear a sledgehammer impact and small arms fire.
Powerful enough to best Ford's F-150 in tug of war
As for power, the electric Cybertruck, which stands 231.7 inches long and 75.0 inches tall, can do 0 to 60 miles in just 2.9 seconds. Now, this is better than Rivian R1T and is good enough to pull the Ford F-150 truck in a game of tug of war. Additionally, you also get an adaptive air suspension which makes for a smooth ride.
You will get different range options
Musk said the new pickup truck will be available in three different range options. The base model will offer over 250 miles of range on a single charge, while the other two will offer more than 300 miles and 500 miles, respectively. Notably, the hauling capacity also changes according to the chosen variant but maxes out at 14,000 pounds.
But, the glass is not shatter-proof
Funnily enough, when Musk tried to show how shatter-proof "Tesla Armor Glass" was, things didn't go as planned. A metal ball shattered both the truck's windows, on stage. The glass didn't break during earlier tests, a sheepish Musk quipped.
How much does it cost, when will it be available?
The base variant of Cybertruck with 250+ miles of range and 7,500 pounds of towing capacity has been priced at $39,900, while the other two come at $49,900 and $69,900, respectively. It is up for pre-orders in the US, but keep in mind that auto-pilot isn't included by default in any variant and you will have to purchase it by throwing an additional $7,000.
They won't be shipped immediately
You can book your Tesla Cybertruck right away, but it is worth noting that the base model won't start shipping until 2021, while the remaining two trims won't be delivered at least before 2022.