#NewsBytesExplainer: What is Windows 10X, how it is different?
#NewsBytesExplainer: What is Windows 10X, how it is different?
Written by
Shubham Sharma
Oct 04, 2019, 07:45 pm
4 min read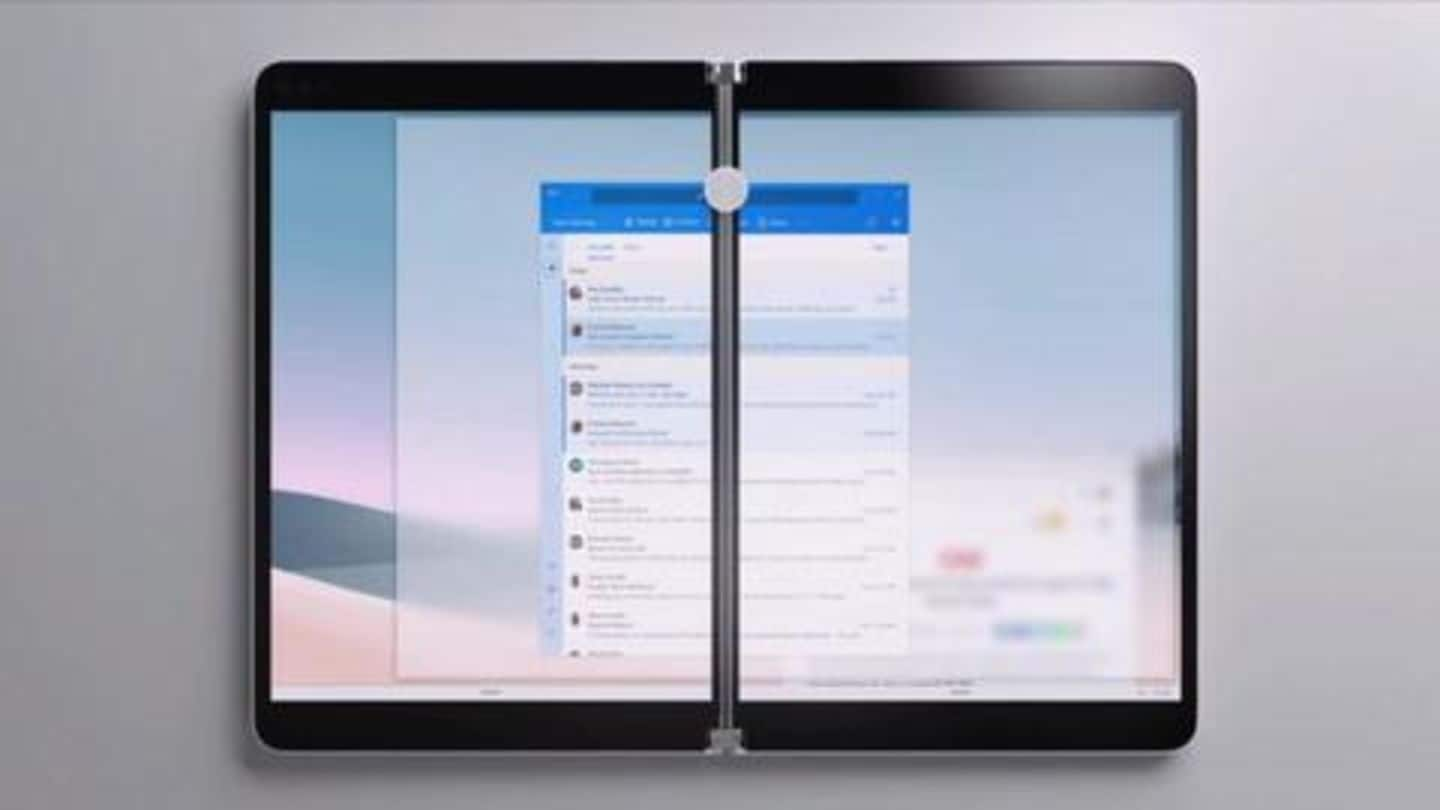 Just recently, Microsoft treated us with fancy devices and a new avatar of Windows - Windows 10X. The OS has been specifically designed for dual-screen devices and is set to debut with the Redmond giant's own Surface Neo (dual-screen tablet) in 2020. But, the question is, what makes this new platform different from the Windows 10 we already use? Let's find out.
Optimized interface for dual screen machines
As leading OEMs are working on dual-screen machines, Microsoft is gearing up to welcome the new hardware with Windows 10X. The OS is not a completely new platform but an optimized version that features an interface more suited for the form factor of dual-screen, or even foldable devices. The alphabet 'X' signifies 'expression', so take it as a new expression of Windows 10.
It is based on Windows Core OS (WCOS)
Windows 10X's support for dual-screen devices comes with Windows Core OS or WCOS underneath. Now, WCOS can be described as a combination of core Windows components - including UWP/Web, Win32 app packages, and the composable C-Shell - that ultimately allows elements like start menu and notification center to adjust automatically according to different form factors of a device.
Interface tweaks in Windows 10X
Windows 10X, internally dubbed Windows Lite, will feature a new redesigned Start menu with applications represented by plain icons for files, documents, and apps, not live tiles. It looks cleaner than the heavily animated interface of Windows 10 and even incorporates apps with suggestions for apps, websites, or things you might have been working on.
How the OS will change your app experience?
Windows 10X utilizes extra screen real-estate to let you use two apps simultaneously or one app across both screens. For instance, the dual-app mode can be used to run a video on one screen and take down notes on another, while the single app mode can be used to open an email app with its inbox appearing on one screen and email on another.
App extension would work by swiping to hinge
By default, an app would launch on a single screen, but Windows 10X users would be able to extend it to the second panel by dragging the app's window to the hinge. This will also modify the app's interface to take advantage of both screens.
Other ways Windows 10X would come in handy
Windows 10X would also let you use a dual-screen machine in different modes. Microsoft explains this by saying you could use a two-screened tablet as a 'book' for reading content or taking down notes. In another case, it could work like a portable all-in-one device, where you could attach a keyboard and use the device in a dual-monitor configuration.
There would be a laptop mode too
Windows 10X would also let you use a two-screened device like a laptop, with a digital or physical keyboard sitting on the bottom display and regular content appearing on the primary panel up top.
Also, you'll get the entire assortment of Windows apps
With enhanced optimization for upcoming dual-screen devices, Microsoft also offers full app support with Windows 10X. This means that the OS will run all traditional Windows 10 desktop apps, including UWP apps, PWAs, web apps, and Win32 apps. They would be offered in a 'container', which Microsoft says will help the OS save battery life on the machines.
When Windows 10X will start rolling out?
Microsoft has confirmed that Surface Neo, its own dual-screen tablet with two 9-inch screens, will ship with Windows 10X in 2020. Apart from that, we don't know much about the release timeline of the new platform or when it will ship on other dual-screen devices likely being made by Microsoft's OEM partners - Dell, Lenovo, HP, ASUS, and others.