India vs Afghanistan: Analysis of India's Test squad
India vs Afghanistan: Analysis of India's Test squad
May 10, 2018, 04:32 pm
3 min read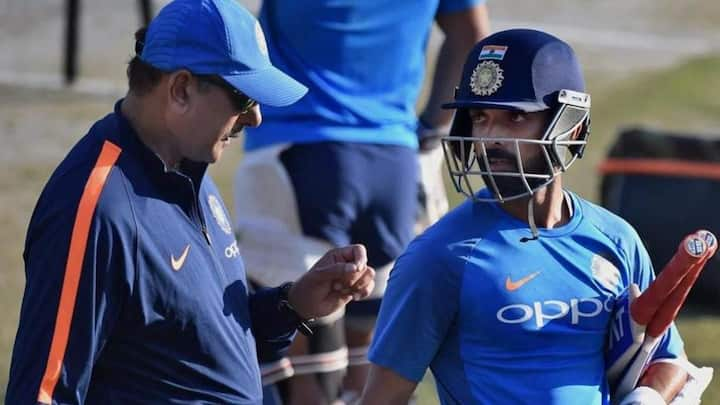 The BCCI has already announced the Indian Test squad for the upcoming one-off match against Afghanistan. The historical Test will be held from June 14-19. With Virat Kohli busy with County Cricket, Ajinkya Rahane will lead the side. The BCCI has selected a strong 15-member squad to face the Afghans. Given India's recent achievements, there weren't many surprises in store. Here is our analysis.
The 15-member Indian Test squad
Ajinkya Rahane (captain), KL Rahul, Murali Vijay, Shikhar Dhawan, Cheteshwar Pujara, Karun Nair, Wriddhiman Saha (wicket-keeper), Hardik Pandya, R Ashwin, Ravindra Jadeja, Kuldeep Yadav, Shardul Thakur, Mohammed Shami, Ishant Sharma and Umesh Yadav.
India's batting is their biggest strength
Openers Murali Vijay and Shikhar Dhawan's numbers at home are pretty strong. India will want the duo to lay the foundation. The strength lies in the middle-order with Cheteshwar Pujara and KL Rahul in the mix. Pujara played well against Sri Lanka in 2017. Rahul is in top form at the moment and comes in for Kohli. He has immense maturity and character.
Ashwin, pace bowling a decisive factor
R Ashwin will be decisive against the Afghans and that's where a big threat lies for the visitors. All-rounder Hardik Pandya gives the team a perfect balance lower down the middle-order. It's the pacers that look ominous. Ishant Sharma is bowling well in County Cricket. Umesh Yadav is back in form as Shami excelled against South Africa with consistent wickets.
Weaknesses: Wriddhiman Saha's form a worry
Wriddhiman Saha's form with the bat has been a major let down. He struggled against South Africa and the same patchy form has continued in the Indian Premier League. With the Test series against England next, he should have played County and get exposure. With the form Dinesh Karthik is in, he should have been included in the squad.
Rahane isn't amongst runs, Jadeja hasn't played much
Another weakness of this squad is Rahane's form in home Tests. His batting was a big let down against Sri Lanka in 2017. Against the Proteas, he only played one Test and scored a 48-run knock. He is vital at the number five position and if he fails yet again, it would be a problem for India. Jadeja hasn't played since the Lanka series.
Opportunities galore for Kuldeep, Jadeja to impress
Left-arm spin duo Kuldeep Yadav and Ravindra Jadeja will be looking to impress the selectors. It depends a lot on who gets the nod to play alongside Ashwin. If Kuldeep puts in a show then the future of Jadeja would be in question. If the management decides to go ahead with Jadeja, then he would try to stake a claim.
Big opportunity for Rahane and batting trio
This will be a huge test for Rahane to show his attributes as a skipper. His decision making and on the spot choices will be crucial. Opportunities lie for the trio of Vijay, Rahul and Dhawan as well. Against England, Kohli will be back and therefore it is vital for the trio to get runs and increase their chances to be included in XI.