Meet the selector who picked both Tendulkar and his son
Meet the selector who picked both Tendulkar and his son
Aug 10, 2019, 01:42 pm
3 min read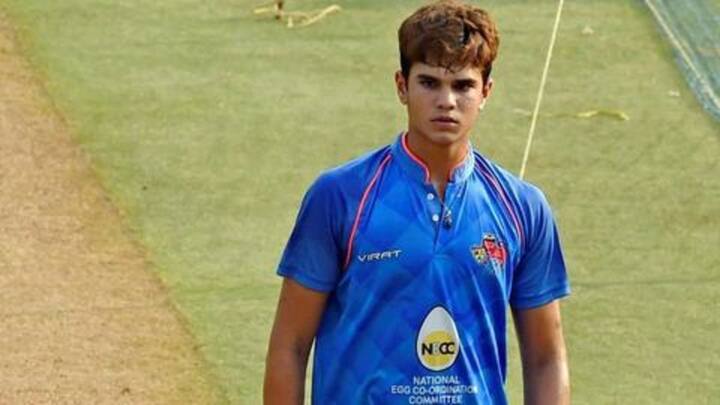 Sachin Tendulkar became one of the major success stories after rising as a prodigy from Mumbai to become the best in his generation in international cricket. Sachin was called up by Mumbai Cricket Association in 1988. Former Mumbai skipper Milind Rege was a part of the administration back then. Now, he selected Sachin's son Arjun in Mumbai's squad for the Vizzy Trophy. Here's more.
Rege is part of a rather unique cricketing story
It's perhaps a coincidence that Rege has been part of the selection for both Sachin and his son in a period of a bit more than 30 years. Rege is currently the chief selector of the Mumbai Cricket Association. The Vizzy tournament, organized by the BCCI, is a U-23 event, which could perhaps go onto become the stepping stone for Tendulkar's son.
Rege opens up on selection and Arjun
"I don't know of any selector who has selected both father and son. This is just a coincidence that they are both Tendulkar. We are currently looking for players who can bowl well. I saw him play recently in England for MCC's second XI, where he has picked up 23 wickets," said Rege to India Today.
No one will get any special treatment, clarifies Rege
"Selectors all over are watching him keenly. But we have to see how he develops. No one will get any special treatment till I am in charge," Rege added.
Sachin went on to become a GOAT
Meanwhile, Sachin went on to become a revolution in cricket and is considered to be a GOAT. He eclipsed all records across Tests and ODIs. Sachin defined the art of batting and conquered the cricket field. In 200 Tests, he scored 15,921 runs at 53.78. In 463 ODIs, he amassed 18,426 runs at 44.83. He scored 100 centuries across both formats.
Arjun has been making rapid strides
Arjun has made rapid strides on the cricket field in the last couple of years. The left-arm bowling all-rounder is touted to be the next big thing in Indian cricket. In June 2019, Arjun played for the Young Cricketers against Surrey Second XI in the Second XI Championship. He impressed there and also stunned everyone after dismissing opener Nathan Tilley with an unplayable delivery.
Arjun has a promising future ahead: Our take
Arjun is shaping up well and the exposure to play in different conditions will be helpful. The youngster's target will be to keep putting in the shifts. This call-up for Mumbai will serve as a huge boost to his confidence. With youngsters such as Shubman Gill and Prithvi Shaw getting chances at the top level, one hopes that Arjun will get a call-up soon.