BPL 2019-20 in spot-fixing controversy following massive no-ball
BPL 2019-20 in spot-fixing controversy following massive no-ball
Dec 13, 2019, 03:17 pm
2 min read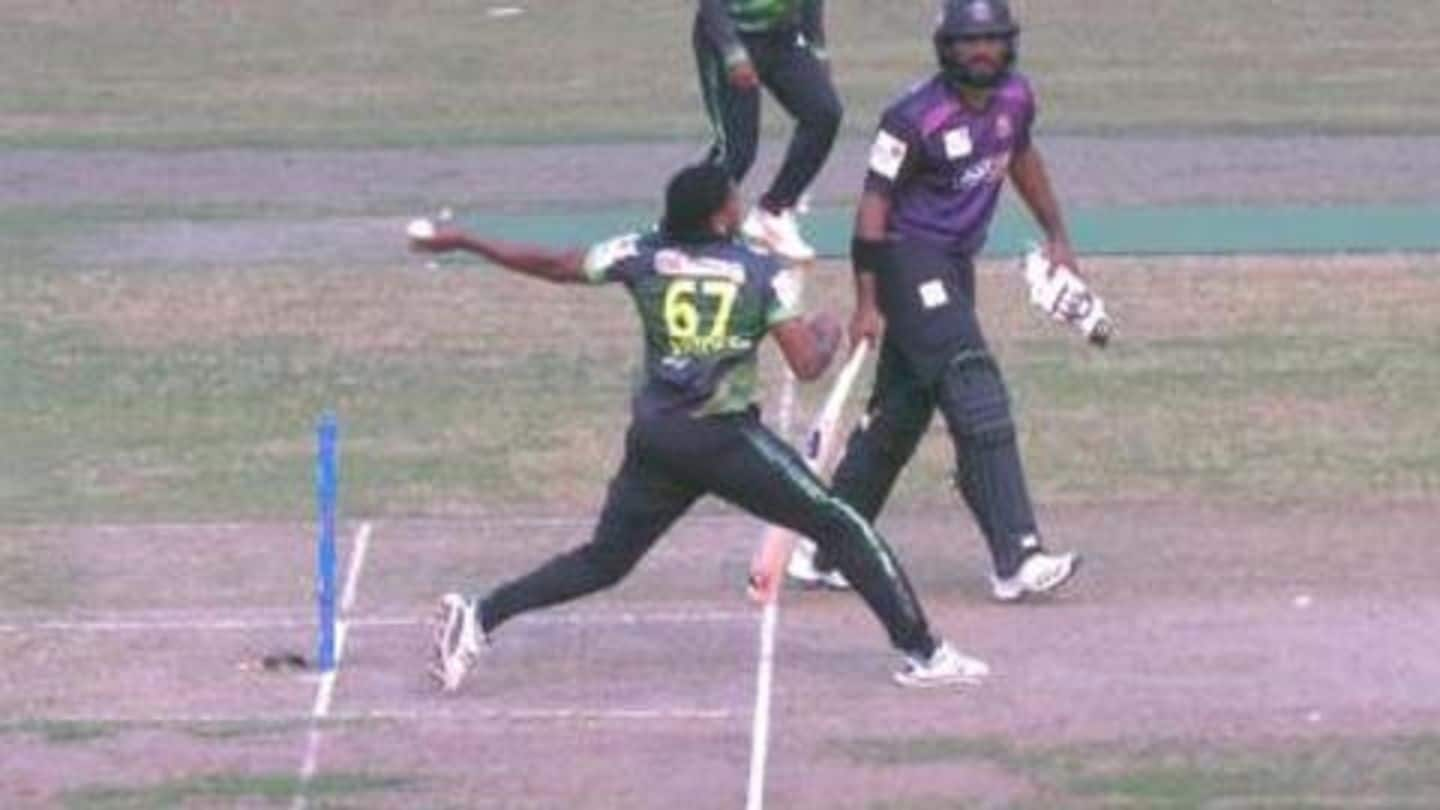 The opening day of the Bangladesh Premier League (BPL) 2019-20 is already in the news for all wrong reasons yet again. During a match between Chattogram Challengers and Sylhet Thunder, Windies bowler Krishmar Santokie, was conspicuous following his massive no-ball and wide delivery. While it is suspicious, fans have cried foul play and suspect a possible spot-fixing. Here is more on this.
Santokie's massive extras draw attention
The incident happened when during an over, Santokie was bowling to Challengers' Sri Lankan batsman, Avishka Fernando, from over the wicket, as he bowled a wide, which was way down the leg side. And, if that was not enough, he followed it up with a massive no-ball, which was visibly even bigger than the one bowled by Pakistan's Mohammad Amir at Lord's in 2010.
Sylhet Thunders team director calls for investigation
Following the incident, Sylhet Thunders team director Tanjil Chowdhury has asked the Bangladesh Cricket Board (BCB) to investigate the matter. "The no-ball that he bowled is suspicious. He [Santokie] is not yet called by the BCB, but I have lodged my complaint. I verbally requested CEO and Morshed [BCB anti-corruption head] to investigate the matter [no ball]," he said, reports Cricbuzz.
Chowdhury to investigate if management was influenced to play Santokie
Chowdhury further added that the BCB directors don't have any call over the playing XI, while they did ask the team sponsors if they took a call on the playing XI, which they have not answered yet. "We have to talk with the team management and know whether anyone influenced them to play Santokie because it seems he is associated with spot-fixing," he added.
BPL being run by corrupt BCB directors, claims a fan
"The possibility of fixing is very high in this edition of BPL as all the teams are being managed by corrupted BCB directors, these guys have previously fixed matches in the premier division cricket and Dhaka premier league," wrote a fan on Twitter.
Previous instances of fixing in BPL
BPL is no stranger when it comes to fixing. It was in 2013 when Mohammad Ashraful admitted of being involved in match-fixing, as he was banned for eight years, before being reduced to five. The same year, umpire Nadir Shah was banned for 10 years by the BCB after a sting operation by an Indian TV channel revealed he was willing to fix matches.