ICC World Cup: Ranking the top conspiracy theories
ICC World Cup: Ranking the top conspiracy theories
Jul 04, 2019, 07:13 pm
2 min read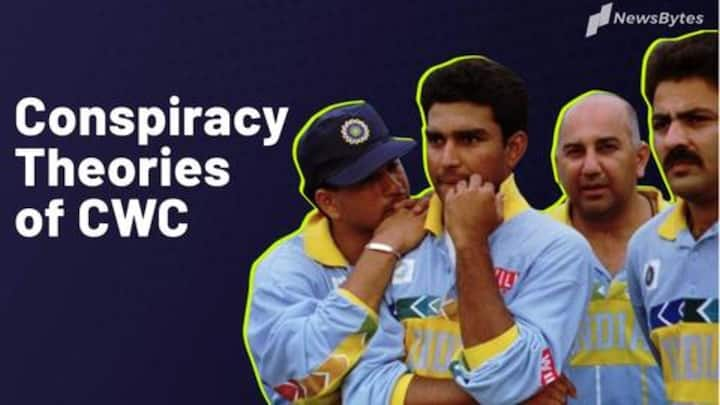 The ICC World Cup is the most prestigious cricketing tournament in the world. While the tournament usually creates memories that last a lifetime, it also has an ugly side to it, as fans have witnessed some controversial moments as well. In the same light, we take a look at some of the conspiracy theories that were rumored to have taken place.
Pakistan cry foul-play overs teams conspiring against them
The 2019 World Cup witnessed the conspiracy theory that teams have been plotting against Pakistan to not allow them to reach the semis. While initially, Basit Ali had said India will intentionally lose their matches, former skipper Rashid Latif recently stated that even England and New Zealand have plotted against Pakistan. "England intentionally batted slow and avoided scoring 370 odd," said Latif.
Ambati Rayudu's World Cup snub triggers Pragyan Ojha's conspiracy theory
Indian batsman Ambati Rayudu announced his retirement from cricket on Wednesday, following his snub on two occasions. While his exclusion did come as a shock, given he was on stand-by as well, it did trigger a conspiracy theory involving Hyderabadi cricketers. Even Pragyan Ojha supported Rayudu as he had sent out a tweet on the weird case of Hyderabadi cricketers.
Ojha tweeted this post selectors ignored Rayudu
Double toss during 2011 final
2011 World Cup final saw India scripting history by winning their second-ever title. However, it witnessed a bizarre moment. Initially, it seemed like India had won the toss, but Sri Lanka skipper Kumar Sangakkara claimed that he got it right. After debate, the toss was redone as Lanka won it this time. Not a conspiracy but definitely a controversial moment.
Vinod Kambli claimed 1996 semi-final was fixed
The 1996 semi-final saw heartbreak for India as crowd trouble at Eden Gardens led to the match being awarded to Lanka. However, Vinod Kambli said that the match was fixed. He pointed out that skipper Mohammad Azharuddin elected to field first, when it was decided that they would bat. While his team-mates turned down his allegations, Azharuddin too rubbished these claims.
Bob Woolmer's death following Pakistan's exit in 2007
Undoubtedly, Bob Woolmer's death was one of the lowest moments in the history of the tournament. Following Pakistan's failure to go past the group stage during the 2007 edition in West Indies, Woolmer was found dead in his hotel room in Jamaica. While it was concluded that he had died of natural causes, many suspected he was actually murdered.