#IndiaInEngland: Ravindra Jadeja shows his value for visitors
#IndiaInEngland: Ravindra Jadeja shows his value for visitors
Sep 10, 2018, 02:33 pm
2 min read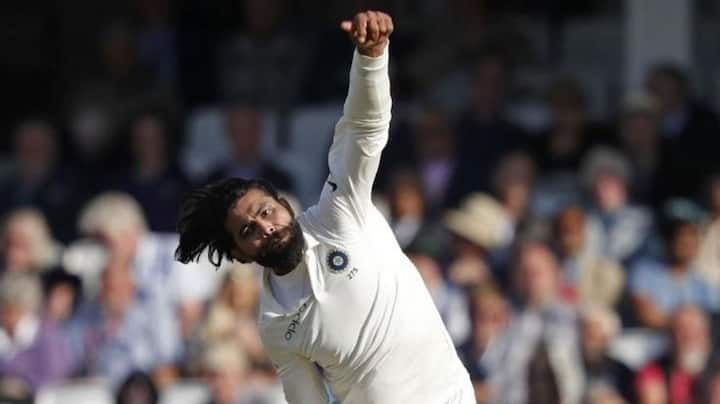 Ravindra Jadeja may have played the second fiddle to Ashwin in the ongoing Test series against England, but when he was given an opportunity, he came alive for the visitors. With Ashwin ruled out of the 5th Test due to an injury, Jadeja found himself with a rare chance to play in an overseas Test. And he made vital contributions to cement his place.
Jadeja shows he belongs in the Test side
Jadeja grabbed his chance, with both hands, to show he should be a vital member of this Test team. There were talks of Kuldeep Yadav being drafted into the Test team more often than Jadeja, but the senior player proved that he can be a force in Tests. From wickets to runs, Jadeja has made his presence felt in this fifth Test.
Jadeja impresses with his bowling
Jadeja has been exceptional with the ball in this Test and his 4/79 in the first innings helped him settle. The key wickets of the dangerous Jos Buttler (89) and Stuart Broad (38) on Day 2, didn't allow England to run away with the game. The damage had already been done by the duo, but Jadeja had his moments.
Southpaw deserved a hundred in India's 1st innings
The best aspect of Jaddu's batting was the way he neutralized the threat posed by England bowlers in the first session. Jadeja batted sensibly and built a partnership with Vihari. From there on, he took the initiative and got India to a decent score of 292. He remained stranded on 86* and should have got a century. Md. Shami could have shown more grit.
India can rely on Jadeja outside Ashwin
Jadeja has shown the management that he is cut out for the big stage and is no less than Ashwin in taking up the mantle. India can rely on him in upcoming series against Australia later this year, especially if Ash doesn't perform. This wasn't the scene in the 4th Test, when Ashwin, despite being injured, was selected ahead of Jaddu.
How the Test match is poised?
England lead India by 154 runs and Day 4 will be crucial in how the game pans out. India will attack knowing they need wickets and Jadeja will be in the thick of the action. England are ahead at the moment.