Five feuds for Brock Lesnar if he stays post WrestleMania
Five feuds for Brock Lesnar if he stays post WrestleMania
Mar 11, 2019, 08:18 pm
2 min read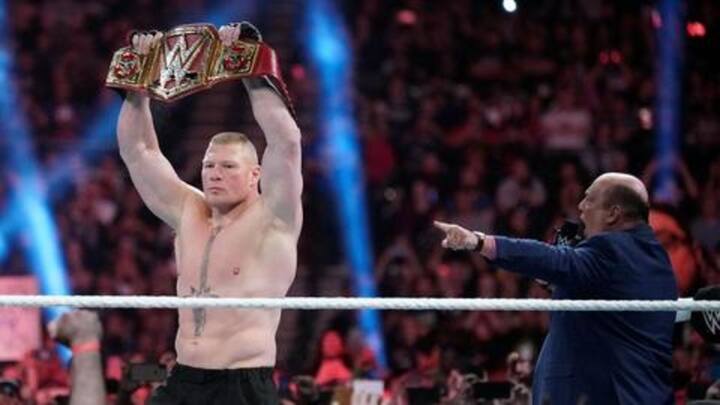 Universal Champion, Brock Lesnar is the biggest WWE superstar currently. Although most fans hate him for being a part-timer, there is no denying that he is one of the biggest attractions. Nonetheless, there are rumors that he could be on his way back to UFC, but if he decides to stay post WrestleMania 35, here are five possible feuds which can garner eyeballs.
Being a contender for his Universal Championship, Seth Rollins is likely to beat Lesnar at WrestleMania for the title. Although there is no re-match clause in WWE these days, Lesnar would be far from done with Rollins. He would strictly demand a rematch, while the title is a part of Brock's identity. However, it looks unlikely that the feud would last long.
The comeback of Roman Reigns has given a big boost to WWE. Roman would be eyeing for the Universal Championship post WrestleMania. However, if Rollins wins and The Authority decides not to award Lesnar a rematch, he could be coming after Reigns, as taking him out of the picture or feuding with him might give Lesnar a shot at the title again.
End Daniel Bryan's movement for good
Daniel Bryan is the reigning WWE Champion, courtesy of his new persona and illegal tactics. Although it is rumored that he could drop the title at WrestleMania, considering that he retains, and Lesnar is not allowed to go after the Universal Championship, Bryan could be in sight for The Beast. Ironically, Lesnar beat Bryan clean at Survivor Series last year. Thus, advantage Lesnar.
Kofi Kingston has been an overnight sensation and is now a strong favorite to dethrone Bryan as the WWE Champion at WrestleMania. However, provided he wins at the Showcase of Immortals, Kingston would have a lot of targets at his back, and Lesnar could be the toughest. If Lesnar decides to go after him, Kingston will need a miracle to survive against him.
From KOMania to Suplex City
The fans were in shock when Kevin Owens was inserted into the WWE Championship match at Fastlane. Although he lost, Owens could still fight for his spot and get inserted into the match again at WrestleMania, involving Kingston. However, if he manages to win the event, Lesnar could well target him, with Owens needing a performance of a lifetime to survive.