5 greatest WWE stables ever
5 greatest WWE stables ever
Aug 13, 2018, 01:56 pm
2 min read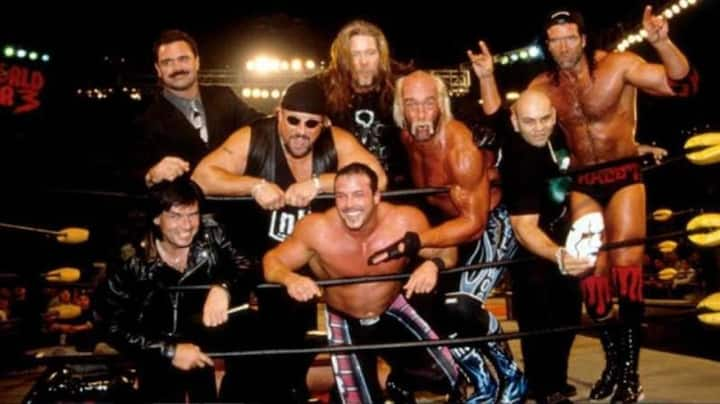 A stable is a group of professional wrestlers who have something in common- friendship, manager, or purpose, and unite together as a unit. They work together, mostly as heels, and terrorize other superstars to prove their group's dominance in the WWE. There have been many famous stables in the history of WWE, and here we look at the best 5.
Kick-starting The Great One's career
The Nation of Domination promoted black supremacy in the WWE. Savio Vega, Mark Henry, Crush, D Lo Brown and Ahmed Johnson were all a part of the group, and their gang warfare style made them a fearsome group, against whom nobody wanted to revolt. It is in this group that The Rock, then known as Rocky Maivia, first came to the spotlight.
The Phenom's evil organization
The Ministry of Darkness was a satanic stable created by The Undertaker during the Attitude Era. The group comprised of Taker, Paul Bearer, the Acolytes, Edge and Christian, Gangrel and Viscera. The Undertaker became a druid-like character and performed evil rituals in the WWE, even trying to crucify Stone Cold and embalming him alive. They later joined The Corporation to become The Corporate Ministry.
Evolution comprised of some of the finest performers, the world of wrestling has ever seen. Triple-H led the group along with the GOAT Flair. Randy Orton and Batista, two of the best young talents then, were also a part of the group. Together, they terrorized anyone who came close to winning the Heavyweight Championships and beat up any detractors using sledgehammers.
D-Generation X is one of the most popular wrestling stables in the history of WWE. Led by Shawn Michaels and Triple-H, they were the perfect anti-establishment stable during the heydays of the evil Mr. McMahon. They had many feuds with the likes of The Rock, Steve Austin, and Mankind. Michaels' quote, " You make the rules, and we will break 'em" describes DX perfectly.
When the greatest hero turns a villain
The NWO or the New World Order was a stable comprising of Hulk Hogan, Kevin Nash, and Scott Hall. When Hogan quit the WWE, Nash, and Hall followed a few years later, and were grouped as three individuals trying to invade the World Championship Wrestling. They went on rampages and destroyed anybody and everybody. This was the first time Hogan turned a heel.