Meet the 13-year-old who clicked a selfie with Modi, Trump
Meet the 13-year-old who clicked a selfie with Modi, Trump
Written by
Siddhant Pandey
Sep 23, 2019, 08:02 pm
2 min read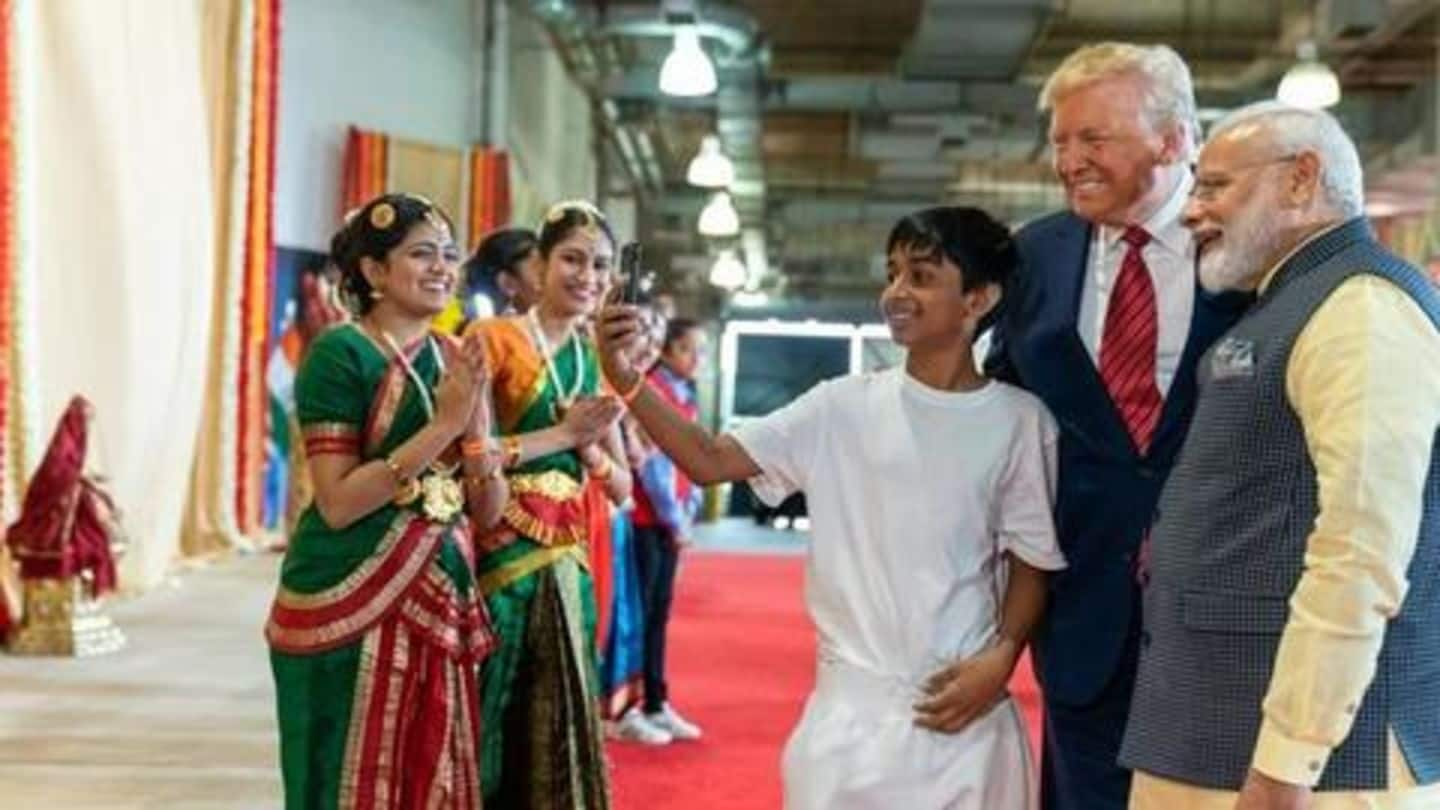 A thirteen-year-old boy is now making headlines after clicking, what the netizens have dubbed, the 'most powerful selfie.' Satvik Hegde has become an overnight sensation after he managed to click a selfie with both Indian Prime Minister Narendra Modi and United States President Donald Trump at the Howdy Modi event at the NRG Stadium in Houston on Sunday. Here are more details.
Boy was part of yoga showcase at 'Howdy Modi'
Hegde was a part of the yoga showcase at the Howdy Modi event, which witnessed several other performances, including Bharatnatyam, Garba, Mohiniattam, etc. According to The News Minute, Hegde's family hails from Uttara Kannada, Sirsi, Karnataka. However, his family moved to San Antonio, Texas 17 years ago. His father, Prabhakar, works for a private company, while his mother, Medha, is a public school teacher.
We received the selfie on WhatsApp: Hegde's uncle
Notably, Hegde's uncle Ganesh said he was astonished when he saw the selfie. He said, "We received the selfie on WhatsApp but when we saw it we were surprised." He added, "We knew he was part of a yoga program but in TV, we could not identify that it was him. He was doing surya namaskaara in the program held during the day yesterday."
'The boy is disciplined, does all his work on time'
Ganesh added, "The boy is disciplined and does all his work on time. Not just because he is my relative but because I cannot argue with him in our family! He has the knowledge that none of the others in the family have."
Here's how the historic selfie was clicked
Now, Hegde became the talk of the town when the PMO tweeted a video of the selfie being clicked. In the video, Hegde stands in a queue with other performers as Trump and Modi pass by. The boy strikes a conversation with Trump and swiftly pulls out his phone. Trump then called upon Modi to join them for a selfie and the PM obliged.
You can watch the video here
Union Minister Anurag Thakur asked Twitter to find selfie
Afterwards, Union Minister Anurag Thakur tweeted, "Tweeples, Can you find that epic selfie? Let's see how connected we really are." And as always, Twitter did not let the Union Minister down. Thakur later posted the selfie himself, dubbing it, "A Selfie for Lifetime!"
'Well done Tweeples you found it!'