Bonhomie, laughs, and meetings: Here's what happened at G20 Summit
Bonhomie, laughs, and meetings: Here's what happened at G20 Summit
Jun 29, 2019, 01:30 pm
3 min read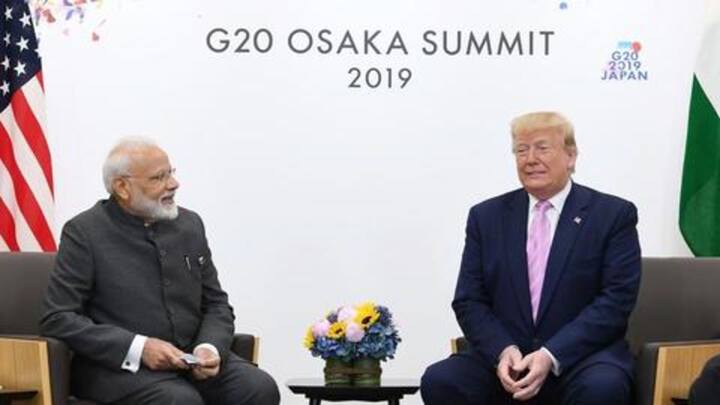 At the G20 Summit which concluded in Japan's Osaka on Saturday, world leaders displayed warmth for one another. Prime Minister Narendra Modi held a series of meetings in the day on Friday and at night sat next to President Donald Trump during an informal dinner. Both leaders exchanged laughs and seemed at ease around each other. Here's looking at what happened.
What is G20 and what was the agenda this time?
G20 is an international forum for the governments and central bank governors from 19 countries and the EU. This year, Japan hosted the summit for the first time. In this summit, five topics namely -- Global Economy: Trade and Investment; Innovation in Digital Economy and Artificial Intelligence; Addressing Inequalities and Realising an Inclusive Sustainable World; and Climate Change, Energy and Environment, remained in focus.
Modi met Abe and Trump, discussed Indo-Pacific region
PM Modi, who arrived in Japan on Thursday, started his day on Friday by meeting his Japanese counterpart Shinzo Abe, and Trump. At the second of its kind Japan-America-India meet, the leaders spoke about the Indo-Pacific region and how the three countries would work together for infrastructure and connectivity. Indian Foreign Secretary Vijay Gokhale said the meeting was "short" but "very productive".
MbS, Trump and BRICS leaders: PM Modi had busy day
Thereafter, PM Modi met Trump, amid rising trade tensions between the US and India. Trump said PM Modi deserved the Lok Sabha win and claimed both countries have "never been closer". Subsequently, at the meeting with leaders of BRICS (Brazil, Russia, India, China, and South Africa) countries, PM Modi said curtailing terrorism was important. He also met Saudi Crown Prince Mohammad bin Salman.
At Abe's dinner, PM Modi and Trump laughed it off
Separately, Trump met Putin, spoke about "meddling in elections"
Meanwhile, Russian President Vladimir Putin held a dozen meetings, posed with a glum-looking Theresa May, and apparently cracked a joke with Trump. A smirking Trump also asked Putin to not "meddle in US elections, please". To recall, it was alleged that Trump won 2016 elections with Russia's help, but in March special counsel Robert Mueller concluded this wasn't the case.
After meeting Xi, Trump halted new tariffs on Chinese exports
Interestingly, it was Trump's meeting with his Chinese counterpart Xi Jinping, which garnered the world's attention. The leaders met on Saturday amid an intense trade war, and the talks turned out to be fruitful. Reportedly, Trump agreed to not impose new tariffs on Chinese imports. Apart from this, China and the US also agreed to resume trade and economic talks.
Had an excellent meeting with President Xi: Trump
"We had a very good meeting with President Xi of China. Excellent. I would say excellent. As good as it was going to be. We discussed a lot of things and we're right back on track," Trump told reporters in Japan.
In May, US-China trade relations hit a new low
Though Xi and Trump didn't call a truce, the fact that both of them returned to negotiating table wards off fears of a cold-war between two of the world's largest economies. US-China's trade tensions escalated in May after talks collapsed. Accusing China of going back on reform pledges, Trump increased tariff on some Beijing's imports from 10 to 25%, prompting China to return the favor.