Mexico deports over 300 Indians after US pressure on immigration
Mexico deports over 300 Indians after US pressure on immigration
Written by
Siddhant Pandey
Oct 18, 2019, 08:33 pm
3 min read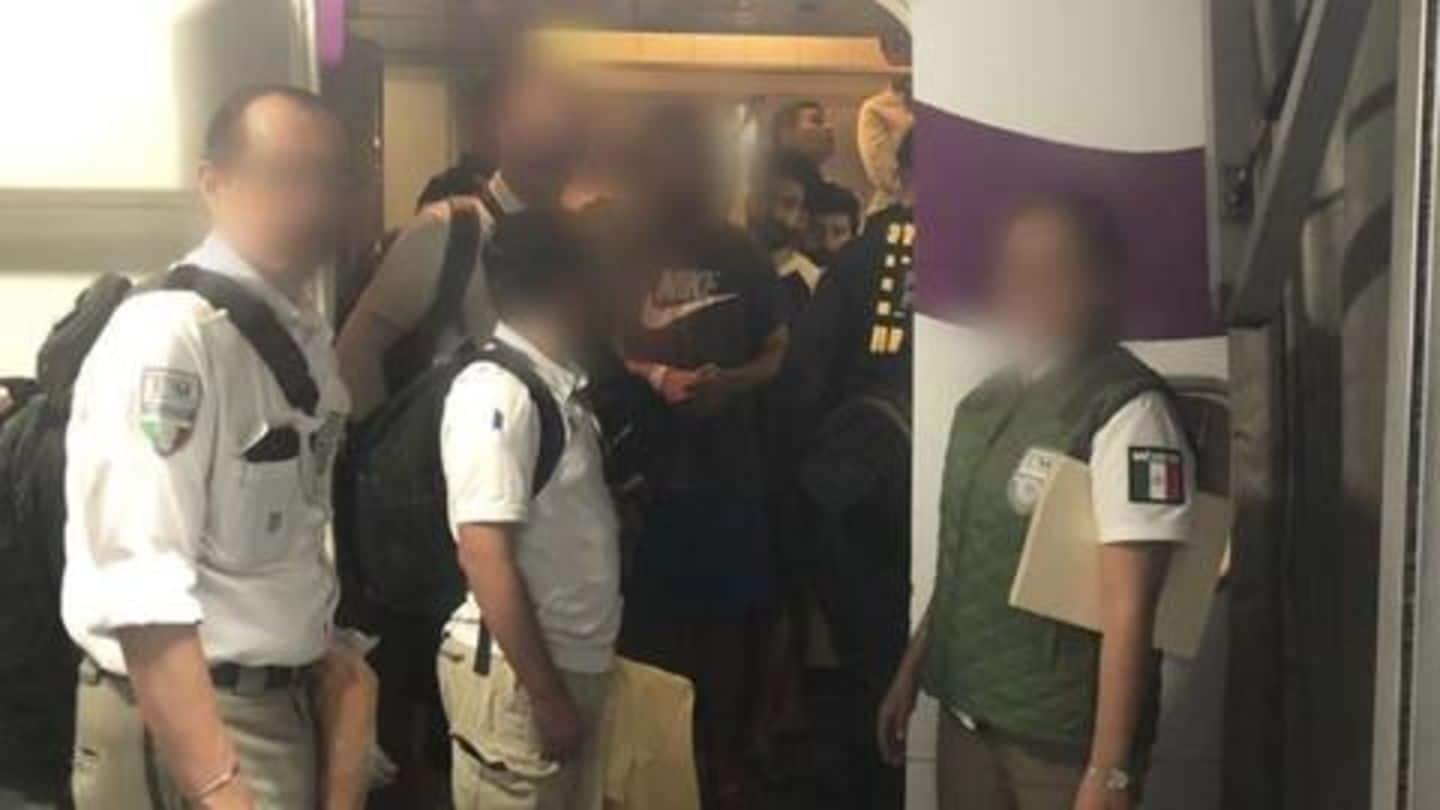 In an unprecedented move, Mexico deported over 300 Indians to Delhi via a Boeing 747-400 charter. The 311 deportees, 310 men and one woman, had illegally entered Mexico in a bid to sneak into the United States. The illegal immigrants landed in Delhi early Friday morning. The mass deportation is a first for Mexico's National Migration Institute (INM). Here's more.
Most deportees hail from Punjab: Officials
In a statement, the INM noted that the immigrants were found without valid documents for "regular stay" in Mexico. The deportees were accompanied by Federal Migration agents and Mexico's National Guard on their trans-Atlantic journey. Most of the deportees hail from the state of Punjab, officials said. The police will now run background checks to see if they have a criminal record.
Immigrants were scattered across 8 Mexican states
The INM said that the immigrants were scattered across eight states and were presented to immigration authorities in Oaxaca, Baja California, Veracruz, Chiapas, Sonora, Mexico City, Durango and Tabasco. Subsequently, they were gathered at the Acayucan Migration Station in Veracruz for identification and transfer. They were then flown to New Delhi from the Toluca City International Airport.
No precedent in history for such move: INM
In its statement, the INM thanked the Indian embassy for "excellent communication and coordination" in the recognition and safe return of the deportees. The statement added, "It should be noted that there is no precedent in the history of the INM, neither in the form nor in the number of people, of Trans-Atlantic air conduction, such as that carried out on this day."
Return carried out in agreement with Indian Embassy: INM
El @INAMI_mx informa del arribo a Nueva Delhi, India, de 311 personas originarias de ese país, que tenían condición de estancia irregular en #México, el retorno se llevó a cabo en acuerdo con la Embajada de India, cumpliendo con normas y procedimientos migratorios vigentes. pic.twitter.com/V0qfPcTbxl

— INM (@INAMI_mx) October 18, 2019
We walked through forests for about 2 weeks: Deportee
One of the deportees, Gaurav Kumar, told ANI, "Our agent sent us through forests. We walked through forests for about 2 weeks. Then, we were deported from Mexico." Kumar added, "Only Indians were deported. People from Sri Lanka, Nepal and Cameroon are still there." Kumar said he sold agricultural land, gold to pay Rs. 18 lakh to an agent for passage into the country.
US Customs and Border Protection Acting Commissioner hailed move
Mark Morgan, the acting Commissioner of US Customs and Border Protection, hailed INM's "commitment to secure borders." The "unprecedented repatriation of 311 Indian nationals to India" is a "strong message to human smugglers," Morgan added.
Mexico stepped up immigration enforcement under pressure from US
The move comes months after US President Donald Trump threatened Mexico with hiked tariffs on imports unless the latter bolstered border security to prevent illegal immigration into the US. Mexico eventually struck a deal with the US in June, promising to curb migration onto American soil in exchange for avoiding US tariffs. Thousands of National Guards have now been deployed along major migration routes.
Here is Mark Morgan's tweet
Mexico and @INAMI_mx showing their commitment to secure borders and orderly, legal migration through the unprecedented repatriation of 311 Indian nationals to India on Wednesday night. Commissioner Garduno (@fgymexico) is sending a strong message to human smugglers. https://t.co/6RL3EjFgr5

— Acting Commissioner Mark Morgan (@CBPMarkMorgan) October 17, 2019