Russian forces bomb maternity hospital in Ukraine's Mariupol
Russian forces bomb maternity hospital in Ukraine's Mariupol
Written by
Siddhant Pandey
Mar 10, 2022, 09:58 am
3 min read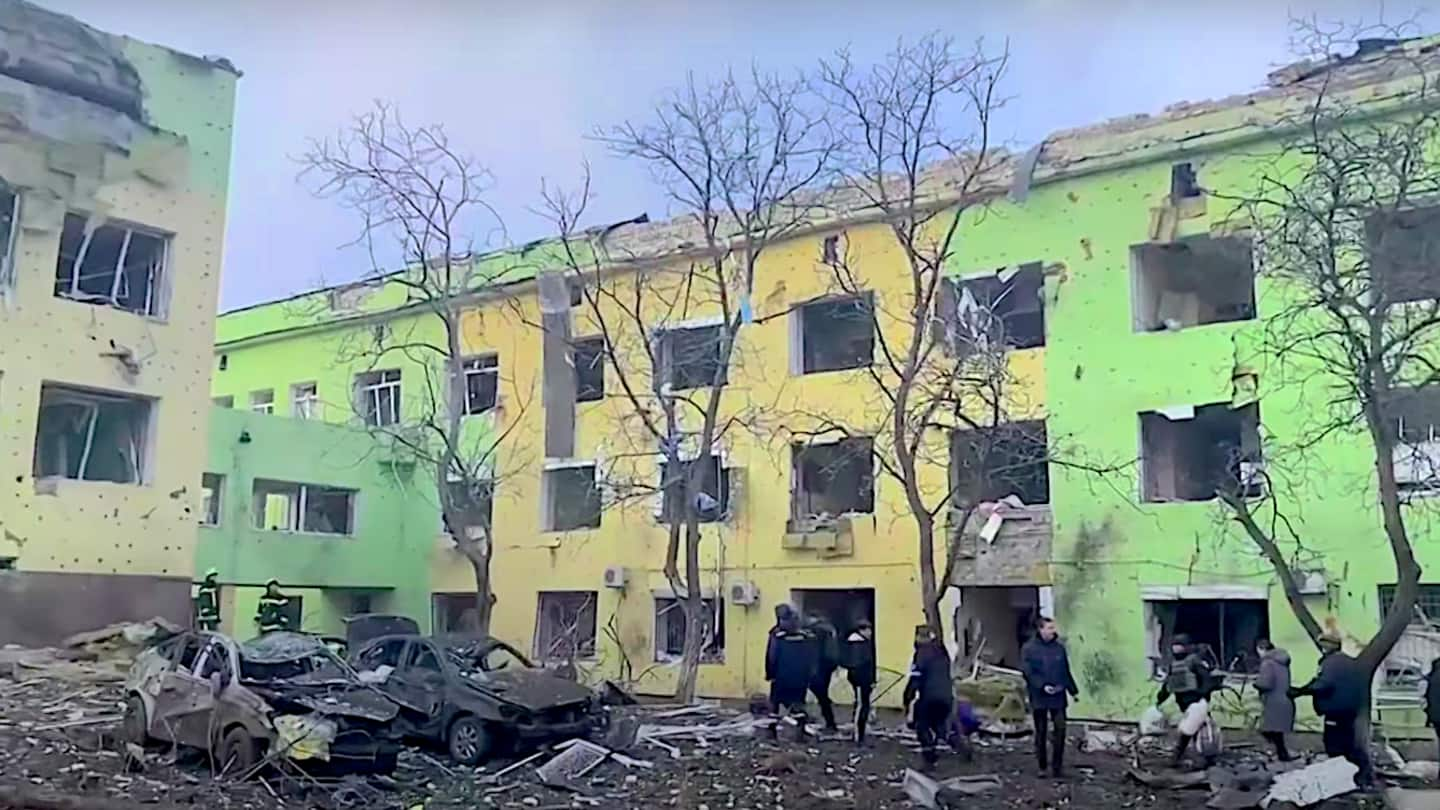 Russian forces on Wednesday bombed a maternity and children's hospital in Ukraine's Mariupol, a city that has seen increased violence over the past week. The bombing came in spite of a 12-hour ceasefire announced by Russia. "The building of the medical facility where the children were treated recently is completely destroyed," said the Mariupol city council, which released a video of the attack's aftermath.
17 injured; bomb destroyed building's facade
At least 17 people were injured in the Mariupol hospital bombing, officials said. The repeated bombings reportedly shattered windows, destroyed the front of the hospital building, and shook the ground more than a mile away. A blast crater reportedly two stories deep was created in the building's courtyard. Visuals showed police officers carrying out those injured, including a heavily pregnant and bleeding woman.
13-year-old among 3 civilians killed in Sumy
Separately in Sumy, Russian shelling killed three civilians overnight in the city of Okhtyrka. The deceased included two women and a 13-year-old boy, officials said. Russian bombings had hit residential neighborhoods and a gas pipeline just after midnight, they said.
Ukraine was setting up combat positions at hospital: Russia
After the bombing, Russian Foreign Ministry spokesperson Maria Zakharova said that Ukraine was setting up combat positions at the hospital. The staff and patients from the maternity hospital had been expelled by Ukraine, Zakharova said. She further said that there were "numerous videos refuting Ukrainian fakes, confirming Kyiv's crimes against its citizens are in abundance in the public domain."
Mariupol Mayor Vadym Boichenko has reiterated calls to "close the sky over Ukraine." "What happened at the children's hospital is pure evil," Boichenko said, calling it a "war crime." Ukrainian President Volodymyr Zelenskyy asked, "Children's hospital? Maternity ward? Why were they a threat to Russian Federation?" Zelenskyy said the attack was "proof" of a "genocide of Ukrainians," asking Europeans to criticize the "war crime."
35,000 evacuated through humanitarian corridors yesterday
Separately, Zelenskyy said that almost 35,000 people were rescued through humanitarian corridors on Wednesday. "Today we were able to organize three humanitarian corridors—from the city of Sumy, from the city of Kyiv and Kyiv region, and from Enerhodar," he said. Ukrainian authorities are planning six humanitarian corridors on Thursday. However, in areas close to Kyiv, local authorities said Russian forces impeded evacuation efforts.
Russia bluffing over nuclear war, says Zelenskyy
On the imminent threat of nuclear warfare, Zelenskyy said, "I think that the threat of nuclear war is a bluff." Zelenskyy said in an interview with German newspaper Die Zeit, "It's one thing to be a murderer. It's another to commit suicide."
How many people have died in the Russia-Ukraine war?
According to Ukraine, 12,000 Russian soldiers have been killed since Moscow launched the invasion on February 24. According to the United States, 5,000 to 6,000 Russians were killed in the first two weeks of war and some 15,000 to 18,000 were injured. Russia has only confirmed 500 losses as of last week. There is no official figure on the number of Ukrainian losses.