Saudi Arabia to fine tourists for kissing, immodest clothes, etc.
Saudi Arabia to fine tourists for kissing, immodest clothes, etc.
Written by
Siddhant Pandey
Sep 29, 2019, 08:10 pm
2 min read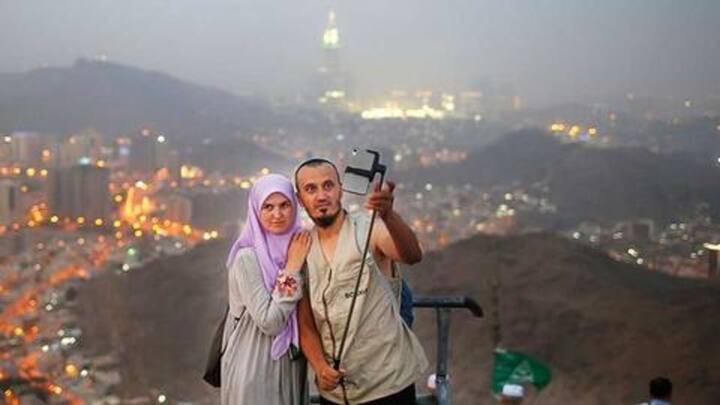 Even as Saudi Arabia allowed citizens from 49 countries to apply for travel visas to the Muslim Kingdom, it announced a "public decency" code which imposes fines on travelers for various offenses. On Saturday, Saudi Arabia's Interior Ministry announced that it would impose fines for 19 offenses, including dressing immodestly, public displays of affection, littering, spitting, queue jumping, etc. Here are more details.
"Regulations to ensure visitors are aware of Kingdom's law"
As Saudi Arabia braces itself for an influx of tourists after its new visa system, it has imposed the fines to ensure that tourists are aware of the law of the land. A government statement read, "The regulations are meant to ensure that visitors and tourists in the Kingdom are aware of the law relating to public behavior so that they comply with it."
Women required to cover shoulders, knees in public
Wearing "improper clothing in public places" can land you a fine of 100 riyals (approx. Rs. 1,900). Women are required to cover shoulders and knees in public, however, they are not expected to cover their heads or wear abayas." "Both men and women are asked to dress modestly in public, avoiding tight-fitting clothing or clothes with profane language or images," a notice states.
Here are some of the other offenses
Other offenses include public displays of affection, using profane language or gestures, cutting queues, taking pictures or videos of others without consent, playing loud music during prayer time, etc. Alcohol remains illegal in the country. The fines range from 50-6,000 riyals (Rs. 940-1.12L).
Saudi police to enforce laws, not mutawa
The notification stated that the laws will solely be enforced by the Saudi police force and not the country's religious anti-vice squads, who were stripped of their power to pursue suspects or make arrests in 2016. The religious police force, mutawa, was responsible for ensuring that people prayed five times a day and that women covered their heads, among other things.
Saudi Arabia to boost tourism amid diversification of oil-dependent economy
On Friday, Saudi Arabia said citizens from 49 countries are now eligible for online e-visas or visas on arrival, including the United States, Australia, and many European nations. The push for tourism comes as Crown Prince Mohammed bin Salman hopes to diversify Saudi Arabia's economy from oil through the Vision 2030 reform program. Till now, visitors have mostly been Muslim pilgrims or business people.