Democrat Tulsi Gabbard votes 'Present' on Trump impeachment; viciously trolled
Democrat Tulsi Gabbard votes 'Present' on Trump impeachment; viciously trolled
Written by
Siddhant Pandey
Dec 19, 2019, 04:39 pm
3 min read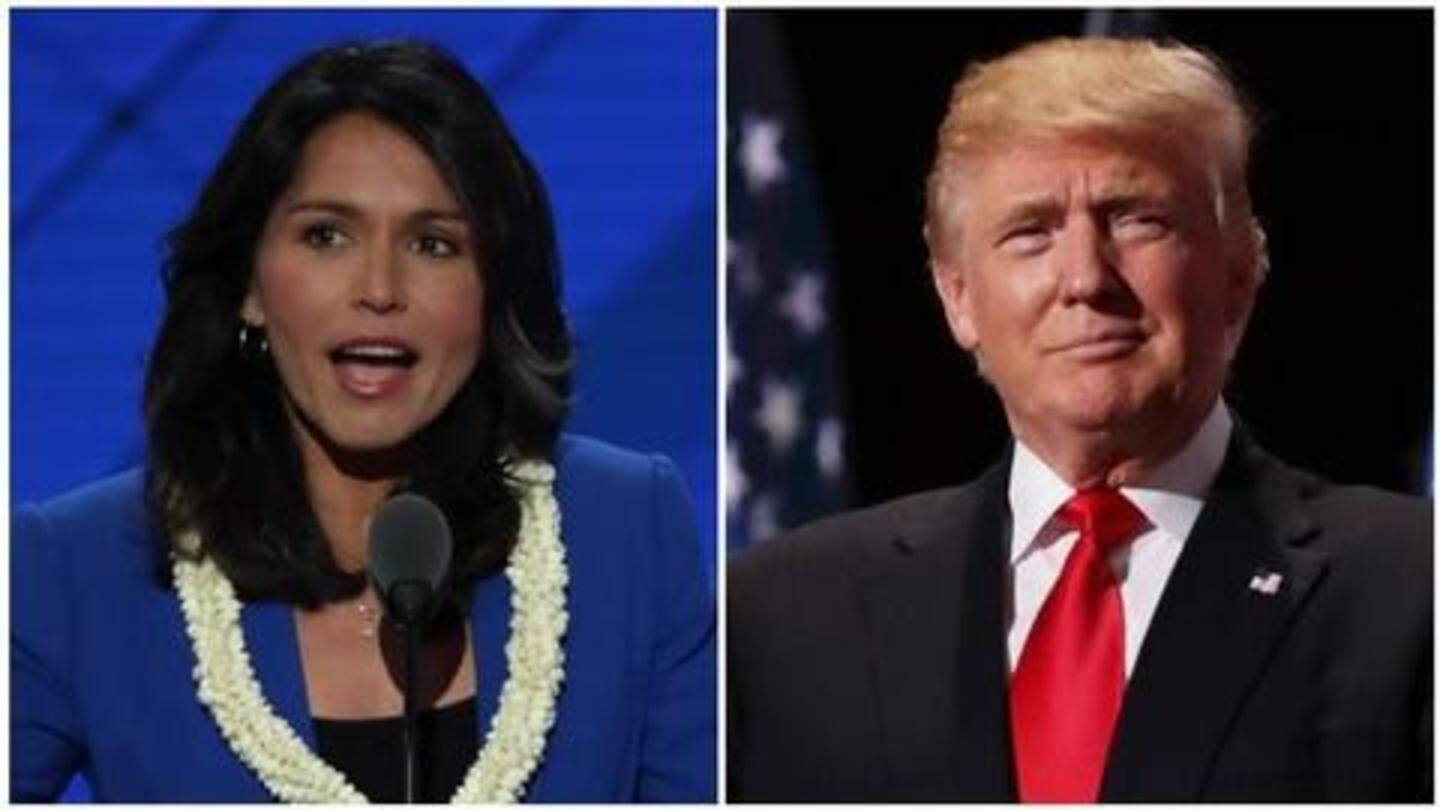 Democratic presidential candidate Tulsi Gabbard did not vote in favor of United States President Donald Trump's impeachment. Gabbard, did not even vote against it, and chose to not take a stand "in good conscience." However, it seems the Hawaii representative has exchanged personal morals for her reputation, as Gabbard has been heavily trolled since the Wednesday vote. Here are more details.
Gabbard only Representative to not vote 'yes/no' on impeachment
Democrats presented two impeachment articles against Trump in the 435-member House of Representatives on charges that he abused his office and obstructed Congress. Trump was impeached by a 230-197-1 vote on the first article and 229-198-1 on the second. No Republican voted for Trump's impeachment while some Democrats voted against it. Gabbard was the only Representative to vote a neutral 'Present' on both articles.
That's just stupid: Ex-Senator Claire McCaskill
By voting 'Present' and not 'Yes', Gabbard became the only Democratic 2020 Presidential nominee to go against Trump's impeachment. People condemned Gabbard for being a "cop-out" instead of taking a stand. Speaking on Gabbard's vote, ex-Senator Claire McCaskill said, "That's just stupid." Fellow Democrat Alexandria Ocasio-Cortez also criticized Gabbard, saying, "Whenever we have a vote, we should vote 'yes' and we should vote 'no.'"
'Quite difficult to not take a stand in consequential moments'
Ocasio-Cortez further said, "To not take a stand in a moment that is so consequential, I think it's quite difficult." She added, "I'm sure she'll be answering [questions] and discussing her rationale in the days ahead." As Ocasio-Cortez anticipated, Gabbard did offer an explanation.
Could not in good conscience vote either yes/no: Gabbard
Gabbard explained, "After doing my due diligence in reviewing the 658-page impeachment report, I came to the conclusion that I could not in good conscience vote either yes or no." She said she's "standing in the center" because the "removal of a sitting President must not be the culmination of a partisan process, fueled by tribal animosities that have so gravely divided our country."
You can listen Gabbard's full statement here
A house divided cannot stand. Sadly, our nation is terribly divided. My vote today is a vote for much needed reconciliation and hope that together we can heal our country to usher in a bright future for the American people, our country, and our nation. #Impeachment #TulsiGabbard pic.twitter.com/BJddNuhkk7

— Tulsi Gabbard (@TulsiGabbard) December 19, 2019
The explanation, however, drew more criticism
Former Missouri Secretary of State Jason Kander also criticized Gabbard
"When things got tough, I showed up. Literally. I was physically in attendance." - Tulsi Gabbard to her future grandchildren

— Jason Kander (@JasonKander) December 19, 2019
'This woman is a disgrace.'
Tulsi Gabbard showed up, refused to vote on whether or not Trump should be impeached, then collected her taxpayer-funded paycheck and left. This woman is a disgrace.

— Owen Whaley 🇺🇸 (@owenawhaley) December 19, 2019
'Gabbard, do you think treason is good or bad?'
Other Democrats who didn't vote for Trump's impeachment:
Apart from Gabbard, two Democratic Representatives —Jeff Van Drew (New Jersey) and Collin Peterson (Minnesota)—voted against Trump's impeachment on the first article. Notably, Drew is considering becoming a Republican. On the second article, Drew, Peterson, and Jared Golden (Democratic Representative of Maine) voted against. The US Senate, where Republicans hold a 53-47 majority, will now decide whether he should be removed.